[Warning: Spoilers for seasons 1-3 of The Handmaid's Tale ahead.]
So, if you've been watching The Handmaid's Tale on Hulu since it dropped in April 2017 (or, you know, actually read the original novel by Margaret Atwood), then you know exactly what Gilead is. But for just one second, let's pretend we don't and break it down anyway: The Republic of Gilead is the occupied territory run by "the Sons of Jacob," aka the Gileadian Christians who believed America was corrupted by sin. After a series of insurrectionist attacks, they were able to perform a coup d'état against the United States government, thus creating the dystopian world we've been watching for the past couple of years.
Okay that's great and all, but where is it? Well, we know June lived in Boston and has visited D.C.—two Gilead strongholds—so we can safely say those areas are solidly Gilead. In fact, the entire Northeast seems to be the epicenter of the Death Star.
So exactly how much of the States is controlled by Gilead? This is going to become increasingly more important in season 4 as June and the other handmaids are on the run and taking a larger role in the resistance. All last season we heard a lot about Chicago. There were supposedly riots breaking out in the city and Gilead was said to be close to conquering the rogue area. So it seems safe to say that the Windy City is going to be an important player not only in the fourth season, but for the resistance as a whole.
Now, we also know that Gilead's reach has limits. We've seen escapees flee to Canada and up until this point, the two countries seem to have a non-violent relationship. But if Canada keeps the children from the rescue flight that June organized at the end of season 3, there could be some angry (and armed) Gileadeans on their hands. And if Gilead decides to invade Canada, that could blur the lines of what is and isn't under Gilead control even further.
To give us a better picture of where Gilead has taken over so far, creator Bruce Miller explained everything we need to know about Gilead's geography to TheWrap. "Yes, Gilead has taken over the continental U.S., so all 48 states of the continental U.S.," he said ahead of the season 2 finale. "There's lots of areas that are not nearly as well-controlled as the Boston area, where the movement was very strong."
But thanks to the Pacific Ocean and Canada, there are two states decidedly out of Gilead's reach. "So Alaska and Hawaii are the United States, the two states that are united still. And the rest of it has turned into Gilead with lots of pockets of resistance and unease and the places where the grip of Gilead is not nearly as firm." Gotcha.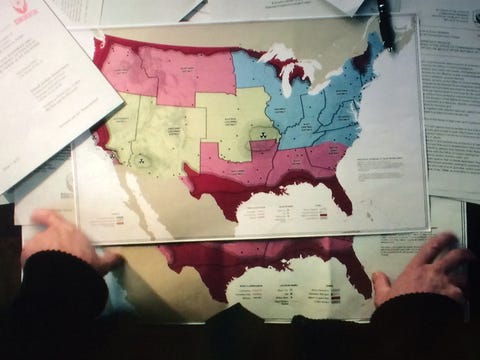 "We're a very big, very ornery country, and it's hard to keep us in line," he says.
One Redditor who attended the finale in L.A. shared an even more detailed map: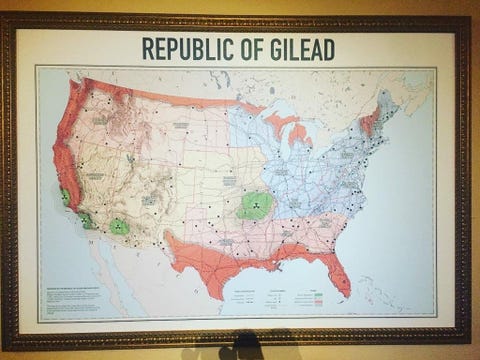 It seems like those green areas are labeled "Atomic Wasteland." Perhaps that's where the Unwomen are sent to work until they die in the Colonies? Or maybe those are the "hazardous risk zones" outside of them.
The red marks "rebel-occupied area," and the rest are various Gilead occupations. Well, now you know where to avoid if you find yourselves transported à la Reese Witherspoon in Pleasantville. Vive la résistance!
Source: Read Full Article