Unorthodox, the limited series that came out on Mar. 26 on Netflix, stars Israeli actor Shira Haas. Haas plays Esty Shapiro, a young Hasidic Jew who grows up in the Satmar community in Willamsburg, Brooklyn. Her story is loosely based off the life of Deborah Feldman, who wrote Unorthodox: The Scandalous Rejection of My Hasidic Roots. Feldman's 2012 memoir eventually became the 2020 Netflix series. Feldman shared in a 2012 interview a great deal about her life in the Orthodox Jewish community — and there was a lot that Unorthodox left out.
Deborah Feldman shares more about her life in the Satmar Jewish community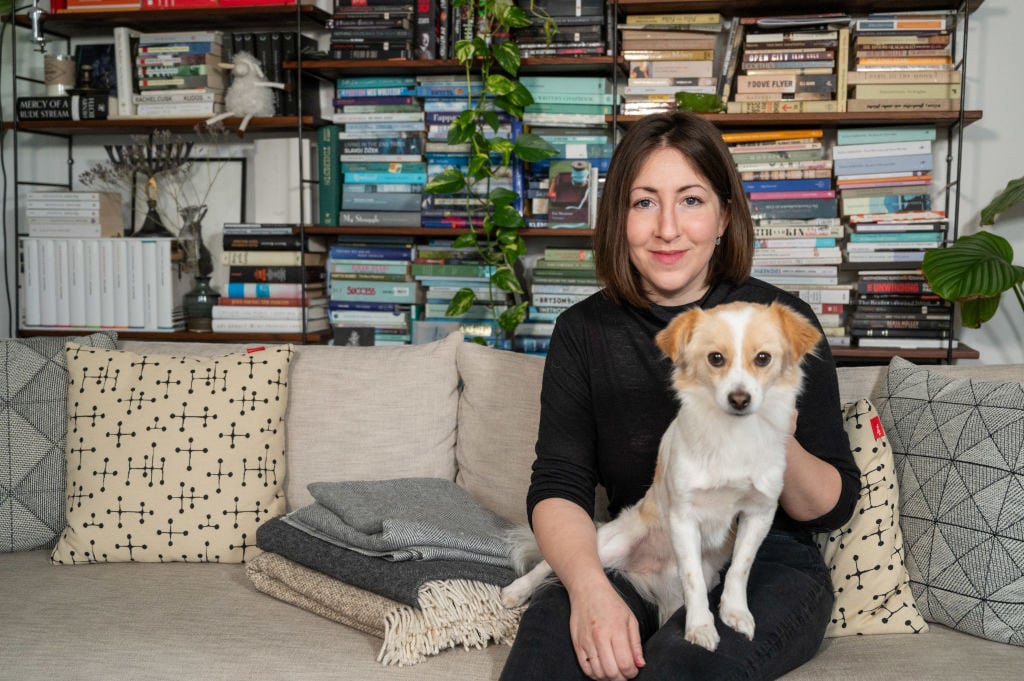 In 2012, the same year Feldman's memoir was published, she spoke with the New York Post about her experience living ultra-Orthodox community. While Unorthodox the Netflix series depicts many harrowing moments for its main character, Esty, there was a lot from Feldman's life, and about the community itself, that the show didn't use. For example: how the Satmar Jews in Willamsburg have transformed as a society even just in the last few years.
"You used to be able to wear a long-sleeve, high-neck T-shirt," Feldman explained. When she was 11, that rule changed. "Now you can only wear high-neck blouses, with woven fabrics, because their theory is that woven fabrics don't cling." This developed into an issue for Feldman at school.
"No matter what I wore, the school principal always had a problem with me, because I'm a little Kardashian-esque and I developed young," she explained. The writer went on to discuss the transformations among the Satmar Jews over the past couple decades. Feldman told the Post:
Over the past 10 or 20 years [the Hasidic community] has gone from being extreme to being ultra-extreme. They've passed more laws from out of nowhere, limiting women — there's a rule that women can't be on the street after a certain hour. That was new when I was growing up.
'Unorthodox' memoir author on more details not included in the TV series
The Unorthodox author also went into more detail about the community's theory on traditional medicine. Feldman told the Post:
I remember always being in the front seat of a car when I was a kid, without a seat belt. It comes from this idea that you have so much faith that you don't really have to do anything because God will protect you … No one ever took me to a doctor.
The insularity of the society Unorthodox portrays is part of what makes the show so fascinating. It's a community we don't often see on mainstream media. But, it leads to secrecy and oppression within that community.
"I was taught to believe that outsiders hated me," Feldman explained. "That if I talked to someone [non-Hasidic], I risked getting kidnapped and chopped into pieces. Never, ever talk to an outsider." However, the Unorthodox author was something of a rebel from a young age. Also not shown in the Netflix series: the fact that Feldman used to sneak in secular books.
"I did some brazen things," she remembered. "I got this cheap paperback, I think it was Little Women, and tore off the covers so you couldn't see what it was, and I would insert it in my Hebrew textbook."
'Unorthodox' lead cast member Shira Haas on showing different communities on big streaming platforms like Netflix
Recently, fellow actress Beanie Feldstein did an interview for Vogue magazine with Shira Haas (who played Esty Shapiro) about her experience working on Unorthodox.
"Your show is a beautiful example of… not shying away from the specifics," Feldstein said. "… not watering them down actually makes it so much more universal because there is an instant connection to feeling that is so powerful in the show."
"It is a new thing for many people," the Unorthodox star replied. "Maybe a few years ago maybe the show would have been done, but not in Yiddish." However, Haas believes things have changed. She said in the Vogue interview:
There are now so many different TV series on Netflix in so many different languages and cultures. Over the past few years, people have become way more open to it and people want to see someone who is different from them and realize, 'Yes, it is a specific story, but I can relate to it,' or 'He is different from me, but he is a human being and I understand.' I think young people—at least I do—want to see that and not necessarily themselves all the time.
Source: Read Full Article