Co-hosts Al Roker, Craig Melvin, and Carson Daly of the Today Show have often bonded over family life and topics on parenting. The three male co-anchors of the  morning news program previously commented on how different fatherhood is today compared to their own dads' generation.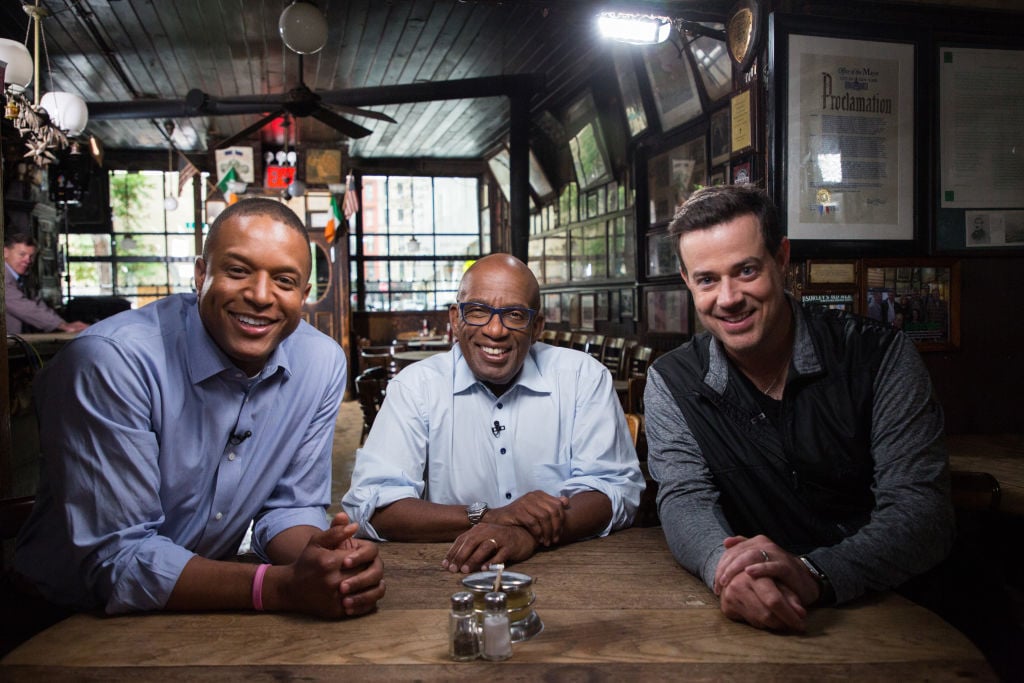 Melvin's take on the work front
Last Father's Day, the three Today co-hosts reflected on the role of fathers from past years, noting how the work environment decades ago was much more stringent on dads.
"The role of fatherhood has changed fairly dramatically over just the past 20, 25 years," Melvin said, according to Today.com. "I mean, our dads were not able to be as involved in the lives of their children, for a variety of reasons, as we've been able to be involved."
Melvin noted that mothers were on the frontlines at home while fathers were often unable to partake in family events. "My dad was a third-shift mail clerk at the post office for 40 years," he said. "We did not expect him to be at Little League games or after-school functions. He just couldn't do it. … I look around at the Little League games or basketball on Saturday mornings, and often times, there are just as many dads as moms."
Roker acknowledged that with more companies implementing policies for paternity leave, fathers are now getting the chance to be at home when they are welcoming a child to their family.
"It's still not where it should be, (but) more and more companies are far more friendly about paternity leave, and I think that's very important. You need to have that time," the weatherman said. "We've seen this rise of female executives who get how important that is… I think that's been a big change and allowed us the ability, to have permission, to be dads."
Roker on 'helicopter' parenting
Roker also noted that parents today are much more aware of their children's comfort level, where in the past moms and dads were a little more willing to let their kids figure things out on their own.
"We want to make sure everything is just so for our kids," he said. "And with our parents, there was space. Granted, it was a different time. But we were allowed to make mistakes."
Pointing out that parents gave kids more leeway when he was young, Roker feels that children today can be somewhat micromanaged.
"You went outside, you went to the park," he said. "There were slides, they were made out of galvanized metal. You'd get on there, you'd get third-degree burns going down! But you were expected to go out and when the street lights came on, you came in. And they gave you your space."
The Today star commended the willingness of his parents' generation to give their kids room to grow. "I think sometimes we can be a little too hands-on with our kids," Roker noted. "Maybe sometimes we should be a little more like our parents."
Daly dislikes the distance
Doing double duty with his role on Today and his emcee post on The Voice, Daly often has to serve on both coasts for his NBC gigs. While he clearly loves his career, Daly is not crazy about being away from his wife and kids.
"I don't think anybody gives us credit for being emotional," The Voice host said of dads. "I'm very sentimental with my kids. When I'm driving to JFK (airport) and I'm going to be gone for five days, it really does suck."
Daly came up with a clever way to connect with his kids when he's on the road. "I realized that in the hotel rooms, there's postcards," he said. "So I thought, wherever I go, whatever hotel I'm in, I'm going to write my kids postcards, and I'm going to buy them a stamp and I'm going to put it in slug mail, and now they collect them."
Roker, Melvin, and Daly clearly excel at work and on the home front.
Source: Read Full Article