Lauren Holly burst onto "NCIS" during the third season in 2005 when she was introduced as Jenny Shepard, the new NCIS director who had a bit of a salacious history with Special Agent Leroy Jethro Gibbs, played by Mark Harmon. Fans loved Shepard and Gibbs' sexually tense chemistry so much that producers decided to expand Holly's role from a six-episode guest star to a series regular, per an interview with Holly archived by MikeWeatherly.com.
Tragically, her character was killed off at the end of Season 5. But that was not the last we ever saw of Lauren Holly. In fact, it's quite far from it. Since leaving "NCIS" over a decade ago, Holly has appeared in countless TV shows and TV movies. This is nothing new for her — she's actually been on TV since the early '80s.
So let's take a trip down memory lane and witness Lauren Holly's transformation from her first TV role at 21 to her most recent at 57.
Lauren Holly initially played a lot of sex workers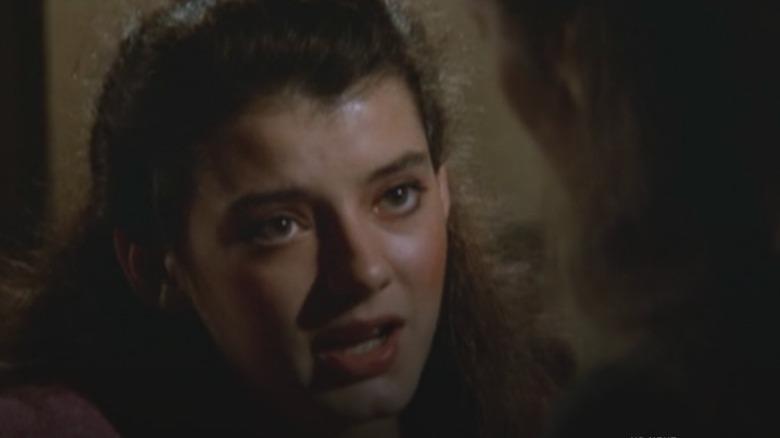 Lauren Holly's first TV role was on two episodes of the '80s cop drama "Hill Street Blues" (pictured above), according to IMDb. Holly played Carla Walicki, an 18-year-old sex worker who believed working the streets would be the fastest way for her to earn enough money to move to Long Beach. A few years later, she snagged a recurring role on the hit soap opera "All My Children," again playing a young runaway working the streets, according to Fandom. 
After her run on "All My Children," Holly appeared in two episodes of "My Two Dads" and played Betty in an Archie-inspired made-for-TV movie called "Archie: To Riverdale and Back Again."
Holly admits that it was not her lifelong dream to become an actor, namely because she did not think it was a sustainable career. "I didn't plan on becoming an actress because it didn't seem like something that I could make a living at and I thought I was going to go to law school," she told FilmFad in 2015. Holly instead turned to acting as a hobby while studying music at The Royal Academy in London. "Then when I went to college, I auditioned for a play that a guest director saw me in and sort of started me on my odyssey," she revealed. "So it was something that I always loved to do, I just didn't know I could make a living doing it."
Lauren Holly began finding success in the '90s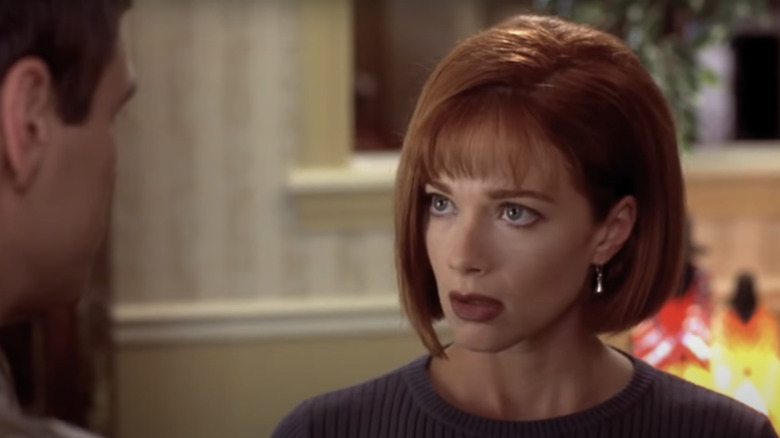 In the '90s, Lauren Holly's career began to take off. She starred in the cop drama "Picket Fences" from 1992-1996. And two decades later, she has only positive things to say about the experience. "I loved 'Picket Fences,'" she told Smashing Interviews in 2016. "That might be my favorite television role just because the writing was so fantastic, and I loved the character that David E. Kelley wrote for me because I got so much comedy and drama. That show was a little bit ahead of its time."
In 1994, she played a major supporting role as Mary in the hit Jim Carrey comedy "Dumb and Dumber," per IMDb. Although Holly's character wanted nothing to do with Carrey's onscreen, the two actors developed a relationship offscreen, ultimately marrying in 1996. But the two split less than a year later. In a 2013 interview with Canadian host George Stroumboulopoulos, Holly blamed the tabloid and media attention for putting a strain on her relationship. "At first it was kind of fun," she said of the intrusive press attention, "and then our whole life became about, 'We have to keep them out.' Because they would do things like scale the fence at our house and live in our backyard and take pictures through our window and weird things like that."
In 1999, Holly joined the last season of "Chicago Hope," where she met future "NCIS" co-star Mark Harmon.
Lauren Holly's NCIS character was killed off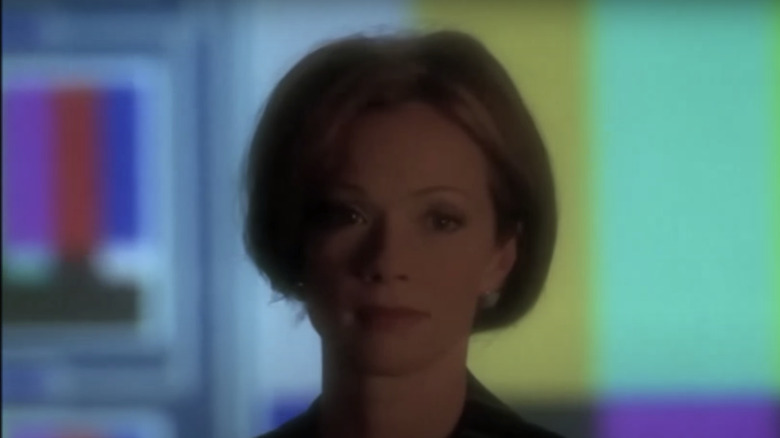 By the time the 2000s rolled around, Lauren Holly had moved to the suburbs of Chicago to raise her three sons. But then, she got a call about doing a six-episode guest appearance on "NCIS," executive produced by her former colleague Mark Harmon. "As I understood it, they were having some trouble casting … one of the agents on the show and Mark thought I might fit the bill," she said in a post on her official website, archived by MikeWeatherly.com. For those initial six episodes, Holly commuted between Chicago and LA. "I was happy to be a minor character because that meant I could be with [my family] more," she wrote. When asked back for another season, she decided to move the family out to LA.
Serendipitously, just when Holly admits she began to get bored with her "NCIS" role, the writers decided to kill off her character. 
Although she felt it was time to move on from "NCIS," she has only positive things to say about it. "… The first person I met was Pauley Perrette," she said in an interview with CBS (via CheatSheet). "And I introduced myself and put out my hand to shake her hand. And she started laughing and pushed my hand away and then hugged me for about five minutes. So that was my indication of how it was going to be around here."
Lauren Holly did a lot of TV movies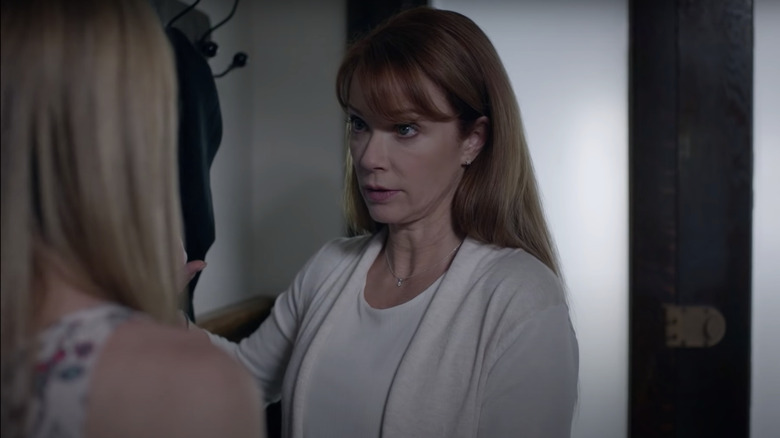 Immediately after "NCIS," Lauren Holly appeared to have taken a step back from working to spend more time with her family, appearing in small roles and in several TV movies, per IMDb. She lent her voice to the animated series "The Adventures of Chuck & Friends" from 2010 to 2012 and then appeared in a string of movies on the Hallmark Channel, like "My Summer Prince" and "A Country Wedding." In 2019, she had a recurring role on the Hallmark series "Hailey Dean Mystery." "Hallmark is definitely a favorite of my fans," she told Smashing Interviews. "I definitely have a huge fanbase that watch a lot of Hallmark movies, so it's always a pleasure. I'm a mom, and they're great for my boys to watch."
From 2013 to 2016, she starred in the Canadian crime drama "Motive," which aired in the U.S. on ABC. Holly played Dr. Betty Rogers, a medical examiner who performs an autopsy on each week's victim. Holly admitted to Real Style Network that this role was a bit out of her comfort zone. "Well, the first time I went to a morgue, it was really nerve-wrecking [sic]. I was worried that I was going to pass out," she revealed. "I was a little weak in the knees."
Unlike most murder shows, "Motive" reveals the assailant at the beginning of each episode. "It's a why-dun-it as opposed to a who-dun-it," Holly explained. "It's really fun. It's a twist on an old formula."
Lauren Holly hasn't stopped working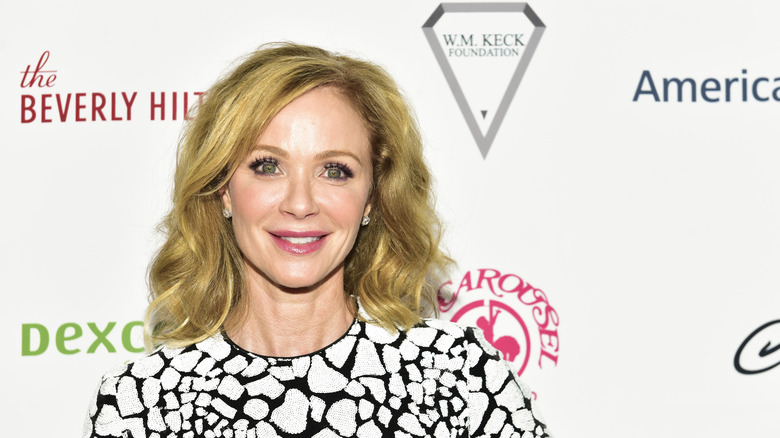 In 2019, Lauren Holly joined the cast of the ABC-turned-Netflix drama "Designated Survivor," playing the opioid-addicted wife of the president's new chief of staff. When asked how she went about portraying such a character, she told Forbes, "It's hard as an actor. Opioid addiction doesn't have a lot of telltale signs, especially at the beginning." She continued, "It's different than other drug addictions. You can continue to work and maintain things until you require more and more, and then it really becomes unbearable, you can't get enough."
That was the last season of "Designated Survivor," per Forbes. But Holly quickly moved on. In 2020, she starred in the Netflix teen drama "Tiny Pretty Things," in which she plays Madame Monique Dubois, the head of a prestigious ballet academy.
Holly revealed to Us Magazine that she was initially considered for a different role, but she made her affinity for Monique known. "The producers and the director asked me for breakfast, and I was bold enough to tell them how much I love the role of Monique at the breakfast — which is always sort of a risk," she said. Holly also talked about how she relates to the character she plays. "She's a dancer who's past her prime, who sort of survived an era and needs to reinvent herself. Those things definitely spoke to me as an actress who's been in this business for 35 years and am trying to make that leap, you know, into playing a woman."
Source: Read Full Article