The Bachelor Presents: Listen to Your Heart returned with its third episode this week. K$sha, Jason Mraz, JoJo Fletcher, and Jordan Rodgers guest-starred as judges. Plus, viewers got some of that Bachelor drama they love with Julia Rae. However, fans' favorite part of the night was when Hannah Brown broke down Julia and Sheridan Reed's relationship. 
[Spoiler alert: The Bachelor Presents: Listen to Your Heart Episode 3 spoilers ahead.]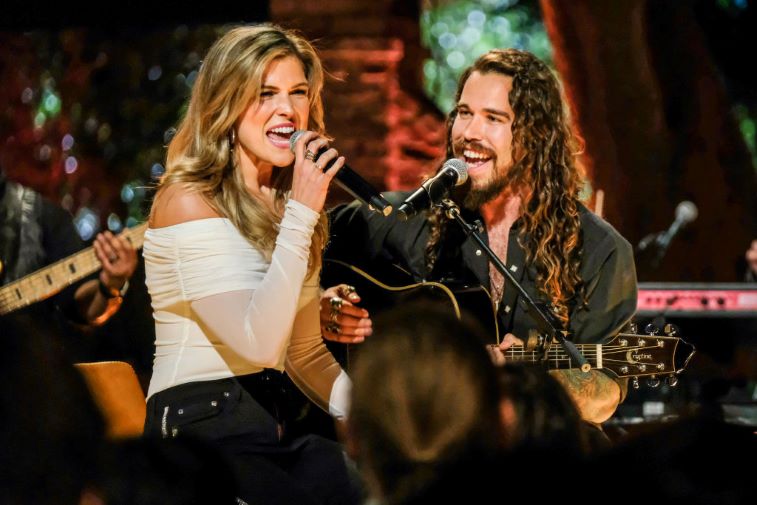 What happened on 'The Bachelor Presents: Listen to Your Heart' Episode 3?
The Bachelor Presents: Listen to Your Heart began with a very serious Chris Harrison. He explained to the contestants that they need to decide if they are "here for the right reasons" or go home. Decide if you want to stay in the relationship you chose or hit the road. Gabe Baker and Bekah Purifoy went home during these morning discussions.
While the remaining couples prepared for their first performances, Julia Rae got in Savannah McKinley and Brandon Mills' relationship. Instead of practicing with her partner —Sheridan Reed — the 27-year-old complained about how fake Savannah and Brandon were. Julia even confronted Savannah about how "disingenuous" Julia thought Savannah was being.
https://www.instagram.com/p/B_VGd4iHvvv/
However, Julia proved herself to be a true bachelor contestant when she faked her relationship with Sheridan on stage. It was evident, even to the judges, that he was more into her, but she did a decent job of pretending. Both couples received roses to stay in the house yet another week, so we can continue to watch that drama unfold. Ruby Jane Smith and Danny Padilla went home.
What did Hannah Brown say about Julia and Sheridan's relationship on 'The Bachelor Presents: Listen to Your Heart'?
"You're questioning everything, Julia?" tweeted Hannah Brown during the show. "Your eye roll and clenched jaw while Fabio tried to sing for you told me everything I needed to know. Poor boy has no shot."
Former Bachelorette, Brown, was outspoken in her feelings about Julia and Sheridan's relationship.
"Also, I think she was pretty clear in the nicest way possible to Sheridan that she's not all in, and kinda feeling another dude," added Brown in another tweet. "Sheridan is just not picking up what she's putting down."
Brown also seems to like Julia, even though most of the fans do not like her at this point.
"I've got a hot take that a lot of y'all aren't gonna like, but I respect Julia," Brown wrote. "She speaks her truth, and I respect that regardless if I always agree with what that is."
Fans express their dislike for Julia on 'The Bachelor Presents: Listen to Your Heart'
"I've actually never disliked anyone in this franchise as much as I dislike Julia," one fan wrote on Reddit.
Other fans feel bad for Sheridan because they can tell Julia is not staying for him. Although Brown made a good point, Julia did tell Sheridan several times that she was interested in another guy.
"Julia does not give a fuck who she is giving a rose to right now," another fan added. "She just wants Savannah to lose."
As she pinned her rose onto Sheridan's shirt, fans could tell she was not into him.
"Julia seems emotionally exhausting to be around," another viewer commented.
The Julia drama will return next week on The Bachelor Presents: Listen to Your Heart, Monday at 8 p.m. EST on ABC. The remaining six couples will perform for a new set of judges, and another couple will go home.
Read more: 'The Quarantine Crew': A Run-Down of Everyone That Hannah Brown and Tyler Cameron are With During the Coronavirus Pandemic
Source: Read Full Article