"Bella Ciao" is the song that's governed Money Heist since its first season, serving as an anthem, party jam, and call to action. But Netflix and Spotify want to remind fans that each La Casa de Papel character is worthy of their own soundtrack. How?
Spotify launched nine playlists as part of its partnership with Netflix to celebrate the series' upcoming wrap. Professor, Berlin, Tokyo, Lisbon, Stockholm, Marseille, Rio, Denver, and even Alicia Sierra all have their own playlists on the service. Here's a taste of what music fans can hear.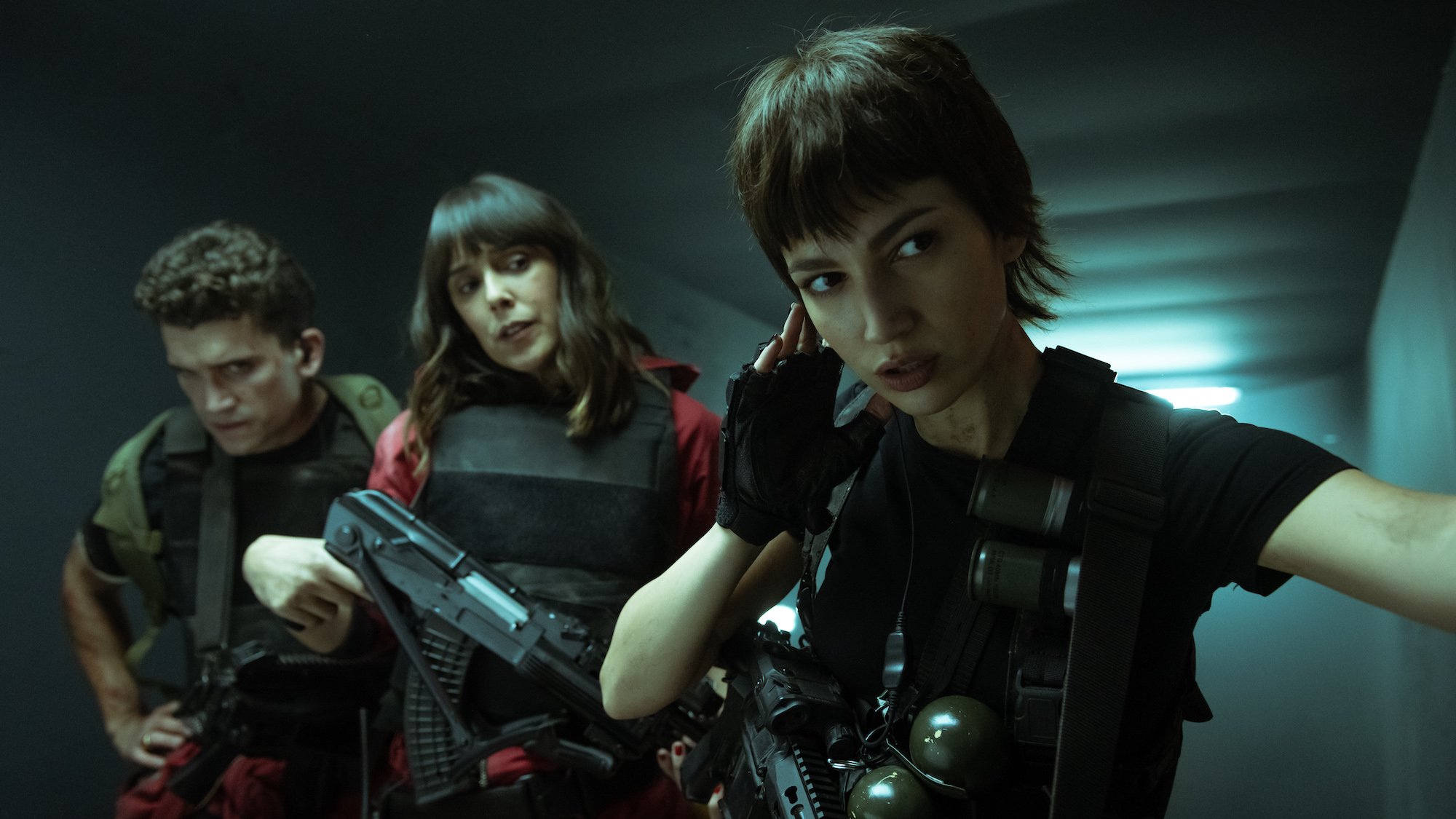 'Money Heist' Spotify curated playlists are available for free and premium users
Spotify has had an ongoing relationship with Netflix for its shows, including a playlist section for Lucifer characters. Money Heist fans will find exclusive interview clips, a photo gallery, and more on the platform. For this musical jaunt, Spotify shared this in a media release:
To set the tone for launch, users globally will have access to a new digital experience where they can take a quiz to find out their perfect La Banda character and soundtrack match – whether it's the Professor's Bunker Beats, Denver's Love & War Mixtape, Marseille's Escape Tracks, Rio's Hacking Jams, or Tokyo's Party Mix. The destination will also have exclusive, new videos from the cast and the official playlist will include all of the latest tracks from Part 2 of the final season.
The best part is it's free to all subscribers. Titled "La Banda Playlists," the collections are tailored to the band's own personal tastes.
Tokyo loves to rock a party
Looking for something fun? Tokyo's streaming hits such as "Crazy in Love" by Beyoncé and Jay-Z, "Rich Girl" by Gwen Stefani and Eve, and Britney Spears' "Work B*tch."
Professor likes tender, rebellious, and classic tunes
Tune in for the Professor's Bunker Beats and one will find Stevie Wonder, Herbie Hancock, and Jack White among the selections. In addition to "Bella Ciao," Michael Jackson's "They Don't' Care About Us," Edwin Starr's "War," and Rage Against the Machine's "Take The Power Back" are songs that fit his theme.
Berlin's 'Classy Vibes' keeps it mellow
Surprisingly moving, Berlin's musical taste includes Umberto Tozzi's "Ti Amo," "Then He Kissed Me" by The Crystals, "L'amour" by Carla Bruni, and The Beatles' "Happiness is a Warm Gun."
Lisbon loves spicy rock and roll
Titled "Lisbon's Pencil Bun Playlist," the collection features "Proud Mary," "Wake Up" by Arcade Fire, "Mafiosa" by Nathy Peluso, and The Clash's "Police On My Back." Stream more than 20 of her favorite picks.
Denver likes edgy with a touch of love
For Denver's "Love & War Mixtape," expect a rollercoaster. He prefers reggae and reggaeton infused songs like "Con Altura" by Rosalía, and Chaka Demus & Pliers' "Murder She Wrote." Other songs include "Gangsta's Paradise," "Effe" by Tony Effe, "Bajo La Piel" by Alice Wonder, and Jaime Lorente's own "Mirando al Sol."
Rio's Hacking Jams
Check out which tunes keep Rio focused. "Relación" by Sech, N.W.A.'s "F*ck Tha Police," and Link Wray's "Juke Box Mama" are part of his playlist.
Marseille's list is very much on the 'Money Heist' theme
Titled "Marseille's Escape Tracks," the playlist for the elusive ride-or-die helper in the series has some feel-good, optimistic songs. David Bowie's "Heroes," Chet Faker's "Gold," and "Money Runner" by Quincy Jones are a few examples.
Stockholm's tunes handpicked for women's empowerment
As one of the renegades who defected from the Royal Mint to Team Resistance, Stockholm is in a unique position. It's no wonder her list has songs such as David Bowie's "Rebel Rebel," "Secretary" by Betty Wright, and "Yo no soy esa" by Mari Trini.
Alicia Sierra is remarkably upbeat in her soundtrack
One may think that Alicia would go for dark and brooding tracks, but her "Badass Anthems" list has some surprises, including "Love Boat."  She's also into Bill Withers' "Lovely Day," Sinatra's "Santa Claus Is Coming to Town," and "More Than a Woman" by Bee Gees. There is also Najwa Nimri's own version of "Bella Ciao!"
Source: Read Full Article