Meghan McCain is a controversial figure on The View as the resident conservative. The Republican pundit often finds herself at odds with her co-hosts as they are on the opposite sides of the political aisle. However, McCain recently picked up a feud with Elisabeth Hasselbeck who is known to be a right-winger just like her. After the Fox & Friends alum fired back at McCain's shade, fans of the ABC talk show weighed in on the drama.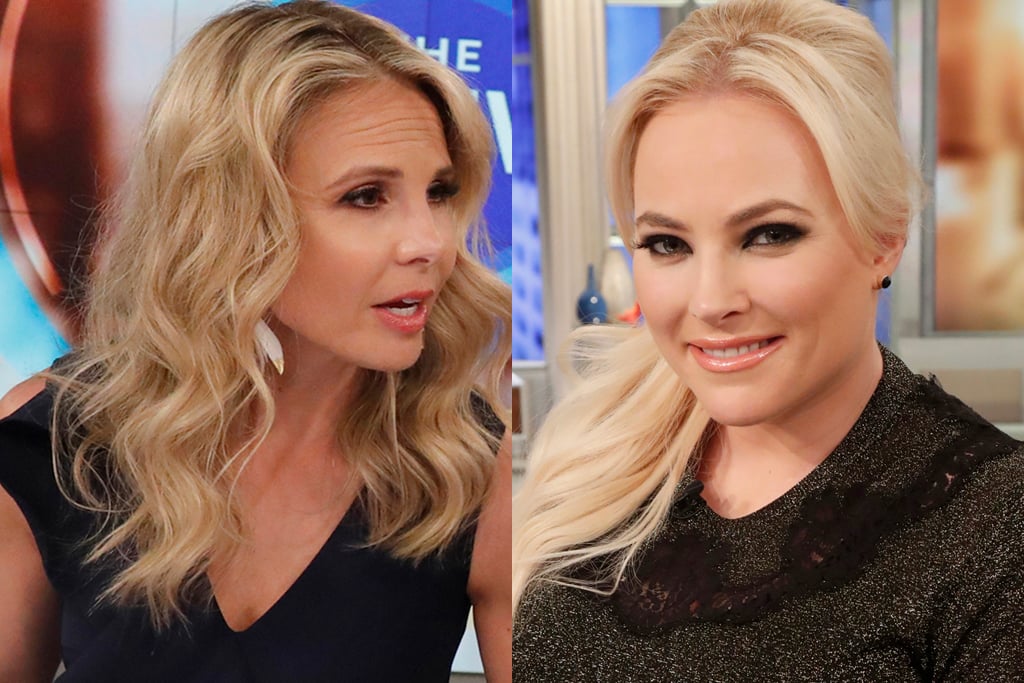 Why are Meghan McCain and Elisabeth Hasselbeck feuding?
The feud between McCain and Hasselbeck initiated when Hasselbeck guest co-hosted The View for one day. On the day Hasselbeck made an appearance, the show had gone audience-less as the coronavirus pandemic broke out. The ladies discussed how Donald Trump was handling the health crisis and Hasselbeck commended him for his alleged strong leadership.
"There can be a fine line between what is taking precaution and what is panic," she said. "Yes, we're going to take precautions, we're going to Purell, pray that God's got us in our tomorrows, right? We pray that this coronavirus is extinguished, that it's stopped in its tracks." 
She reiterated that prayer was her go-to during these trying times saying, "I think we should prepare. I think we should pray. I'm not going to let coronavirus rule me!"
Meghan McCain shades Hasselbeck
McCain not only dragged Hasselbeck for her comments on The View itself but reignited the claim when she made an appearance on Watch What Happens Live. When a viewer asked host Andy Cohen to ask McCain about her thoughts, she did not hold back.
"Someone actually sent me a screenshot of my face when she said that," McCain said. "I took this virus seriously from the very beginning and I thought a lot of this rhetoric was really dangerous. I think it's really, really unfortunate and dangerous that she said that."
McCain said she wouldn't want to co-host with Hasselbeck again.
"I don't need to co-host with her again," she added. "It's unfortunate because I've been a huge fan of her a long time. Anybody who is screwing around with this virus and putting out misinformation, I just don't really have a lot of time for right now."
Fans react to the feud between co-hosts
After Hasselbeck fired back at McCain, fans were divided between the two hosts. A die-hard fan on Twitter edited a video with the timeline of the interactions between McCain and Hasselbeck that had viewers commenting.
"I think both Meghan and Elisabeth are horrible," a fan said. "On this issue, I am team Meghan. I watched that episode and Lizzie was acting full phony Christian nut job. Elisabeth is so wrong on so many levels."
"Good for Meghan, Elisabeth has always not had the right information and then tries to defend it," a viewer added. "She is one of the reasons I had stopped watching The View because I couldn't stand it, she made women look bad. I disagree with Meghan but she researches her information."
"I love it when conservatives turn against each other," a Twitter user tweeted.
"When Meghan McCain is dragging Elisabeth Hasself**k, you know we're in the bowels of hell," another fan commented.
"Why is Meghan McCain such a douchebag sometimes? She is a mixed bag of hater-aide and conservative values. Maybe a child will bring clarity. There is nothing the matter with prayer," another viewer said.
"Both of them are pathetic," another Twitter user wrote.
The View airs weekdays at 11 a.m. ET and 10 a.m. CT/PT.
Source: Read Full Article