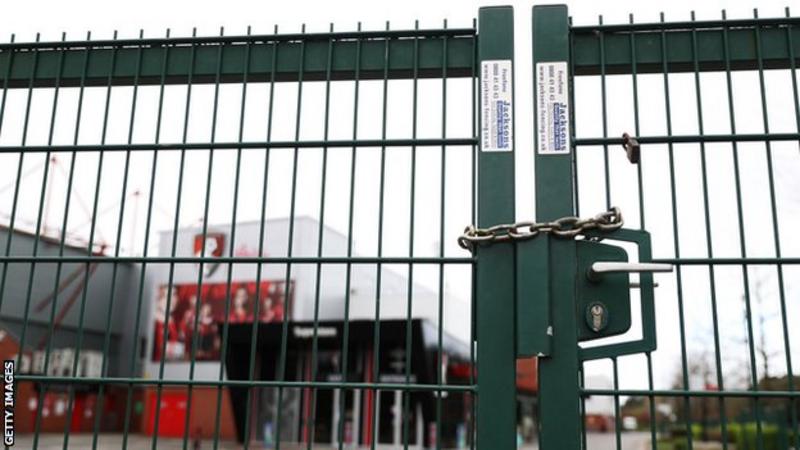 Premier League clubs have discussed "the first tentative moves forward" in plans to resume the 2019-20 season.
Clubs reiterated a commitment to resuming the season "when safe and appropriate to do so" during a video conference on Friday.
The conference followed a separate meeting, hosted by culture secretary Oliver Dowden, involving medical experts from several sports organisations, government and Public Health England, about "stepping up planning" for sport's eventual return.
Representatives from football, rugby union, cricket, racing and funding body UK Sport were present.
Dowden introduced the meeting and said elite sport would return behind closed doors "when, and only when, it is safe to do so on the basis of expert medical advice".
BBC Sport understands that sports have accepted that the return to competition is going to be a "long, detailed process" and the discussions in Friday's conference were largely based on the resumption of training.
'No decisions taken' at Premier League meeting
The Premier League said in a statement it would "only return to training and playing with government guidance".
"No decisions were taken at today's meeting and clubs exchanged views on the information provided regarding 'Project Restart'," the statement added.
"It was agreed that the Professional Footballers' Association, the League Managers' Association, players and managers are key to this process and will be further consulted.
"The clubs reconfirmed their commitment to finishing the 2019-20 season, maintaining integrity of the competition and welcomed the government's support."
The Premier League has been suspended since 13 March because of coronavirus but all clubs remain committed to playing this season's 92 remaining fixtures.
All games are expected to be held behind closed doors and the league is considering making some available on free-to-air TV.
If training is resumed before social distancing rules are relaxed, BBC Sport understands players will be tested for coronavirus twice a week and would be screened for symptoms every day. All tests would be carried out by health professionals at a drive-through NHS testing facility that each club would have access to. Training grounds will be optimised for social distancing and high hygiene levels.
In addition:
Players must arrive at training grounds in kit and wear masks at all times.
They must not shower or eat on the premises. If clubs want to provide players with food, it must be delivered as a takeaway to players' cars.
Only essential medical treatment would be allowed, with all medical staff in full PPE.
All meetings and reviews must take place virtually and off-site.
Source: Read Full Article