Meghan, Duchess of Sussex and Prince Harry might no longer be official members of the royal family, but they are still two of the most-watched people in the world. As they lie low in California, waiting out the COVID-19 pandemic, everyone is wondering what their next move will be.
Still, many can't help but wonder what would have happened had they chosen to stay in Britain and remain working members of the royal family. After all, their fairytale wedding was only two years ago, and at the time, the world was full of hope for the new couple.
Many royal fans remember the exact moment when they saw Meghan step out of the car, resplendent in her wedding gown. There's good news for superfans of the Duchess of Sussex: The makeup artist responsible for creating her stunning wedding look recently opened up about how to create a similar look at home.
Meghan Markle's unique wedding day look
There was a lot of speculation about the type of wedding dress that Meghan would choose for her big day. Many believed that she would pick an old-Hollywood type dress, cut perfectly to suit the curves of her body.
She surprised everyone when she stepped out wearing a unique gown that definitely made waves. The dress was a simple, off-the-shoulder gown with long sleeves. Overall, it was stunning but much more modest and classic than what many expected.
Meghan also chose a low-key method of styling for her wedding hair and makeup. Her hair was worn in a simple, messy bun, with a few loose tendrils left out to frame her face. The messy bun has become Meghan's signature hair look.
As for her makeup, Meghan kept things very natural and opted for sheer makeup that allowed her freckles and California-girl glow to shine through. It was a welcome change from the popular, heavily contoured styles that were all the rage in early 2018.
How did Meghan Markle's makeup artist achieve her look?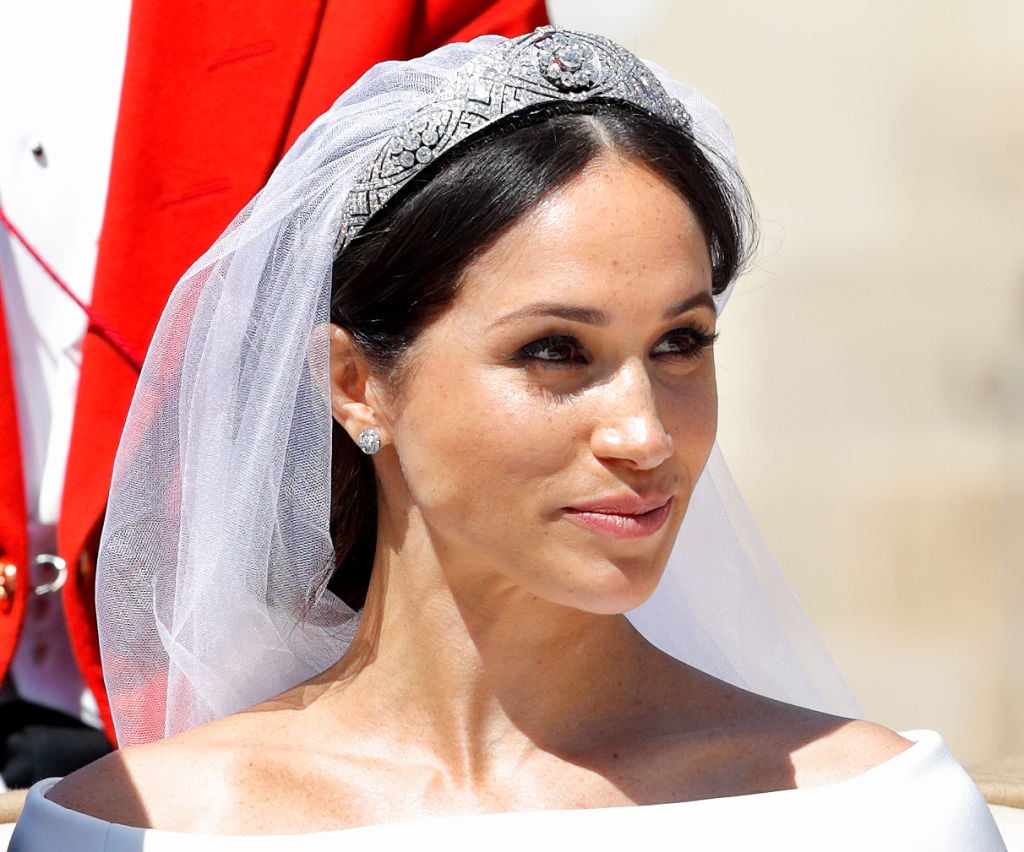 Shortly after the royal wedding, Meghan's makeup artist, Daniel Martin, opened up to Glamour magazine about how he created her wedding day makeup look.
Martin revealed that the makeup look he designed for the former actress was all about "bringing out her best self." He wanted her "incredible skin" to be the focus and chose to use a water-based foundation to minimize any oiliness and maximize skin absorption.
Martin also admitted that creating the look was a very collaborative process and that he and Meghan texted frequently in the days leading up to the wedding, throwing out ideas and sharing inspiration photos. Ultimately, her look inspired many brides all over the world, and Martin is still one of Hollywood's most in-demand makeup artists.
Here's how to recreate Meghan Markle's wedding day makeup
In mid-April, Martin shared his best tips for brides who want to do Meghan Markle-inspired makeup for their own wedding day. Martin recommends that brides begin by using a blurring primer on the skin, and by neutralizing any redness by applying concealer on any areas that are prone to discoloration or redness, such as around the nose or the undereye area.
Martin suggests defining the brow using a clear gel, but to go easy on the brow pencil to ensure a more natural look. According to the pro, eyeshadow can really "open up the lid," but for brides who aren't confident in their eyeshadow application ability, patting some blush or bronzer on the lid with a finger can provide a pretty, naturally contoured effect.
Blush is a must, according to Martin, with his favorite shade being Charlotte Tilbury's Pillow Talk blush. Whether the bride chooses lipstick or tinted balm, Martin recommends finishing the look with a setting spray to help prevent makeup from sliding or melting off the face in warmer temperatures.
"It's all about longevity," the veteran makeup artist reveals.
Source: Read Full Article