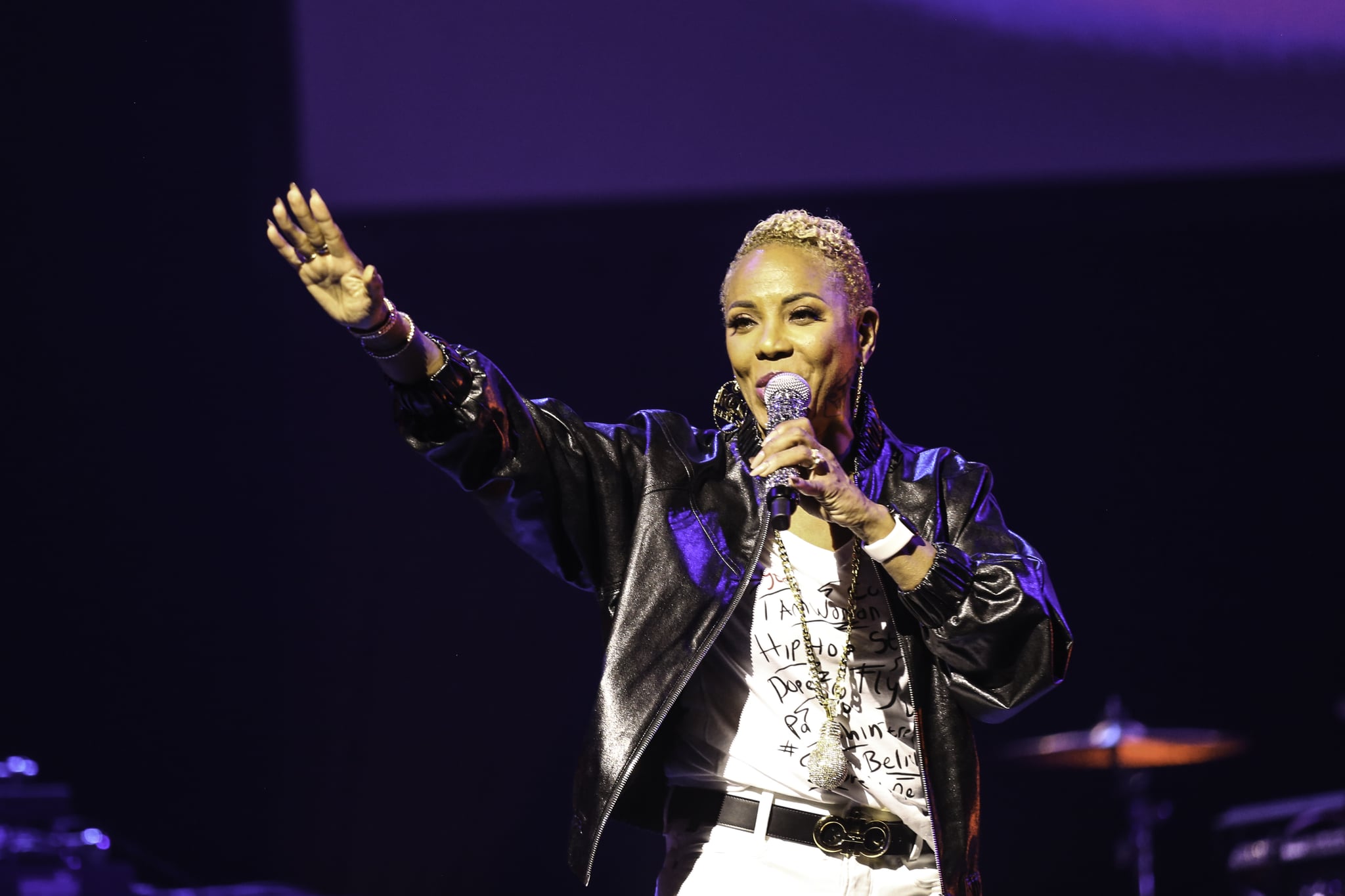 Image Source: Jati Lindsay
My understanding of hip-hop has always been rooted in fellowship. Seeing the way it brings people together is such a magical experience to witness. Walking into the Kennedy Center with my mom on Friday night for MC Lyte's "I Am Woman: A Celebration of Women in Hip Hop" felt like I was on my way to a family reunion. I watched all the aunties and uncles pour into the theater in their flyest gear — from bamboo earrings and Kangol hats to Adidas tracksuits and sneakers — all ready to let loose and bask in a glorious celebration of women in hip-hop.
The event, which was part of the Kennedy Center's 50th anniversary, was the epitome of sisterhood. I grinned ear to ear at the sea of Black women laughing, dancing, and rapping along to the lyrics of performers like Trina, Remy Ma, Tierra Whack, Da Brat, Monie Love, and Yo Yo as they took over the venue. There's nothing more beautiful than watching the women in the genre give other women their well-deserved flowers.
It warmed my heart even more to see the men in hip-hop pay homage to their sisters in music: there were virtual tributes from legends like Nas, LL Cool J, Fat Joe, Common, and Will Smith. Icons like Queen Latifah and Missy Elliott also shared some moving words in honor of all the femcees who helped make hip-hop what it is today. It felt good to be in a room surrounded by so many people, especially women, who were unapologetic about their love for hip-hop.
Ahead of the event, POPSUGAR spoke to MC Lyte about what the evening's festivities would entail. "We're looking to have a really good time, like a block party," she said. "We want people dancing and getting into the performances. Although they're coming to be entertained, it's also the notion that we want to celebrate these women [in hip-hop]."
The entire night was about women getting their due on a stage many have never graced before. MC Lyte succeeded in making sure every honoree and performer had their moment to shine, so here's hoping there will be many more celebrations for the rest of our female giants in hip-hop.
Keep reading for the rest of MC Lyte's interview, in which she touches on her career, today's female rappers, and what it truly means to be a woman in hip-hop.
Source: Read Full Article