BTS had several memorable moments at the Grammy Awards — their spy "Butter" performance and their selfie with Megan thee Stallion among them. BTS' V even whispered something to Olivia Rodrigo, with ARMYs commenting on the adorable interaction.
Olivia Rodrigo and BTS' V had an interaction at the 2022 Grammy Awards
As Grammy-nominated artists, BTS and Rodrigo both performed at the 2022 award ceremony, with the K-pop group debuting a spy version of their 2021 hit "Butter." Both artists also sat in the audience, jamming out to other musicians and applauding the winners of each category.
There was even a special moment between BTS' V and Rodrigo. In between the awards, V sat next to Rodrigo and leaned over to whisper in her ear. Rodrigo then gave a shocked, followed by a confused expression as V pulled a card from behind her head.
Within minutes, ARMYs took to social media, giving their commentary on the somewhat flirtatious interaction. #KimTaehyung trended on Twitter even hours after the Grammy Award ceremony. (Kim Taehyung is BTS V's real name.)
ARMYs noted the 'cute and funny' Grammy interaction between BTS' V and Olivia Rodrigo
Of course, BTS' V and Rodrigo aren't dating. Still, these artists often share support for one another's music. As a result, ARMYs shared their support for this skit and the surprising performance from BTS.
"The standing ovation made me so happy!! Congrats to BTS for that performance! I love how they [stuck] to the K-pop elements of both dancing and singing," one Reddit user said. "I loved that little V and Olivia Rodrigo skit/moment."
"They were amazing And yes, V flirting with Olivia Rodrigo was cute and funny," another Reddit user noted. A third even made a list of their favorite moments, including Jimin jumping, Suga and RM rapping, and the V and Rodrigo interaction.
Even on the red carpet for the Grammy Awards, BTS was asked who they wanted to collaborate with in the future. When RM pointed the microphone at V, the idol mentioned the "Good 4 U" singer.
"Can we talk about how V was the one that said he wanted to collaborate with Olivia (also the rest of BTS smiling when he said that) then he flirts with her," one YouTube comment wrote. BTS previously worked with musicians Halsey, Charli XCX, Coldplay, and, recently, Megan Thee Stallion.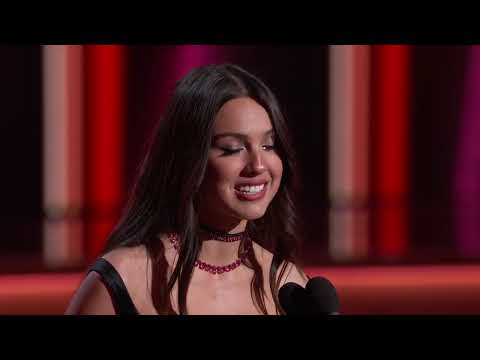 ARMYs poked fun at BTS' RM for not having a driver's license
The jokes and memes keep coming. As the leader of BTS, RM often acts as the translator for this group. Still, RM is the only BTS member who can't drive a car, with other members sometimes joking about his bike riding.
Some fans referenced Rodrigo's Grammy-nominated hit "Drivers License" after this interaction. On one YouTube video about the interaction, an ARMY joked, "Taehyung definitely whispered 'Namjoon still can't drive.'"
There's no official collaboration between these Grammy-nominated performers in the works. Still, fans hope for new music from Rodrigo and the "Permission to Dance" artists.
Source: Read Full Article