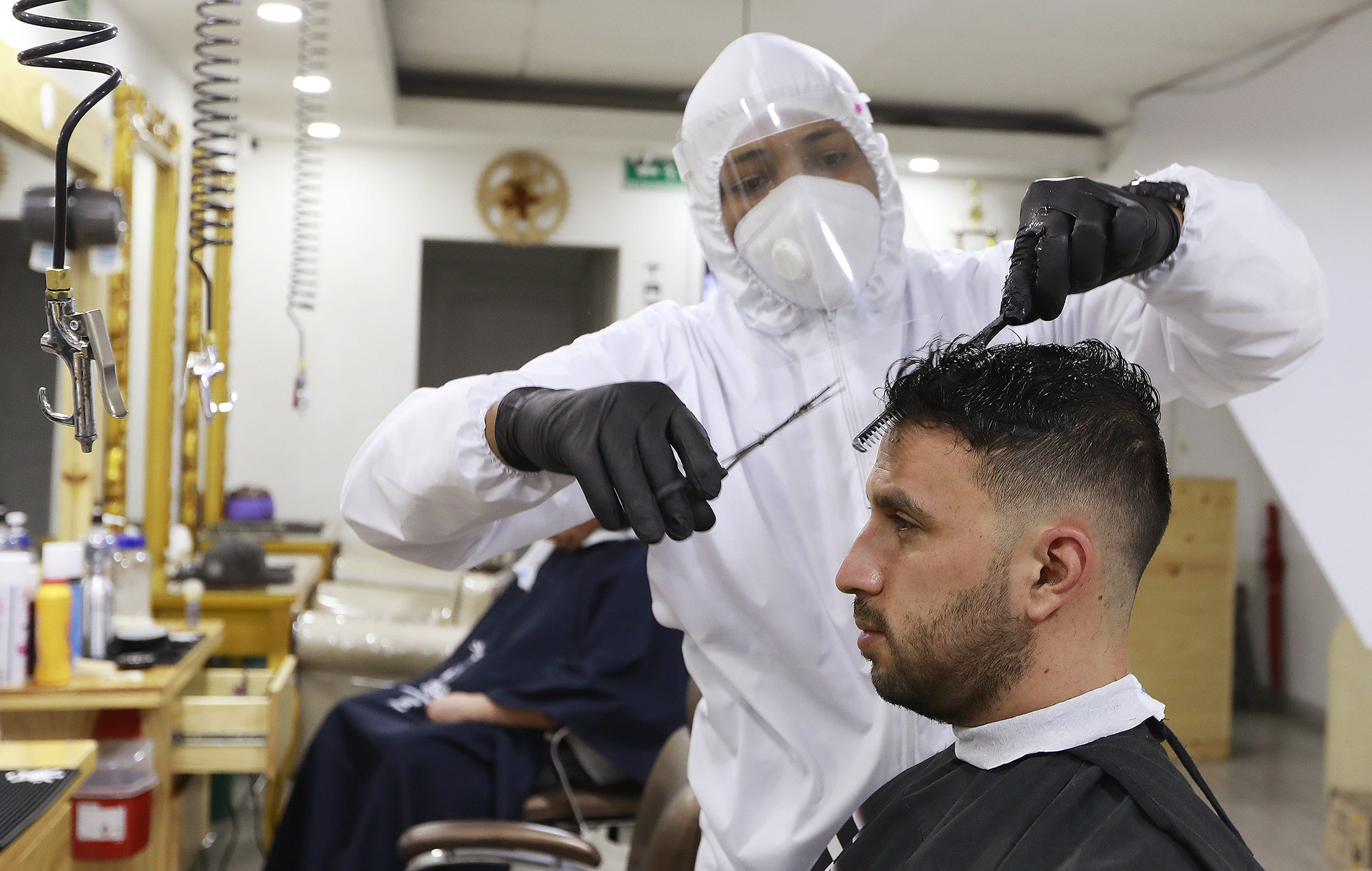 A hairdresser in a barbershop amid the coronavirus pandemic on April 29, 2020 In Bogota, Colombia.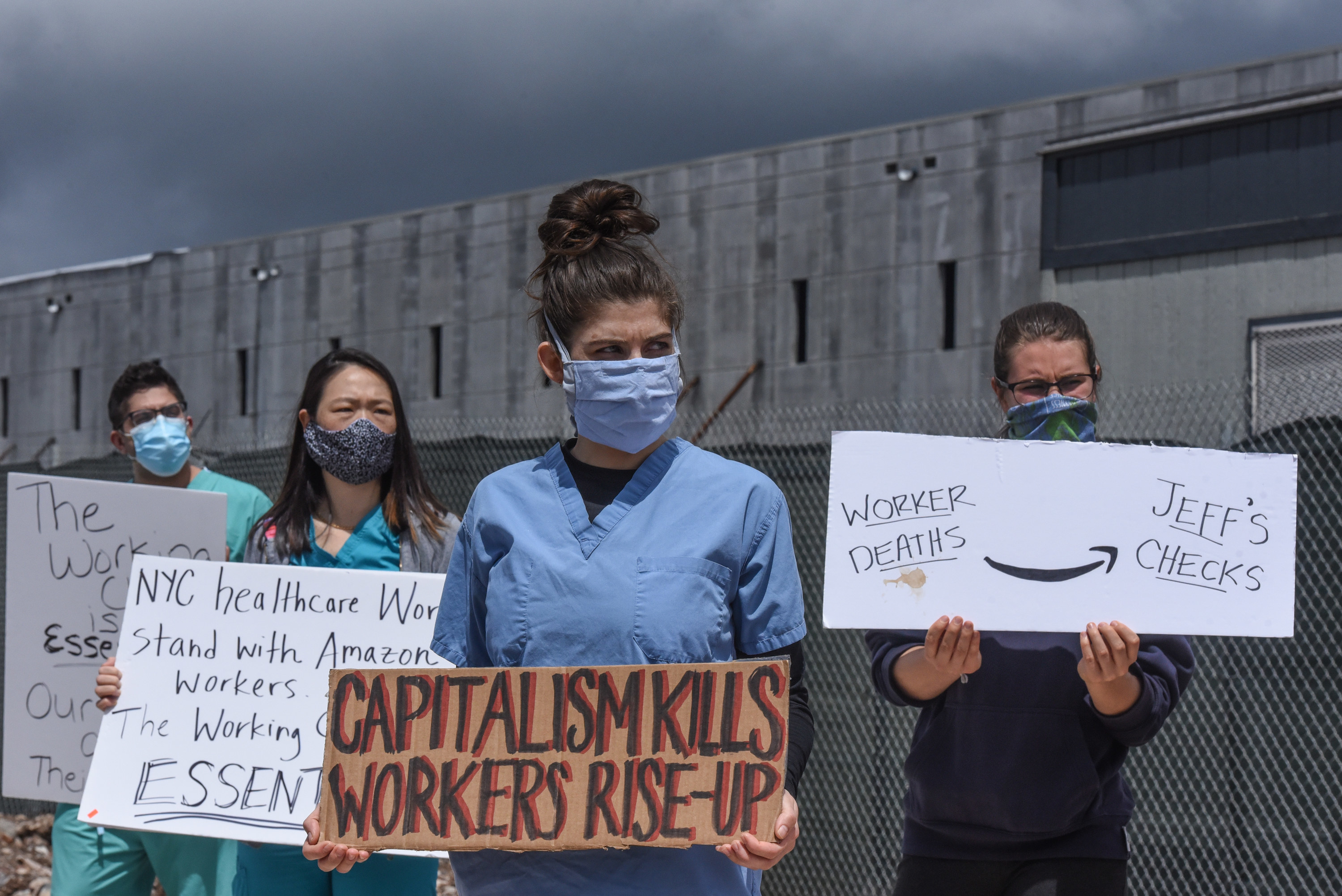 People protest working conditions outside of an Amazon warehouse fulfillment center on May 1, 2020, Staten Island.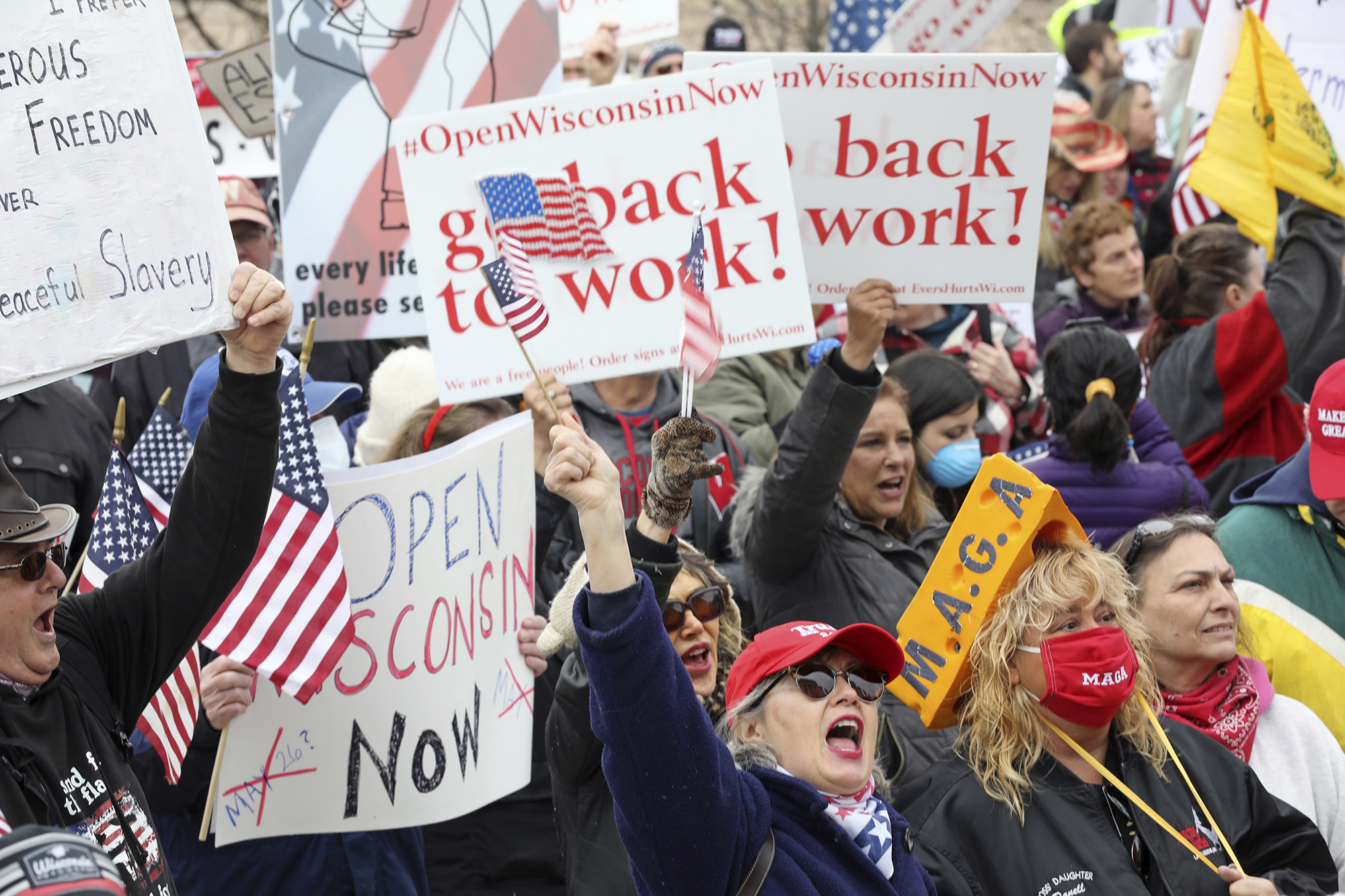 Protesters gather for a rally against Gov. Tony Evers' extended stay-at-home order due to COVID-19, at the Wisconsin State Capitol in Madison, Wisconsin, on April 24, 2020.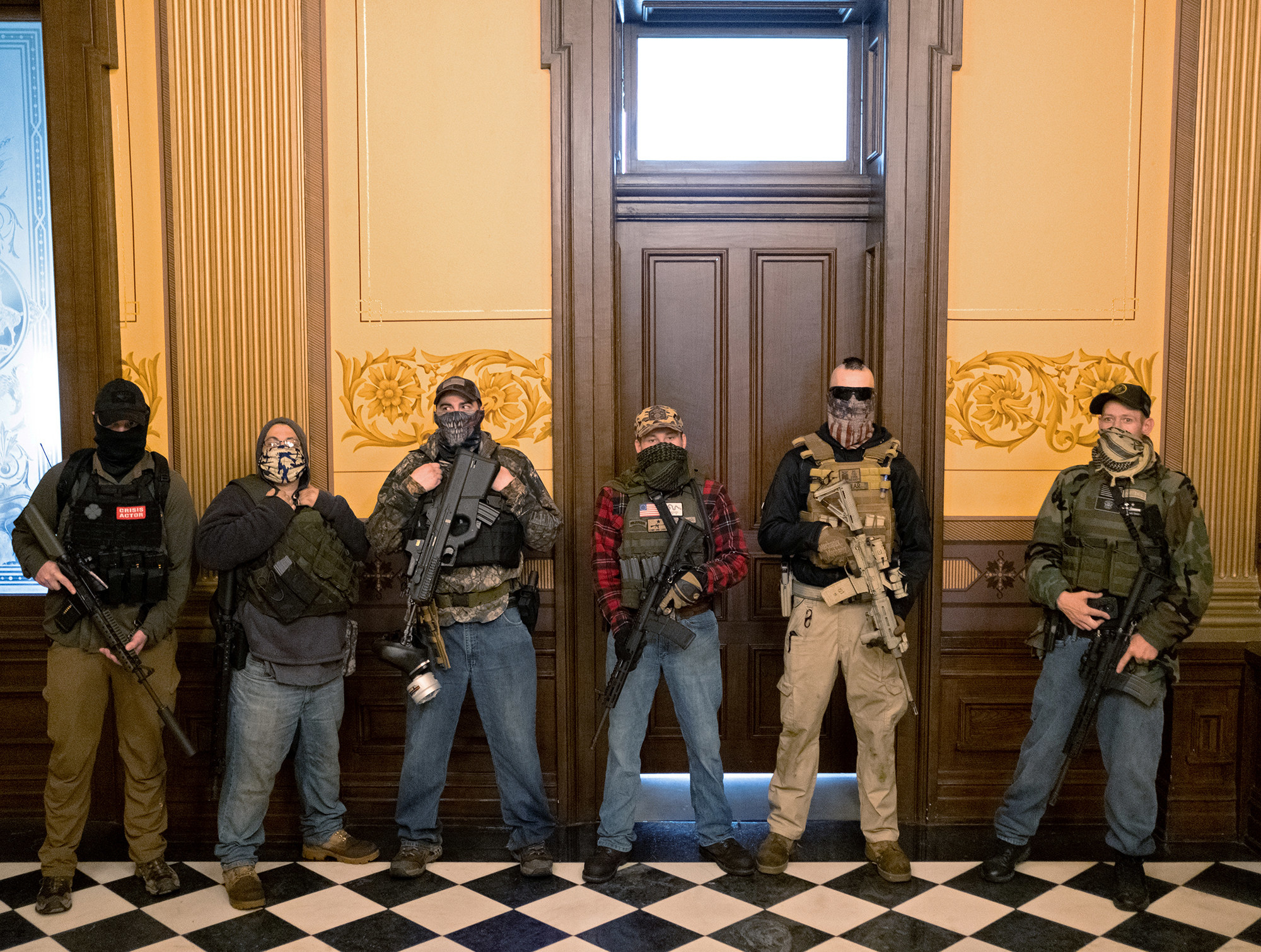 A militia group stands in front of the governors office in Michigan after protesters occupied the state capitol building during a vote to approve the extension of Governor Gretchen Whitmer's stay-at-home order due to the coronavirus outbreak in Lansing, Michigan, on April 30, 2020.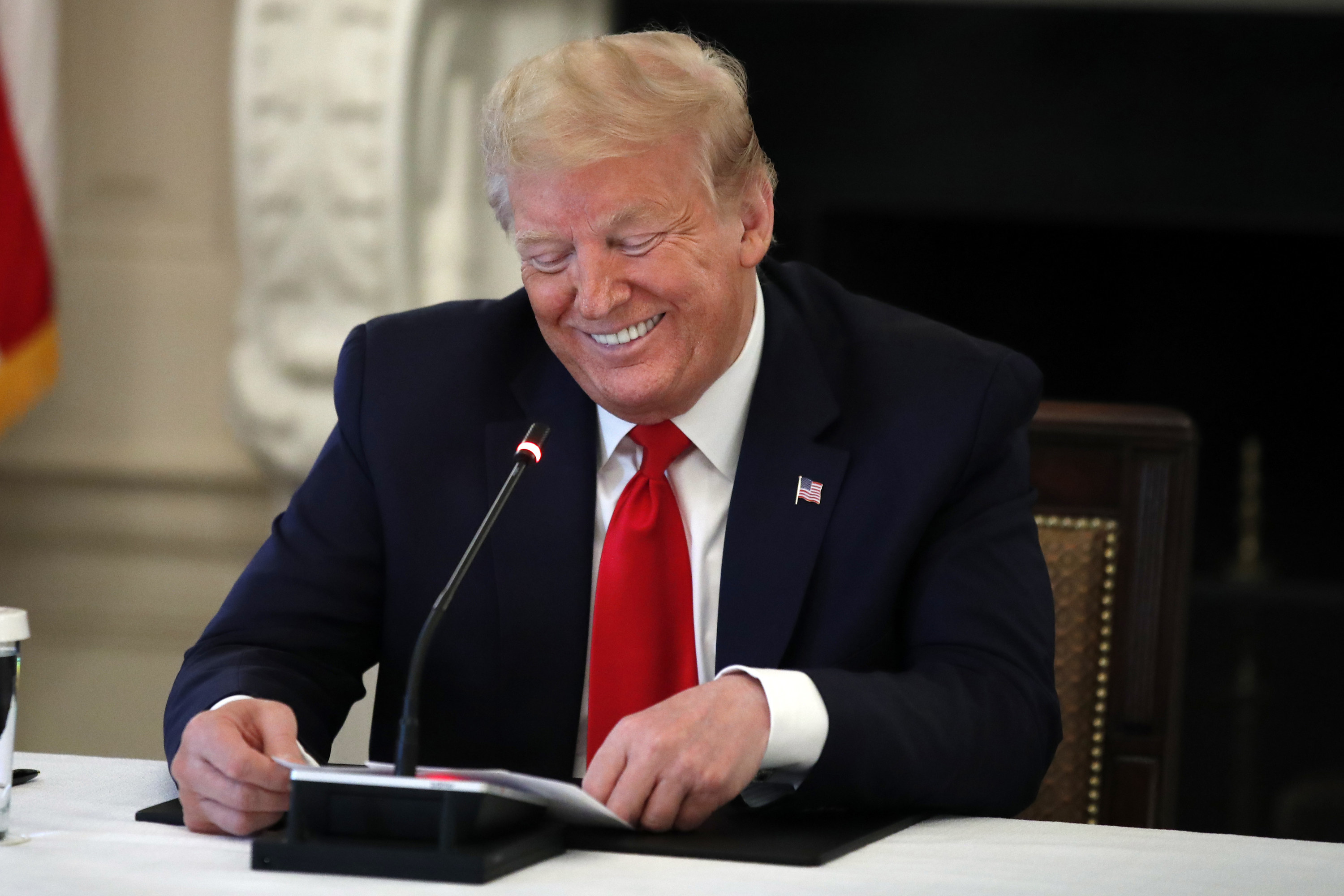 President Donald Trump during an event with industry executives about reopening the country on April 29, 2020, in Washington.
Police officers salute the USNS Comfort as it is pushed out into the Hudson River by tugboats on April 30, 2020, in New York.
Jessica Tudor, a surgical technologist, records planes after they flew over Saint Francis Hospital in salute to healthcare workers in Tulsa, Oklahoma on April 30, 2020.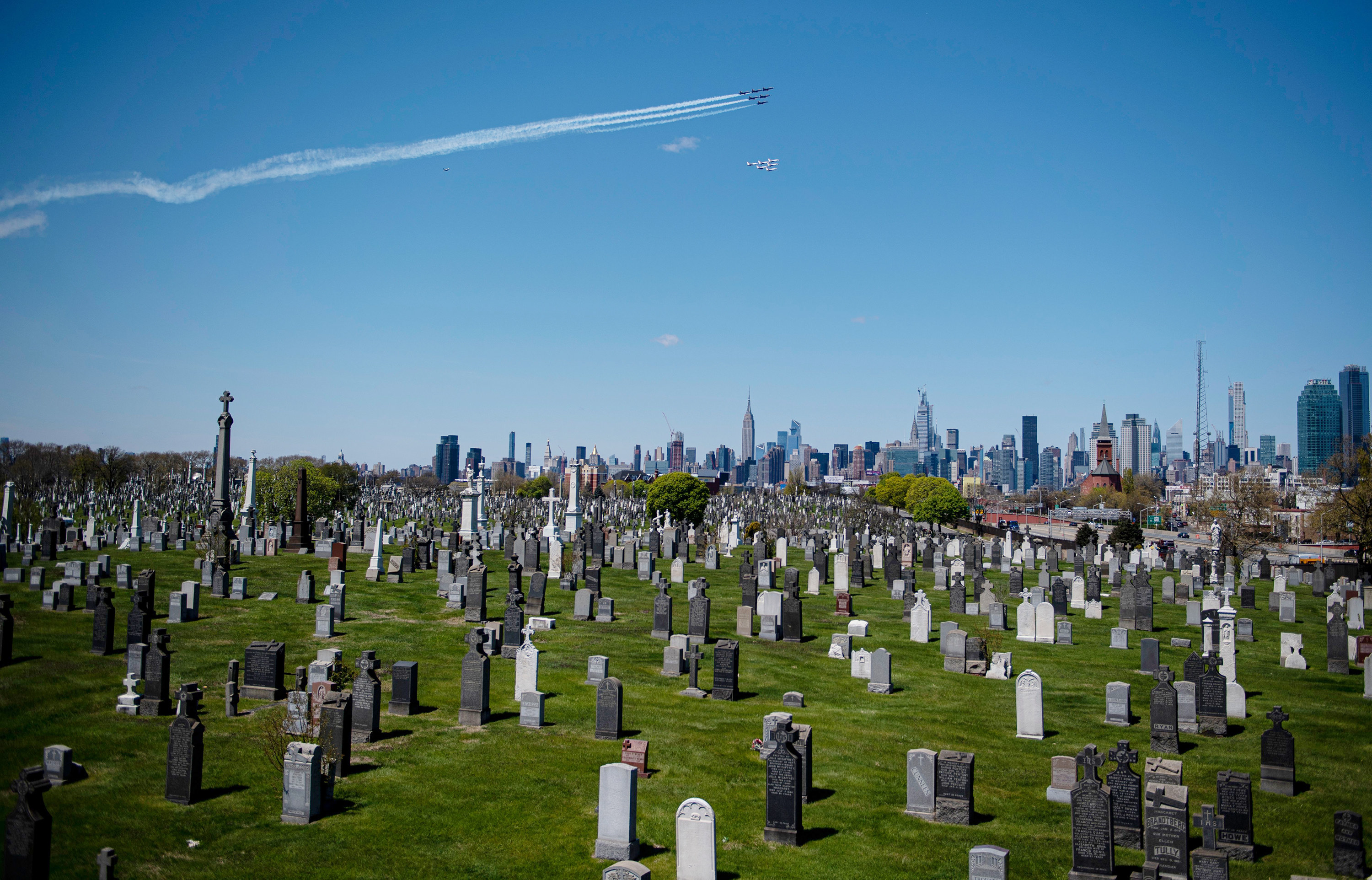 The Blue Angels (top) and Thunderbirds fly over New York in a salute to health care workers on April 28, 2020.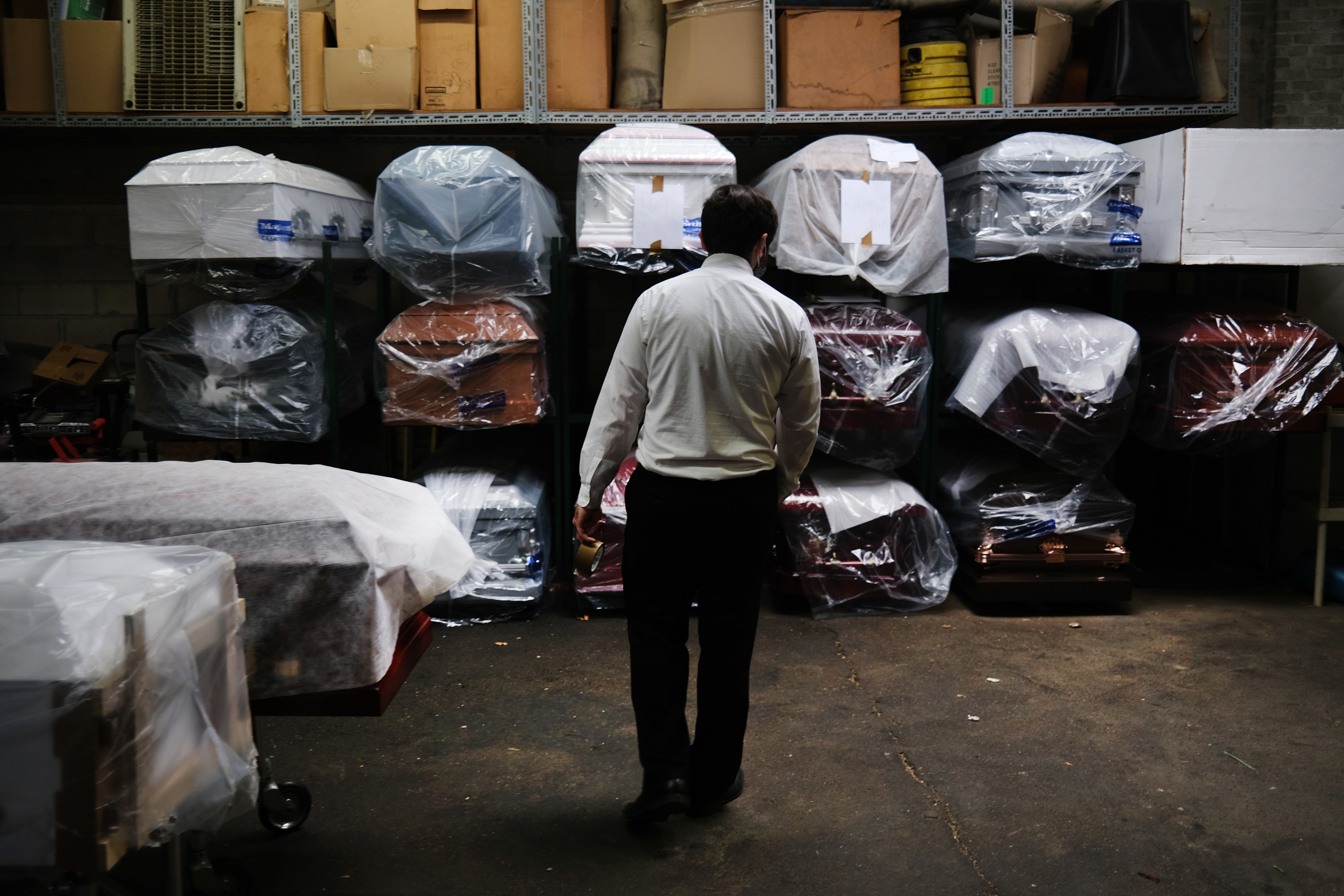 James Harvey tends tends to the inventory of pre-sold caskets at a funeral home on April 29, 2020 in New York City.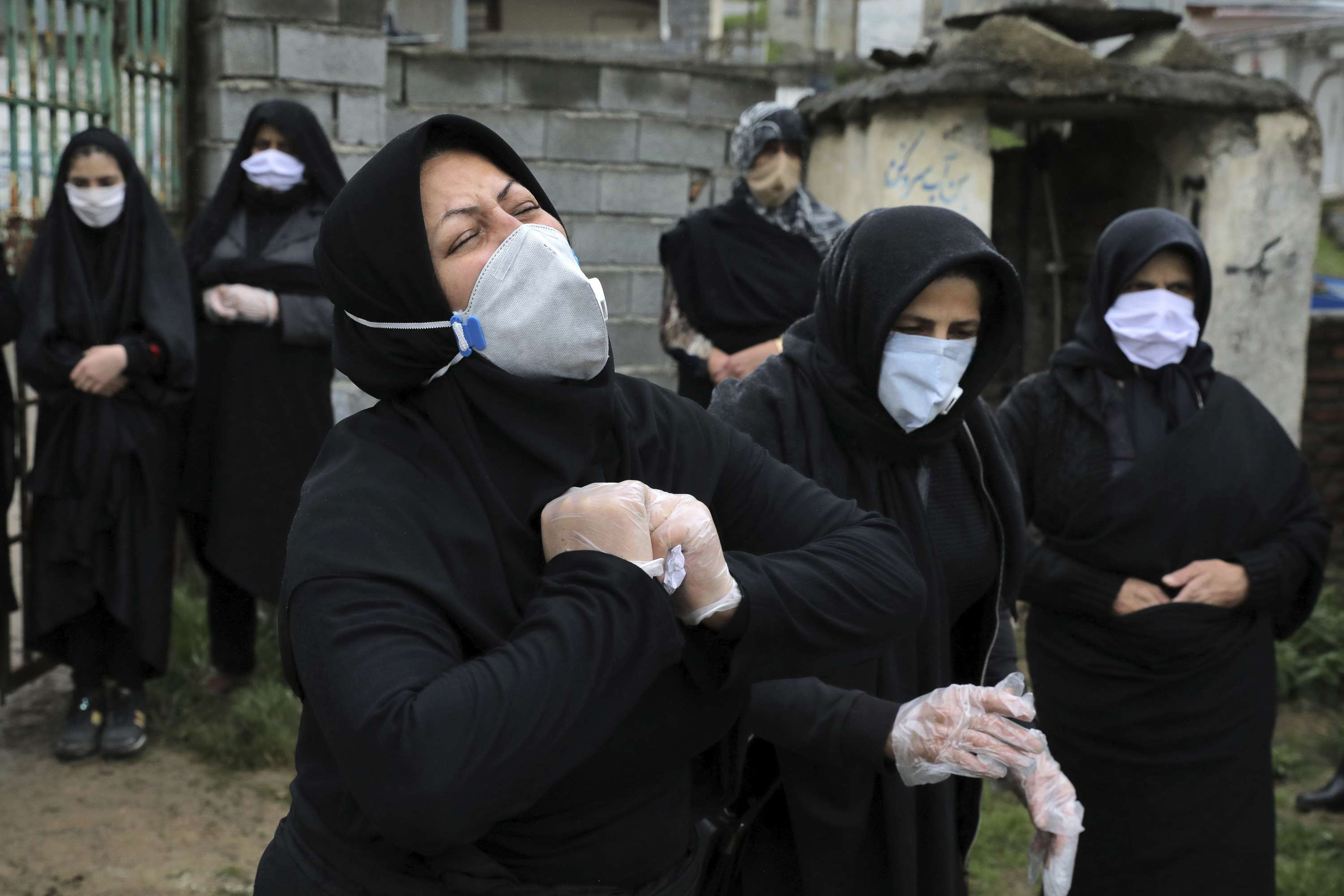 Relatives of a victim who died from the new coronavirus, mourn at the gate of a cemetery, in the outskirts of the city of Babol, Iran on April 30, 2020.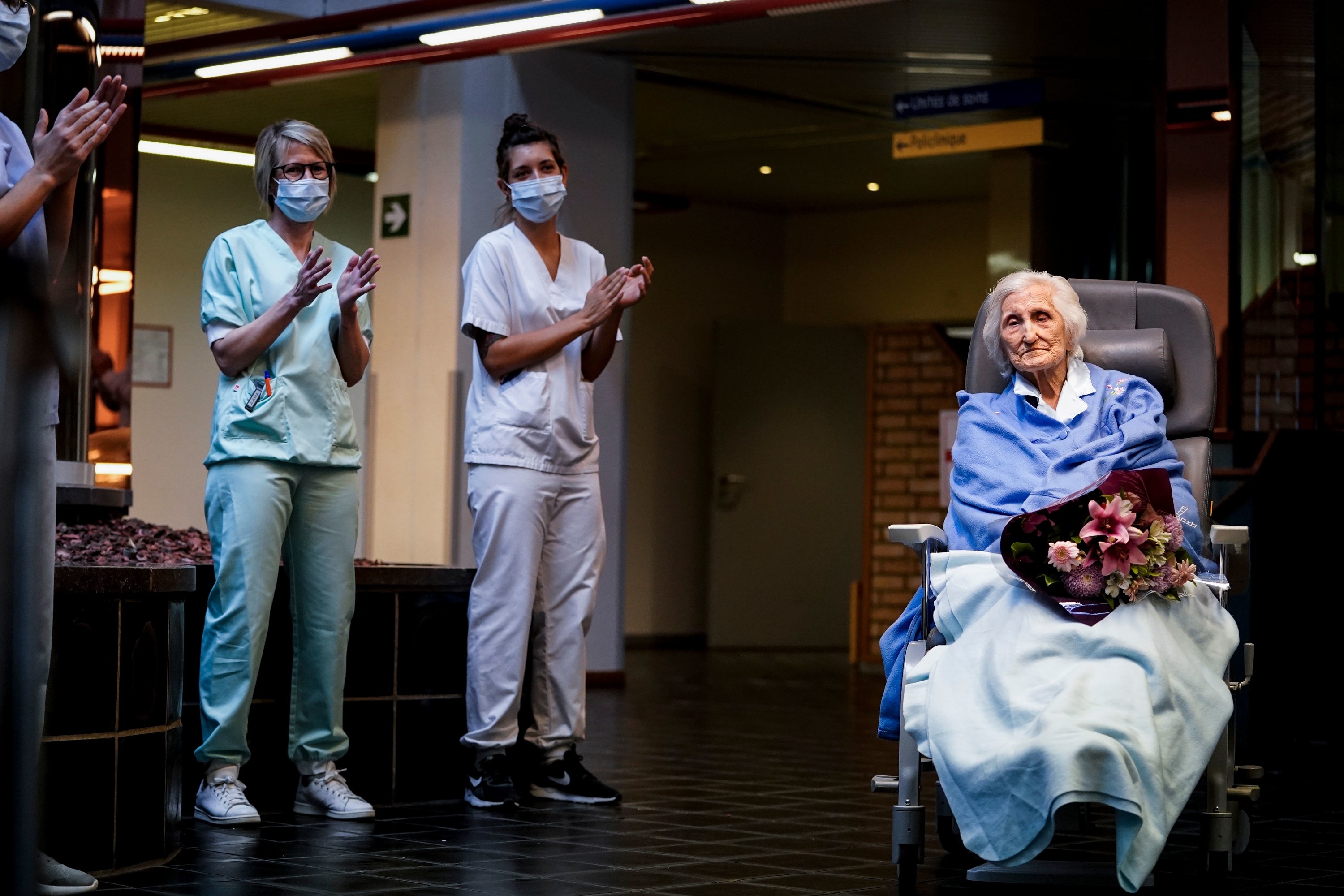 Medical workers clap as 100 year-old patient Julia Dewilde leaves the hospital on April 29, 2020 in Seraing, Belgium, after being succesfully treated for COVID-19.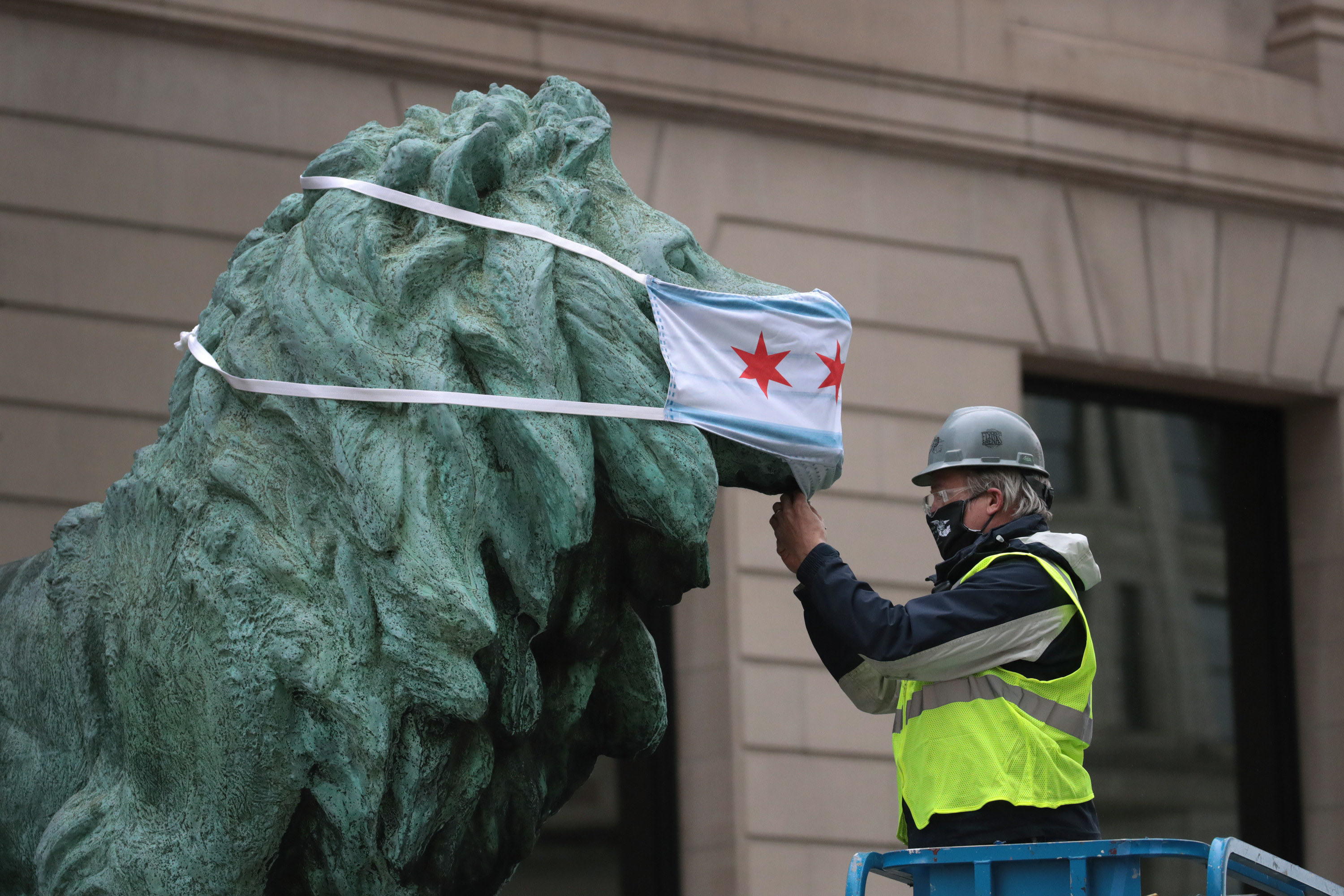 Mark Witteveen puts a mask over the face of one of the lion sculptures that stand in front of the Art Institute on April 30, 2020 in Chicago, Illinois.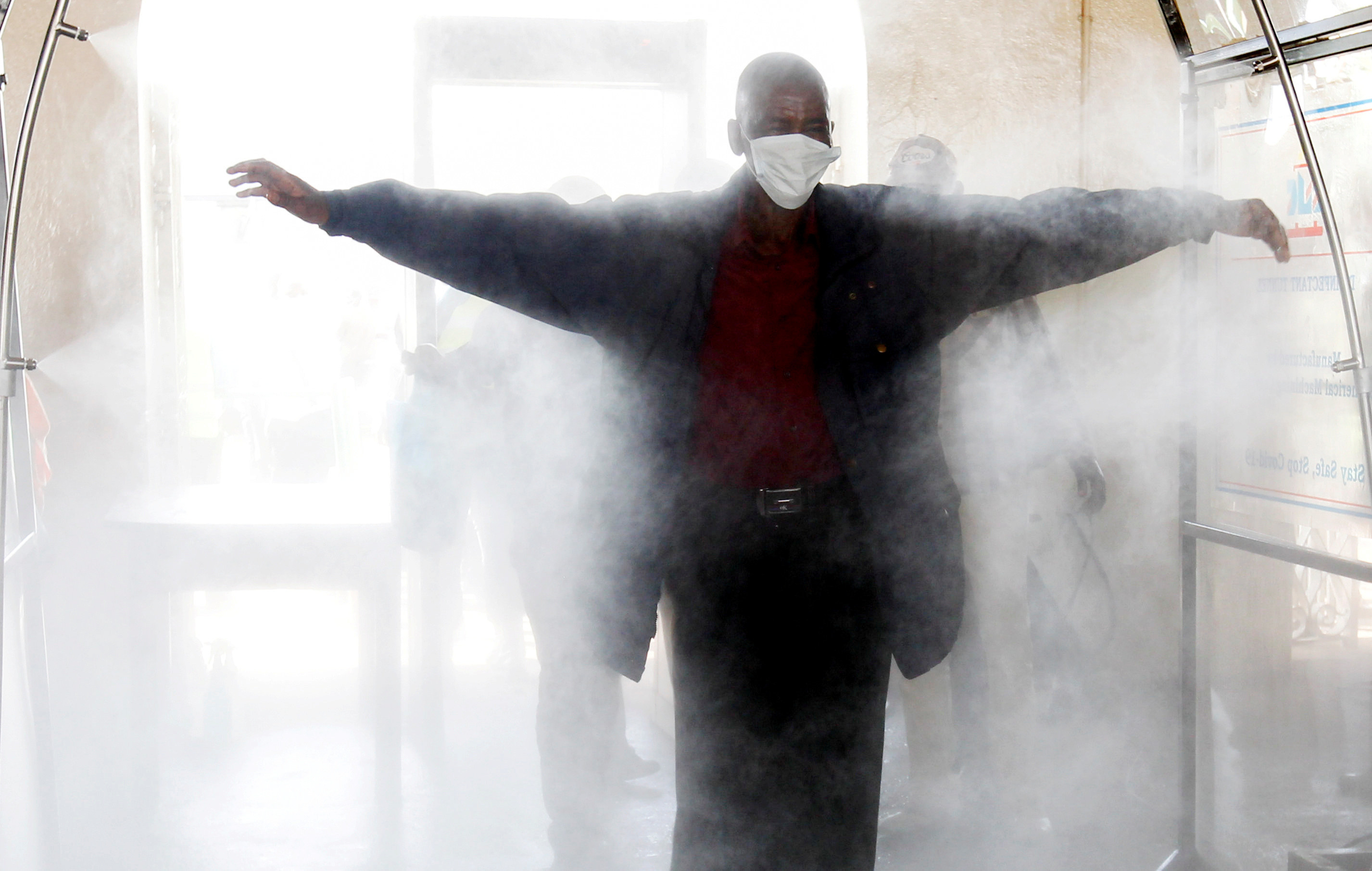 A passenger walks through a disinfectant tunnel as he prepares to board the commuter train service by the Kenya Railways Corporation before a curfew, Nairobi, Kenya on April 29, 2020.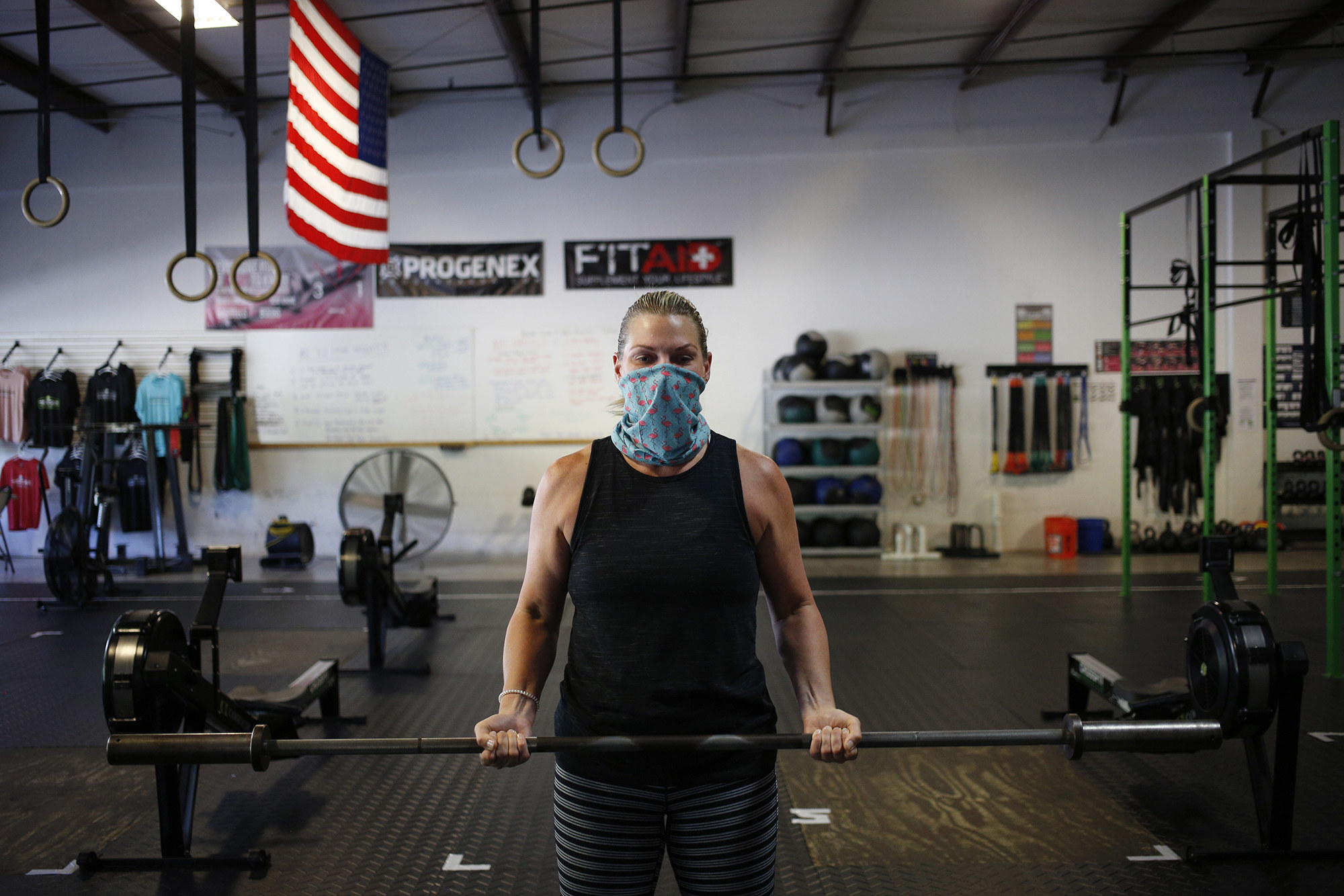 A person wearing at the Crossfit Knoxville gym in Knoxville, Tennessee on May 1, 2020.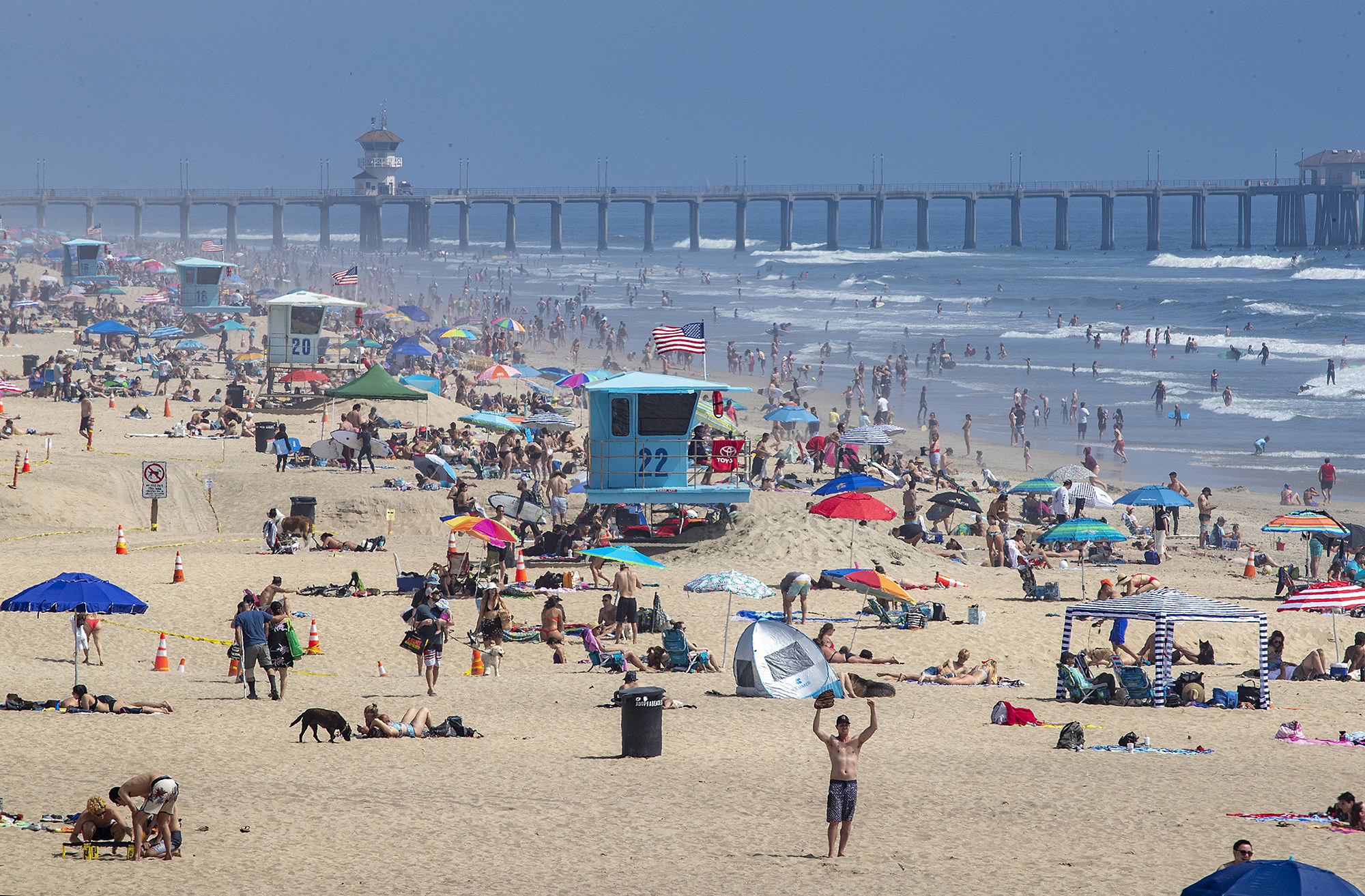 Thousands of beach-goers enjoy a warm, sunny day at the beach amid the coronavirus pandemic in Huntington Beach, California on April 25, 2020.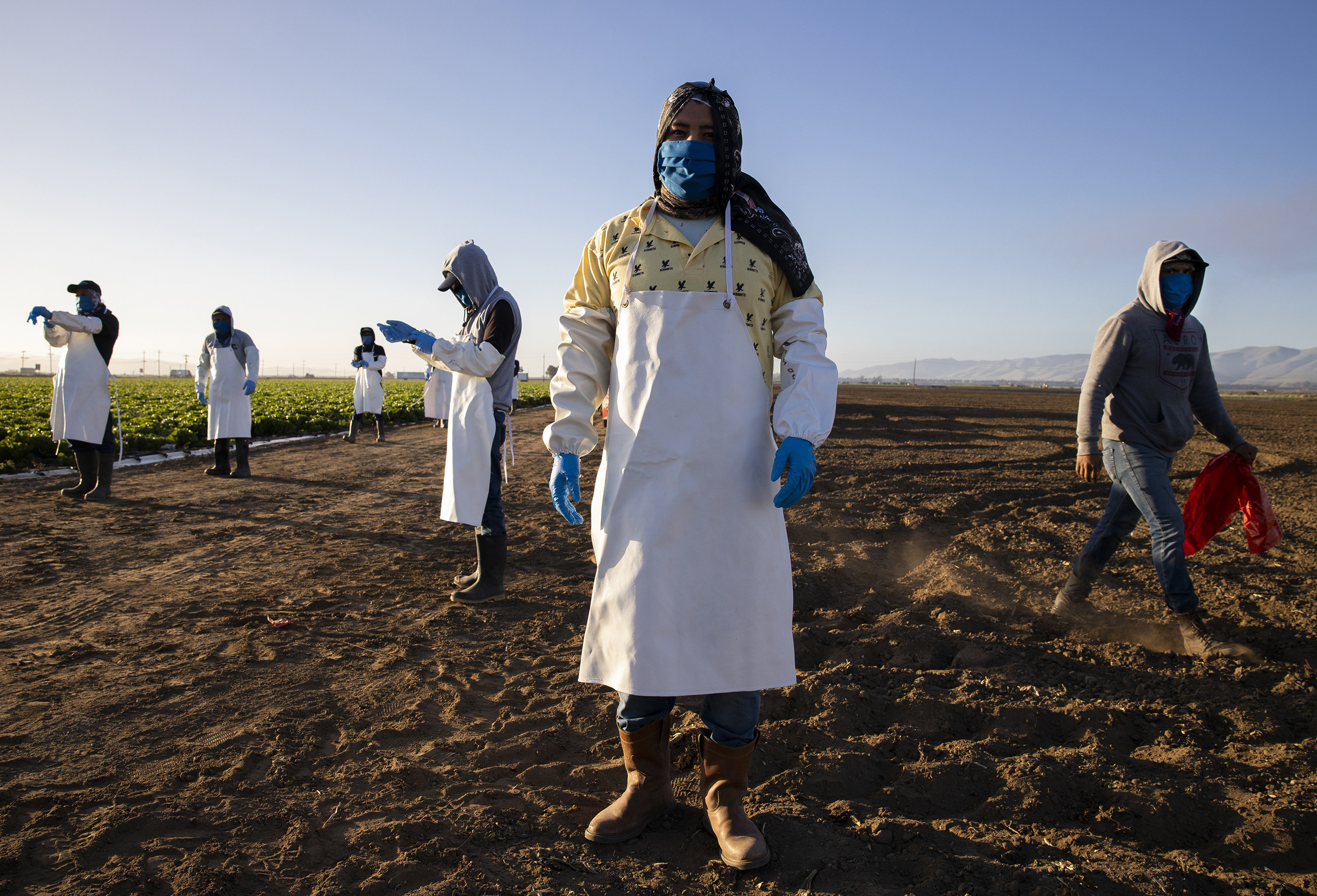 Farm laborers arrive early in the morning to begin harvesting on April 28, 2020 in Greenfield, California.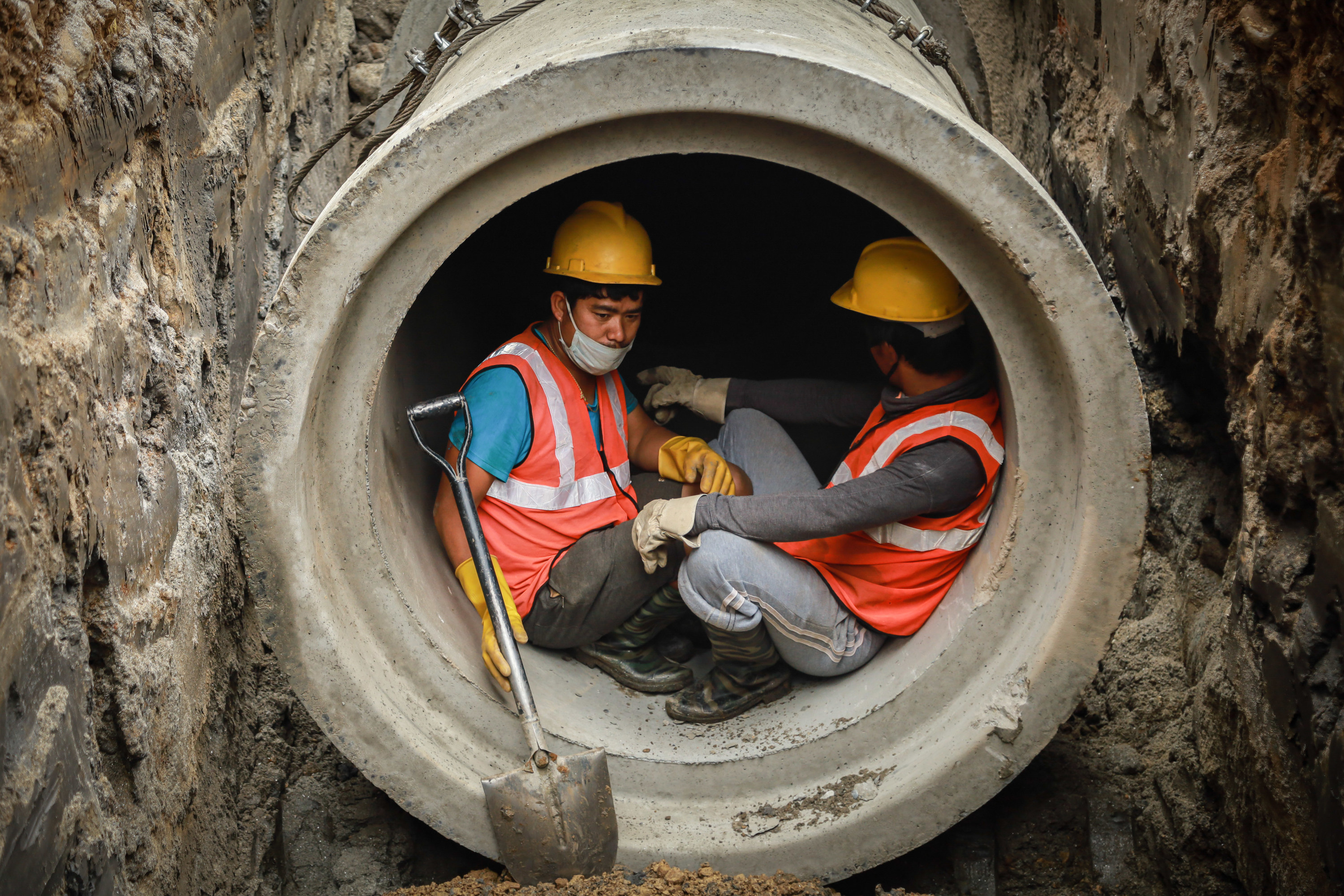 Construction workers work at a drainage construction site in Kathmandu, Nepal on May 1, 2020.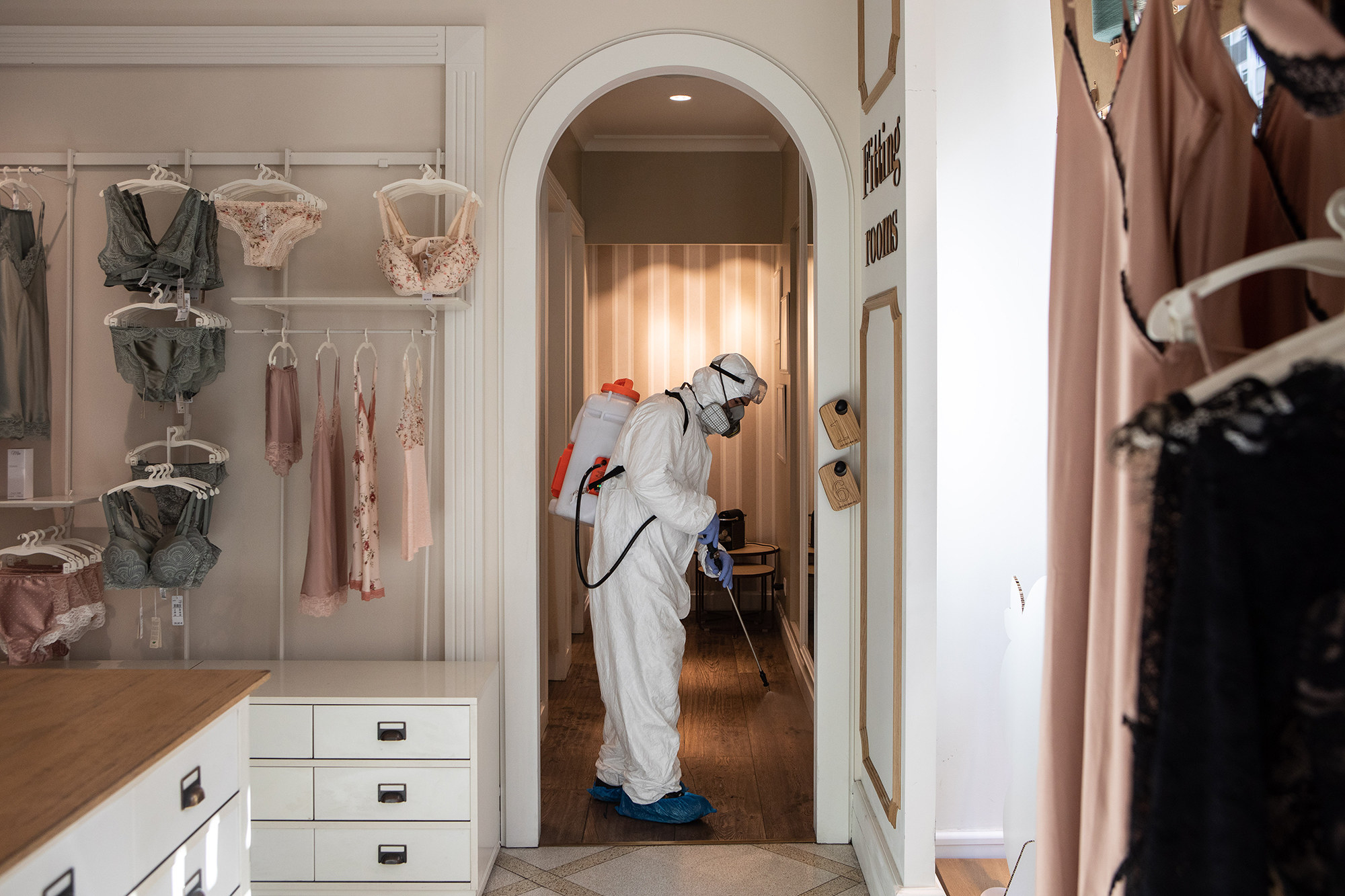 A utility service worker disinfects the fitting rooms of a womens underwear store on April 29, 2020 in Milan, Italy.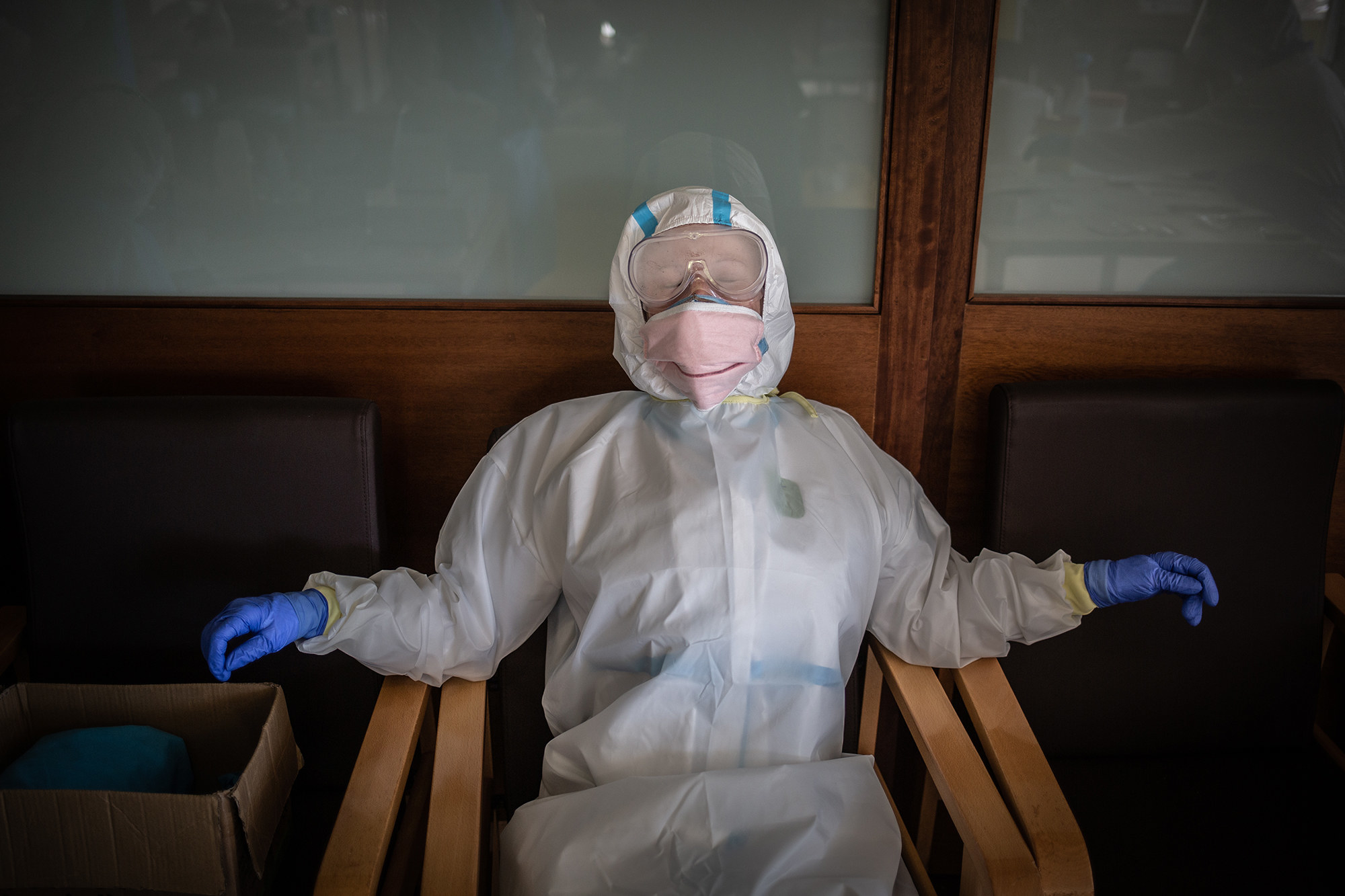 A volunteer at the Redos Geriatric Residence in Barcelona where they are carrying out rapid Covid-19 tests on residents and health workers on April 30, 2020.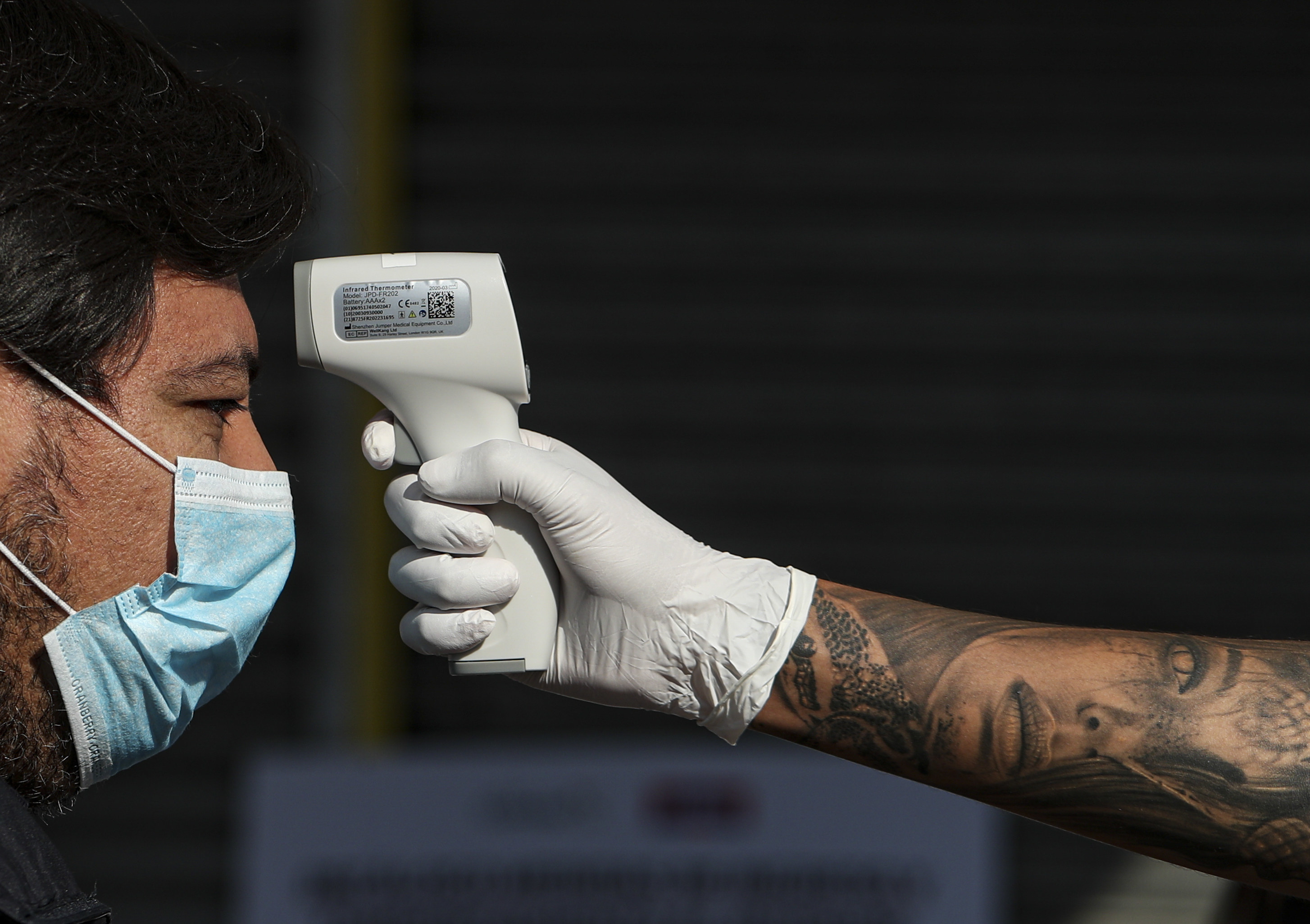 A city worker measures the temperature of a man before entering the Apumanque shopping center in Santiago, Chile on April, 30, 2020.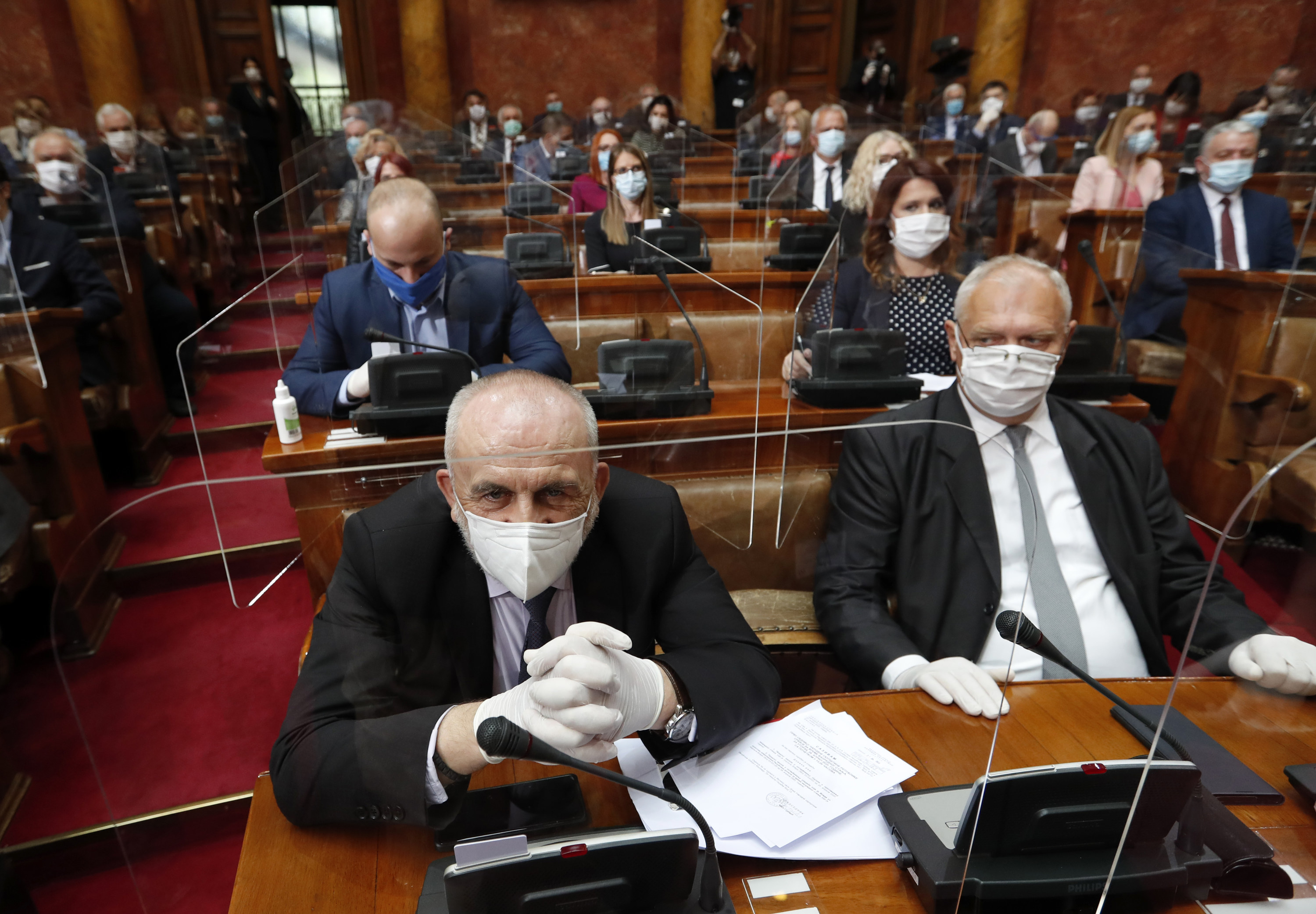 Serbian lawmakers take part in the parliament session in Belgrade, Serbia on April 28, 2020.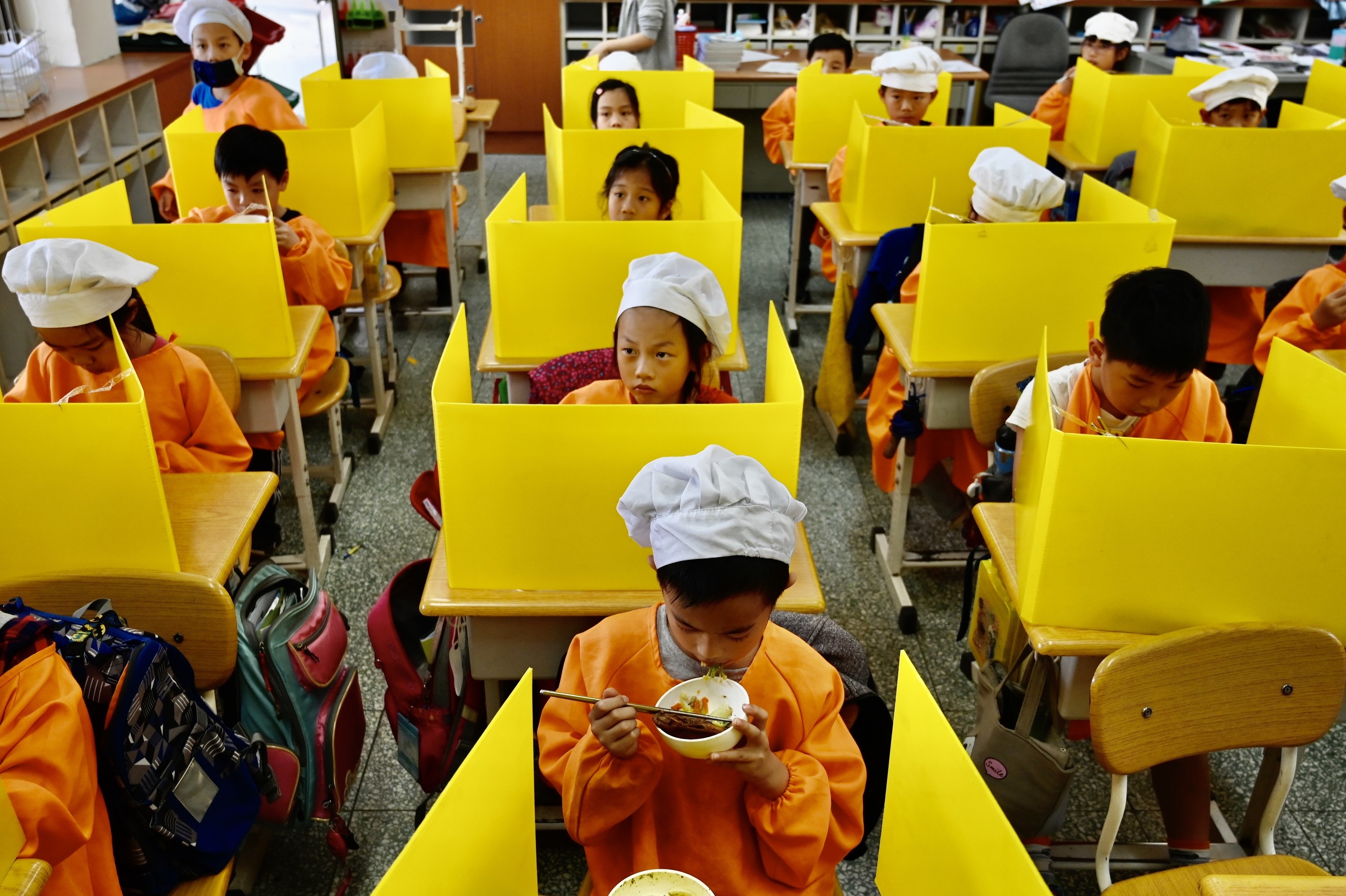 Students eat their lunch at Dajia Elementary School in Taipei on April 29, 2020.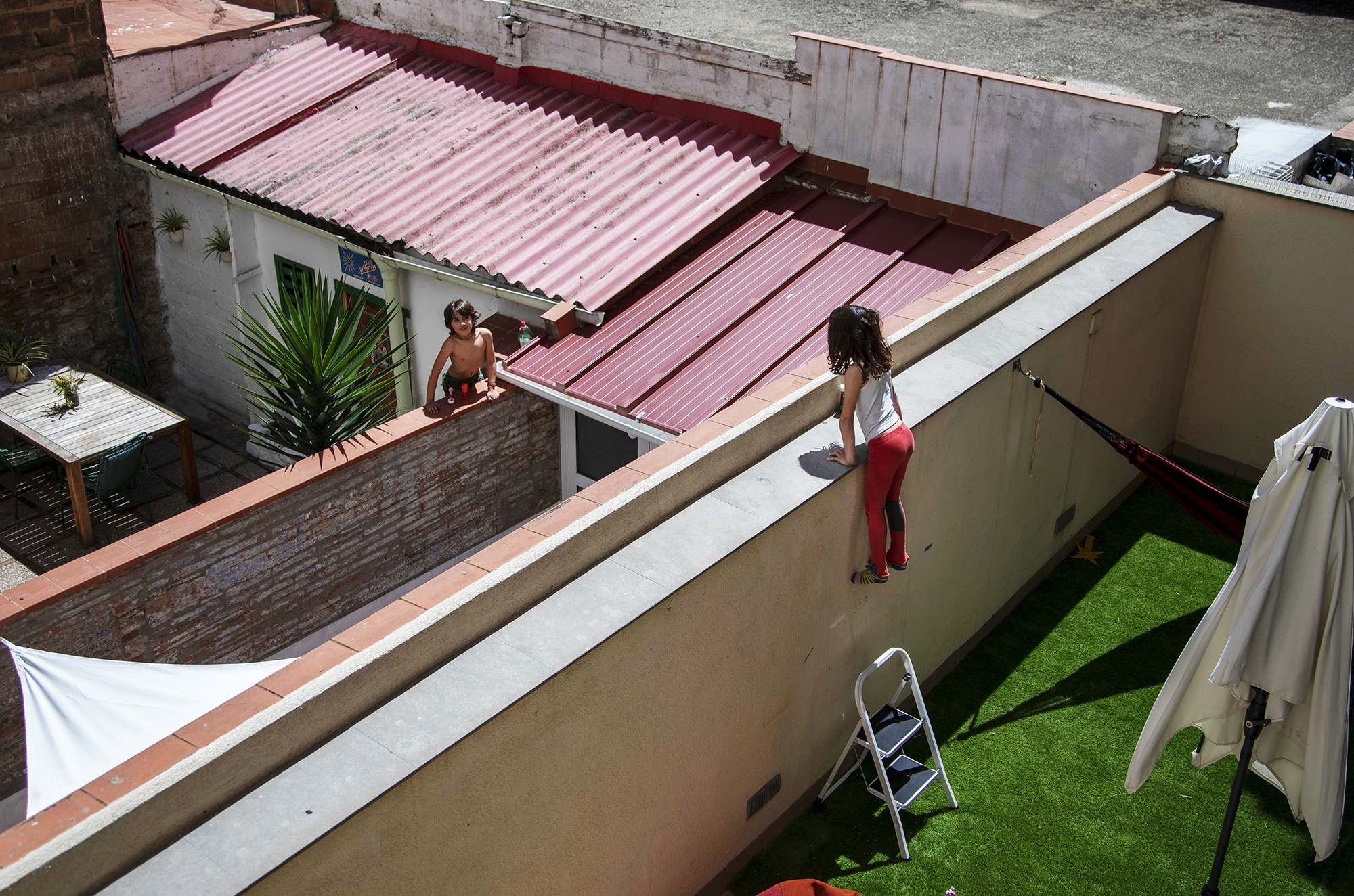 Gala speaks with her friend and classmate Oliver from their courtyard in Barcelona, Spain on April 29, 2020 as the lockdown to combat the spread of coronavirus continues.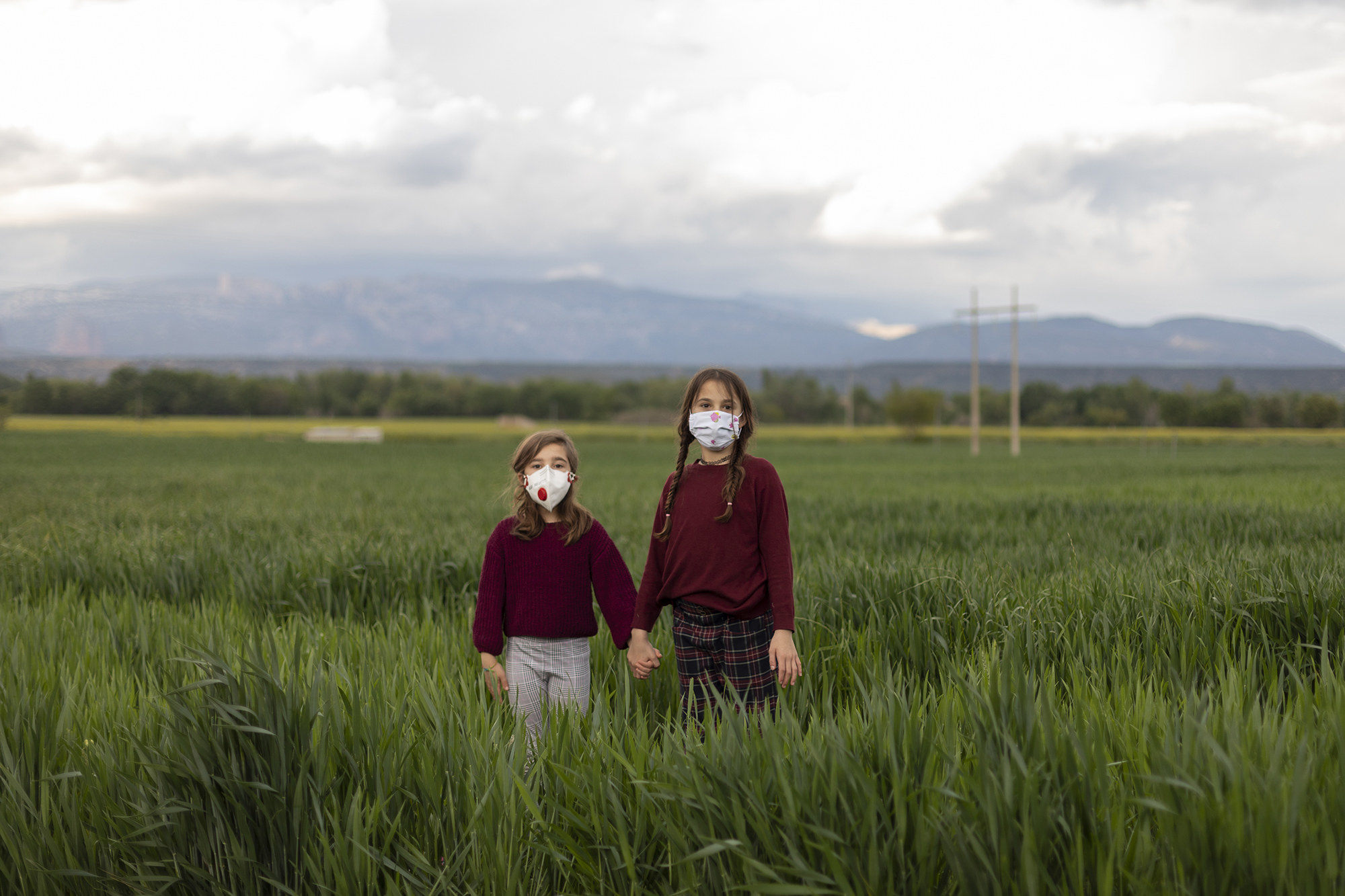 Two girls play in a wheat field next to their house on April 24, 2020 in Chimillas, Huesca Spain.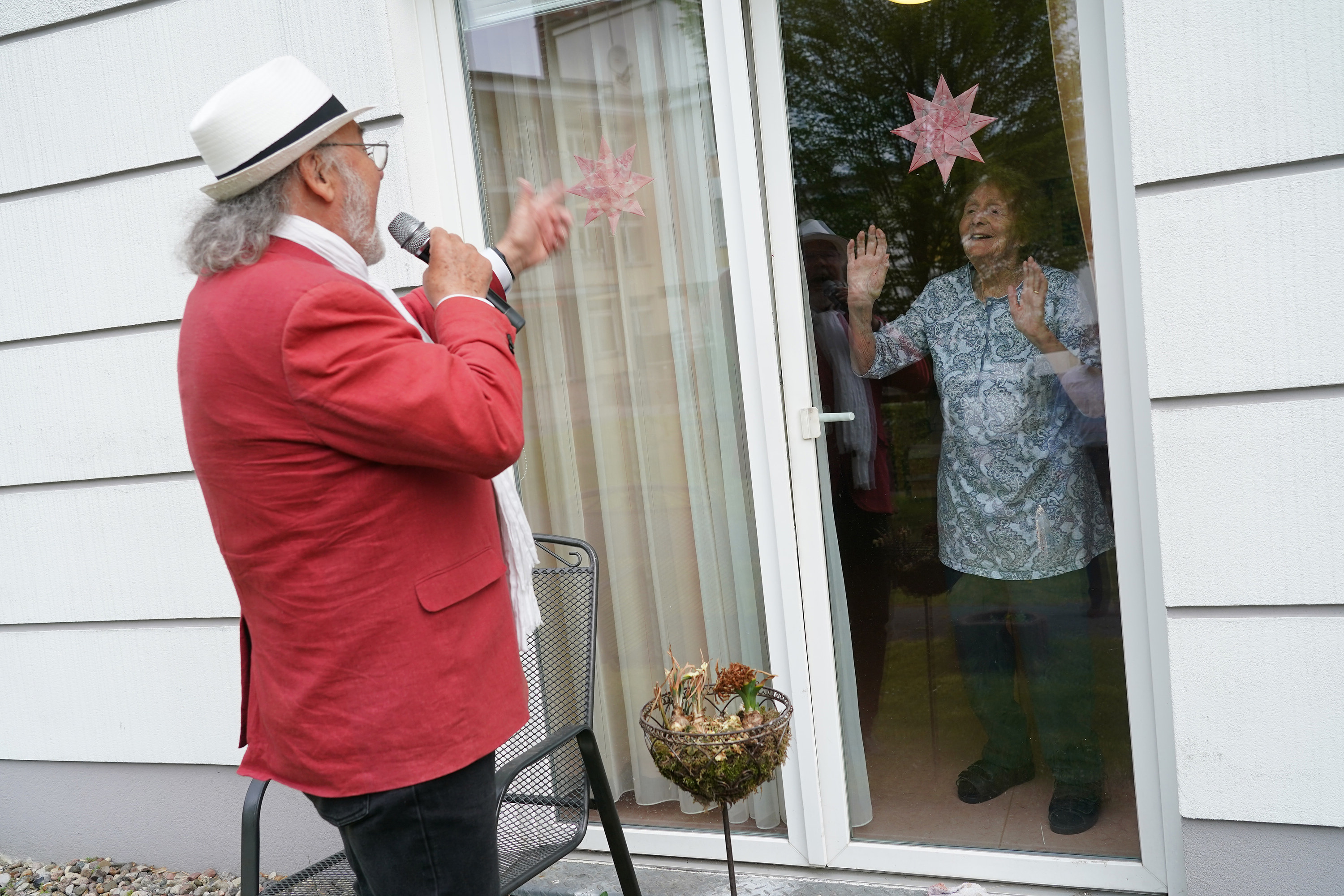 Resident Johanna Pfeiffer, 96, looks on from her room as singer Alf Weiss performs live at the Hermann Radtke Haus nursing home on April 29, 2020 in Berlin, Germany.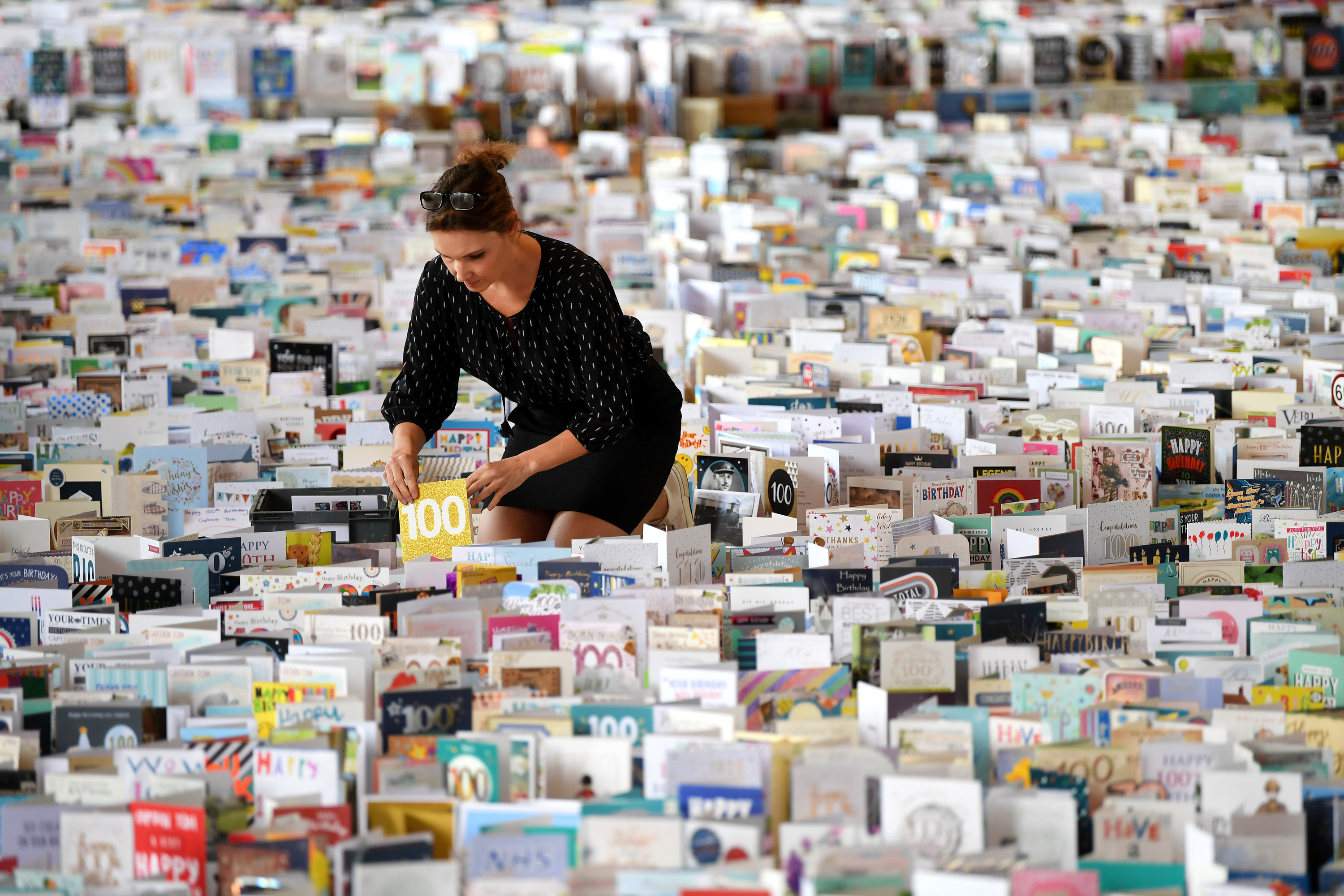 Mandy Alison adds to the thousands of birthday cards sent to Captain Tom Moore in the Hall of Bedford School, England on April 29, 2020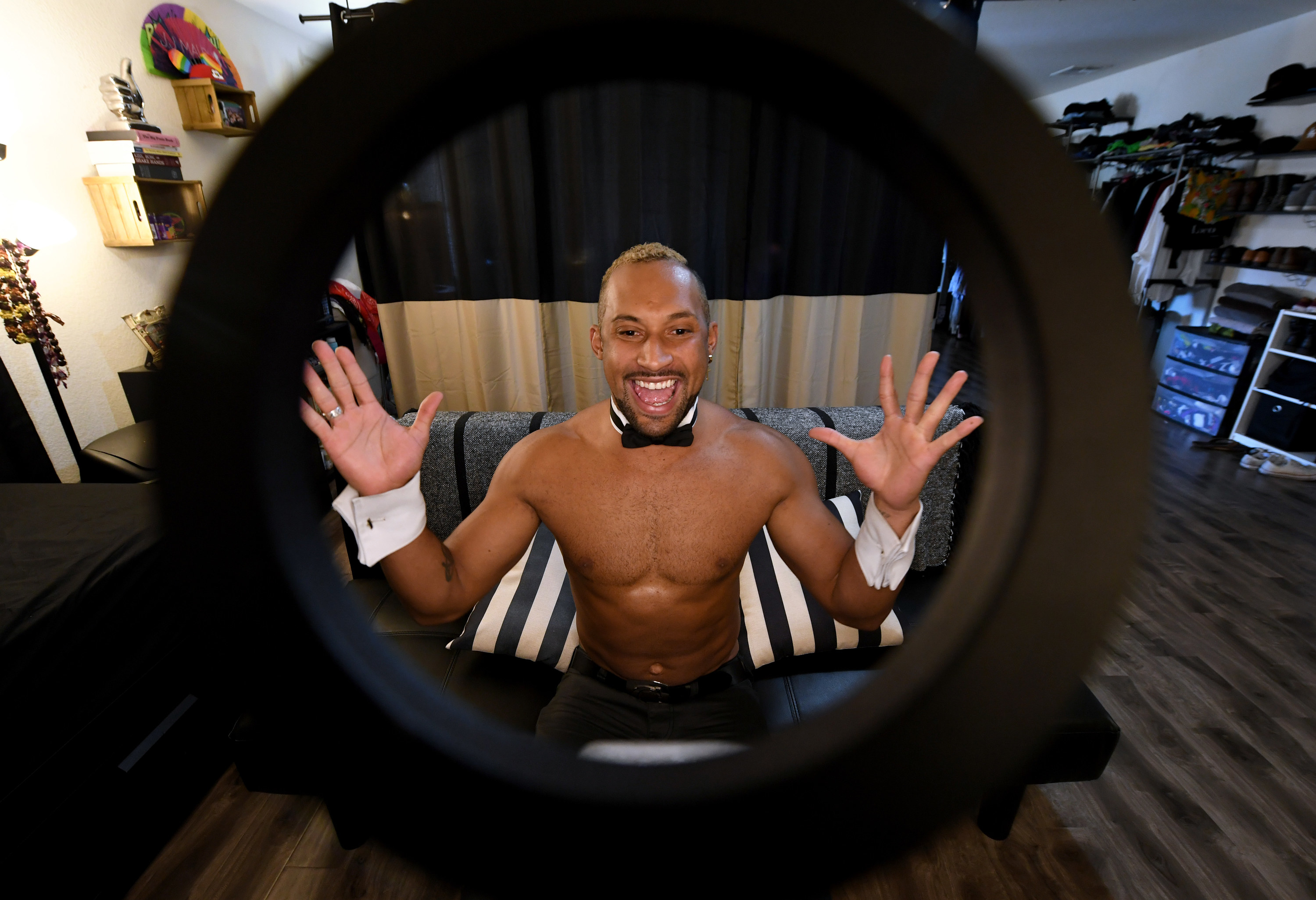 Chippendales emcee Jayson Michael hosts a virtual party from his home on April 29, 2020 as the dance troupe adapts to being unable to perform in live shows in Las Vegas, Nevada.

Kate Bubacz is the Photo Director for BuzzFeed News and is based in New York.

Contact Kate Bubacz at [email protected]

Got a confidential tip? Submit it here.
Source: Read Full Article