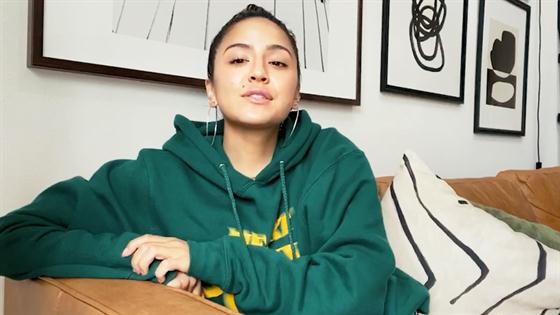 "If you save one life, you're a hero. If you save 100 lives, you're a nurse."
While any and all hospital and health care workers deserve our gratitude and praise during the Coronavirus pandemic, today is a special day dedicated to a certain group of caregivers. In case you didn't already guess, today is National Nurses Day.
Across the country and around the world, people are giving thanks to the nurses who have helped them get through a health scare. And this year, it's impossible not to highlight their work during COVID-19.
One brave individual who deserves a round of applause is ER nurse Ana Wilkinson who recently traveled from San Diego, Calif., to New York City in hopes of helping a state in need.
"This year is the year of the nurses because of recent circumstances that have brought the profession out into the light. Nursing is one of the oldest professions and at its core is extending a human touch to those in need," she shared with E! News. "Nurses are not the heroes with shiny shields or badges, but rather the ones who hold your hand in the darkest hour and tell you that they are here for you and that they will do everything they humanly can to help."
Ana continued, "This is the year of the nurse because never before has it been so clear that we rely on nurses to help us."
Prepare to get inspired and scroll down for more nurses showcasing bravery, selflessness and heroism during challenging times. Nurses, we thank you!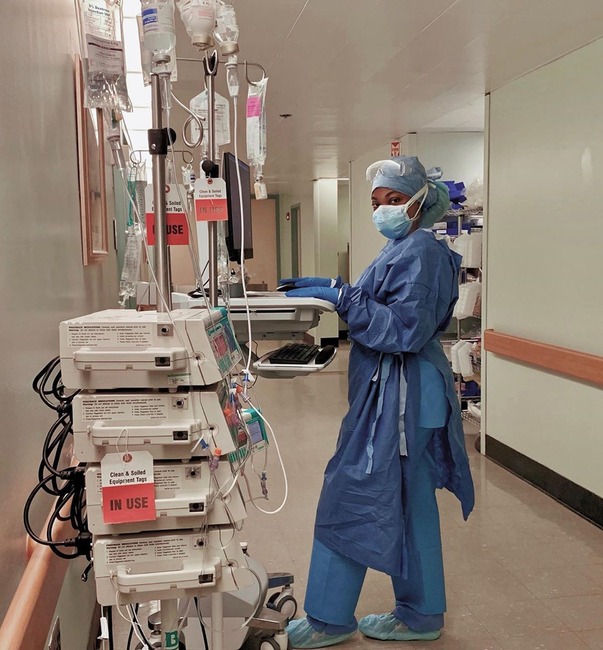 https://www.instagram.com/dearonaa/
Life Changing Assignments
"I worked 21 nights straight (12 hour shifts) with one day off. This assignment pushed me completely out of my comfort zone and I had to remind myself that sometimes seeking discomfort and taking risks will cause you to grow," New York COVID-ICU nurse Ona Onyia shared on Instagram. "Of course there are bad days, but there are also so many good days. I've seen patients be extubated and be able to FaceTime their families…This experience continues to change me everyday and I'm so thankful to God for keeping me healthy and continuing to give me the strength to assist out here."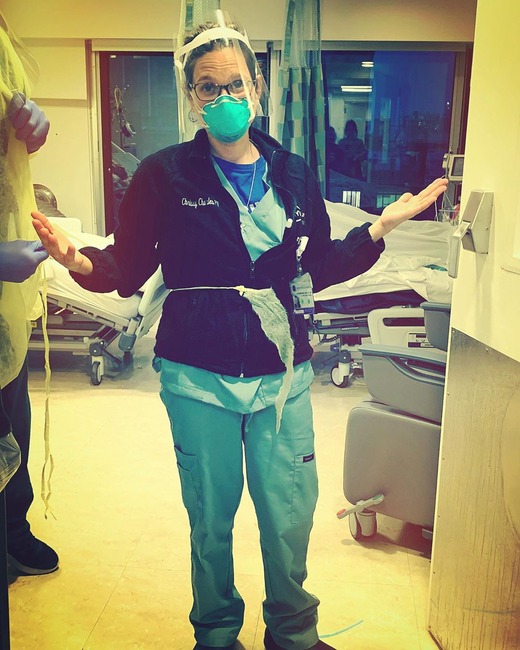 https://www.instagram.com/ziobrohouseoffun/
Every Story Matters
"I look like this most of the night, when I'm happily ripping off PPE as I leave each COVID patients' room. It's funny to think none of these patients have ever seen my face, but trust me to care for them anyway. Connecting with them has been a struggle, especially since we have to remind ourselves to limit exposure by 'clustering' their care. They may not see me clearly, but they definitely hear me! I need to know their story! This is the part of nursing that I miss, and love—having that connection. And I'm finding we all need this connection—because what will the psychological consequences be when this is all over? I don't think I'm the same after living thru this pandemic and seeing people get this sick," New York COVID nurse Christine Charles Ziobro shared on Instagram. "Patients won't be the same either. At 4 a.m., my 80-year-old patient told me, 'Everyone's gonna need a good laugh and a good shrink.' Maybe she's onto something."
https://www.instagram.com/theseatednurse/
You Can Do It
"Impact comes in many ways. During this time, so many of my patients have told me that they were not only amazed by me, but wanted better for themselves and since they've seen my ability, they know they can do it," New York nurse Andrea Dalzell shared on social media. "A different perspective brings different motivations."
Article continues below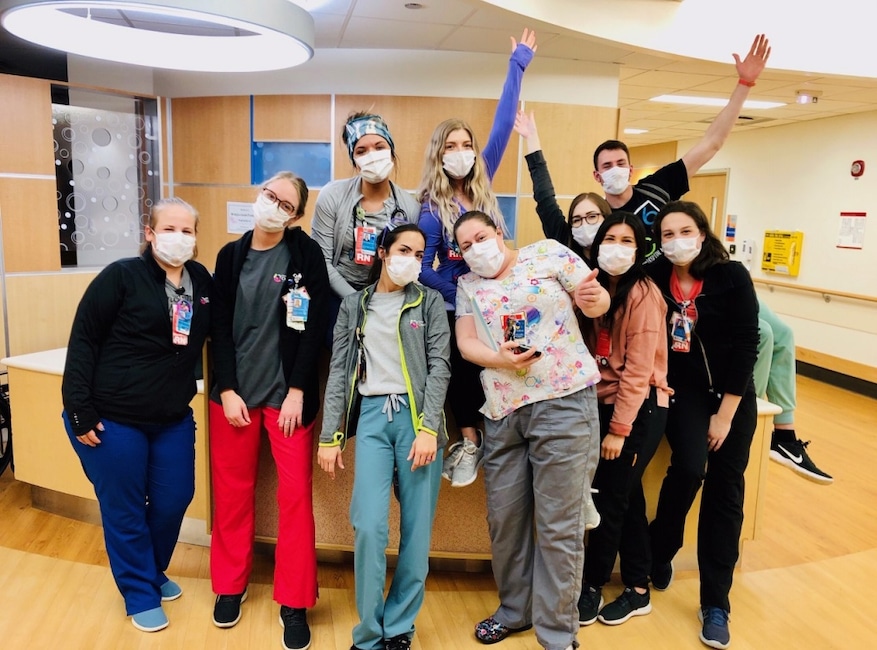 Carlie McNiff
Stronger Together
Cincinnati, Ohio nurse Carlie McNiff and her co-workers have become even closer during this pandemic. "As a nurse, it's not just important to be there for our patients, but equally important to be there for each other," she shared with E! News. "I am blessed to be part of this amazing team of nurses who give themselves 100% to our patients. We are not just co-workers. We are family."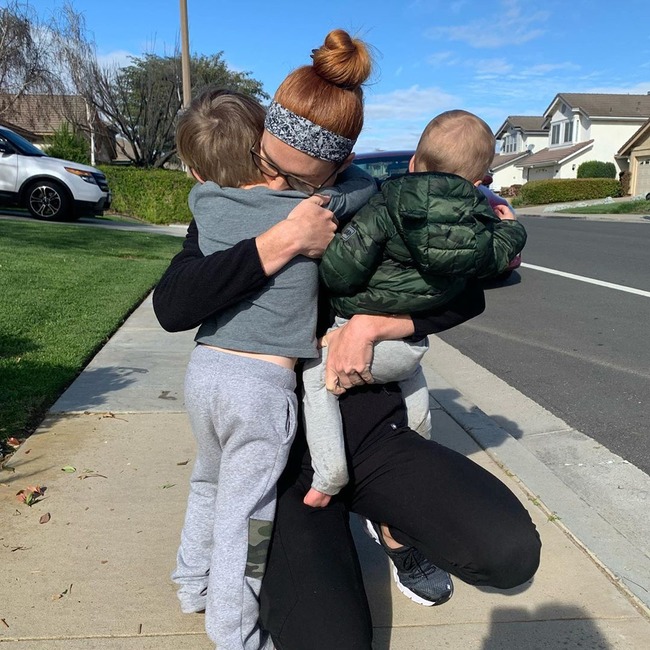 Instagram
#StayHome
When Santa Barbara, Calif., ER nurse Alix Mulick heads to work, her husband has one wish for citizens: "Please, stay home. For her. For my kids. For her team in the ER. #stayhome," Marcus Mulick shared on Instagram.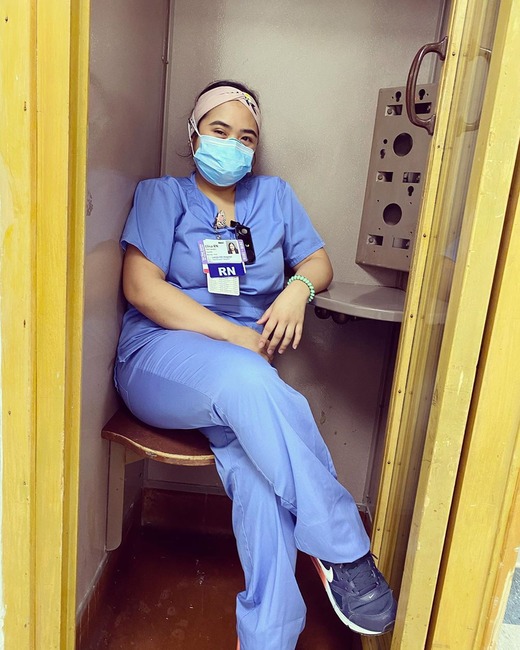 https://www.instagram.com/e_lisax/
Break Space
In busy hospitals across the country, workers find peace in unlikely places. "In a nook, amidst the delicate balance of what we refer to as life, nowadays, between the chaos and the resilience that emerges from it," Manhattan critical care nurse Elisa Marie documented on Instagram.
Article continues below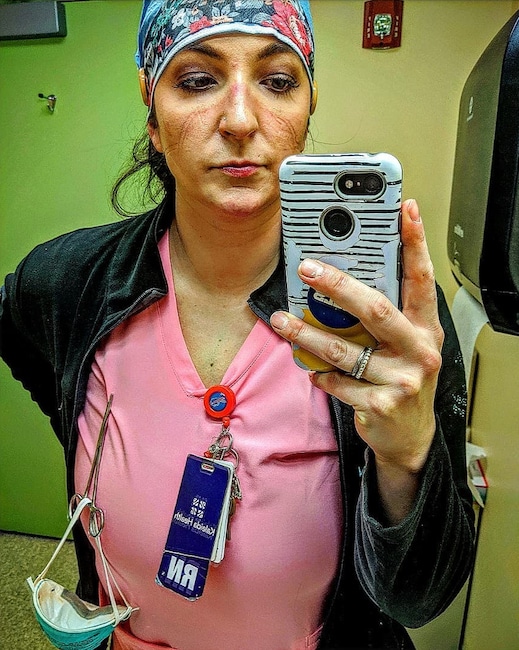 https://www.instagram.com/empav529/
Face of Bravery
"It's okay to be scared. Being scared means you're about to do something really, really brave…" Buffalo, New York nurse Emily Pavlovich wrote on social media.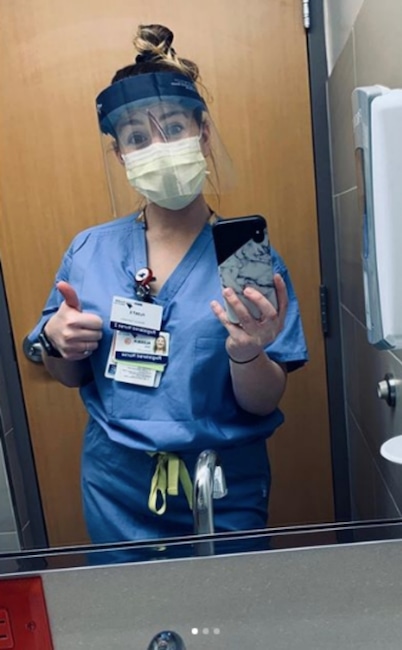 Instagram @alexispetracek
Can't Stop, Won't Stop
"I wish I could explain to you the emotions that go on throughout the day, or the uncertainty we all feel while working in a hospital nowadays. At the end of the day, we have to stay positive and see the light at the end of the tunnel," Colorado nurse Alexis Petracek shared on Instagram. "I've never been more inspired by the teamwork, support and gratitude from all of those in healthcare right now. It's an overwhelming feeling knowing we are seen as heroes and are making our families, community and country proud. We are here to tackle any & every pandemic one day at a time and will continue to fight until the end."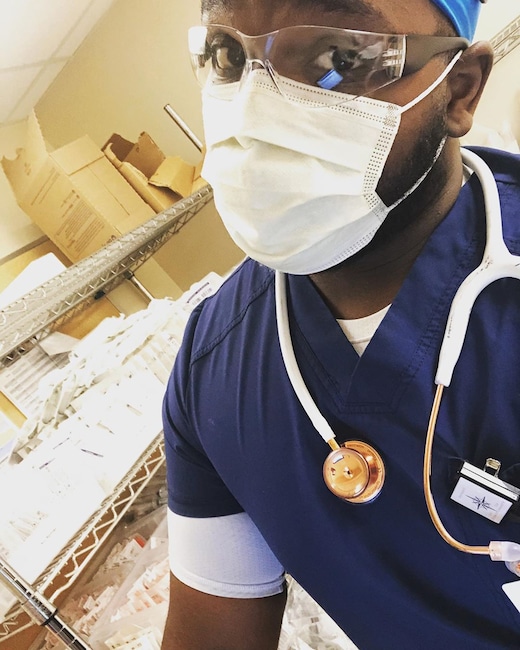 https://www.instagram.com/untaylored/
Self Pep Talks
"Dear Nurse, you didn't just become essential. You've always been required, desired, and on fire. Remember, when you're ready to quit, ready to throw in the towel, that you…yes you, are a whole movement. A force of nature," Baltimore traveling nurse Brandan Taylor shared with his fellow co-workers on Instagram.
Article continues below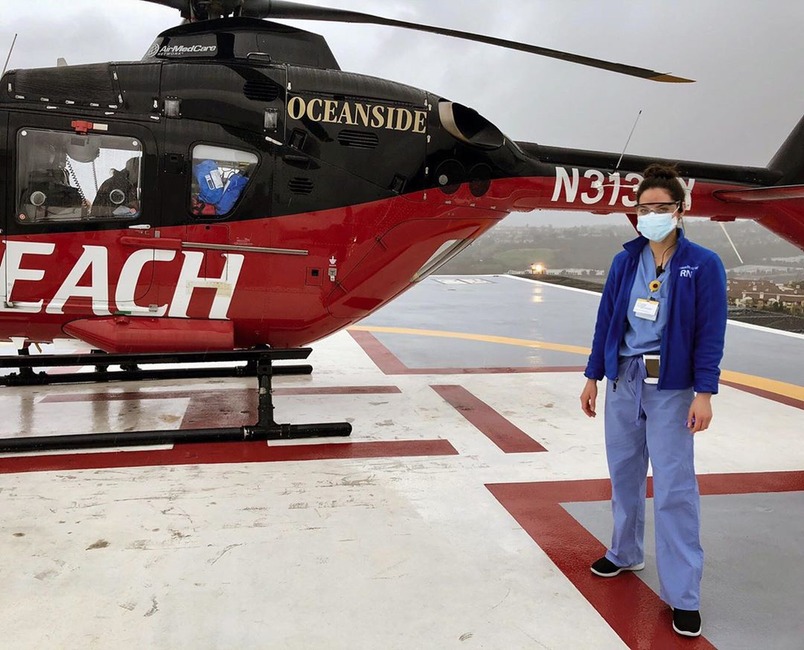 https://www.instagram.com/marylynnram/
Not All Heroes Wear Capes
"You can't see it, but I'm smiling under my masks. #smize #scrublife," Orange County, Calif., ER nurse Mary Franke Ram shared on Instagram after successfully transferring a patient to another hospital via a helicopter.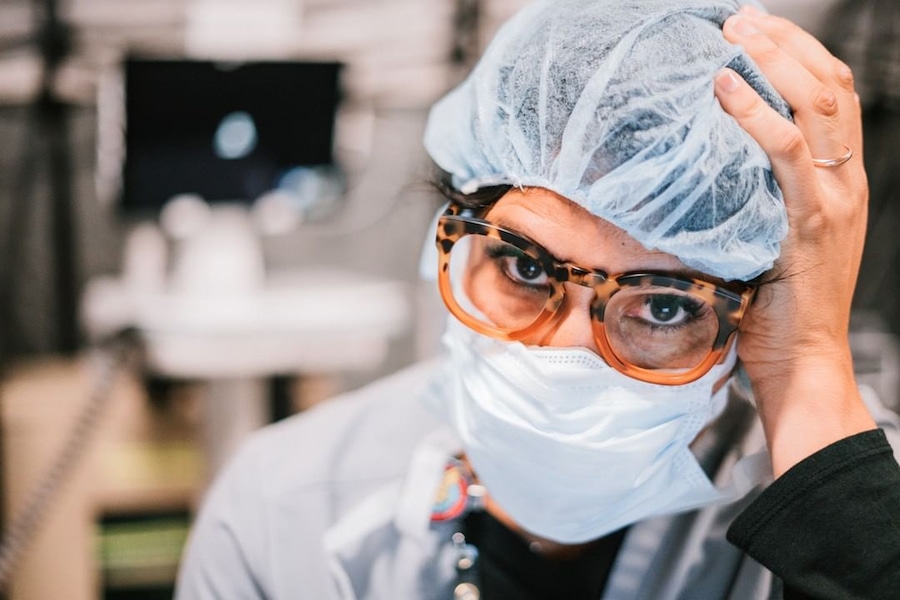 Instagram/@frenchcrepe
No Easy Task
"Nursing isn't always easy, especially these days, but we do it because we love helping others. It's our calling. I'm so grateful that I'm able to be here in such a critically impacted area, helping those in need. I have this fiery passion burning inside of me but my face remains cool and collected to connect with my patients in a calm presence. I pray we get through this with as little loss of life as possible," traveling nurse Ana Wilkinson shared on social media. "I know we can't save everyone, but just knowing that I'm doing everything in my power to TRY to help those in need allows me to cope a little."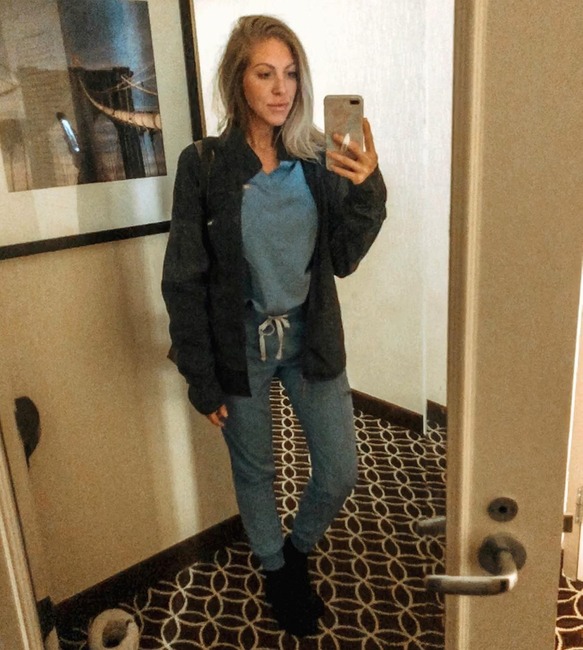 https://www.instagram.com/luda.fitness/
Hour by Hour
"I press the reset button each day. I pray. I cry. I scream. I get completely overwhelmed and I get so angry at how vicious and rapidly destructive #covid_19 has proven to be. My heart shatters when my patients die without family by their side, as this virus steals their last breath away," trauma nurse Sarah Ludwig wrote on Instagram. "I began this journey by taking it one day at a time and quickly learned to take it hour by hour. We're in a pandemic, and I work in the middle of the epicenter here in New York City. I take pride knowing that I advocate, work for and pay attention to, each of my patients so incredibly hard that even when they do pass, I know I did everything in my power to save them."
Article continues below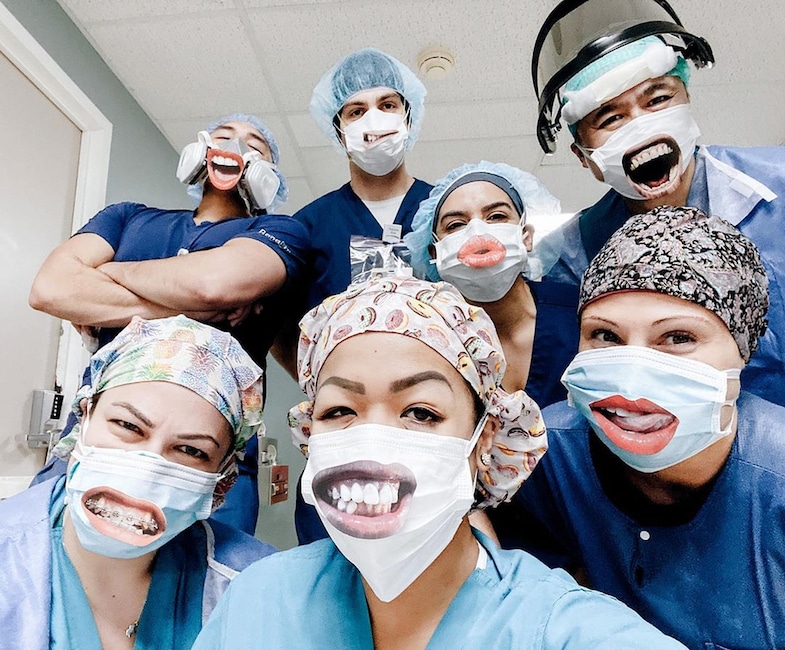 https://www.instagram.com/kimmielynn1215/
United They Work
"Unity is strength—When there is teamwork and collaboration, wonderful things can be achieved," New York nurse Kimberly Joy wrote on Instagram. "These times call for unity and I couldn't have asked for a better team than this one right here. Proning these extremely sick, intubated, COVID patients is exhausting and overwhelming. But when you have these people to work with, everything will be okay."
https://www.instagram.com/gracefully_jenni/
Don't Forget the Pets
Veterinary nurses like Jenni Fote have also experienced the effects of COVID-19. "Our hospital in particular has become a lot busier due to general practices being closed. We are also dealing with the fear of our clients as pets are testing for COVID," the Phoenixville, Pennsylvania nurse told E! News. "We have had to adjust all of our protocols accordingly."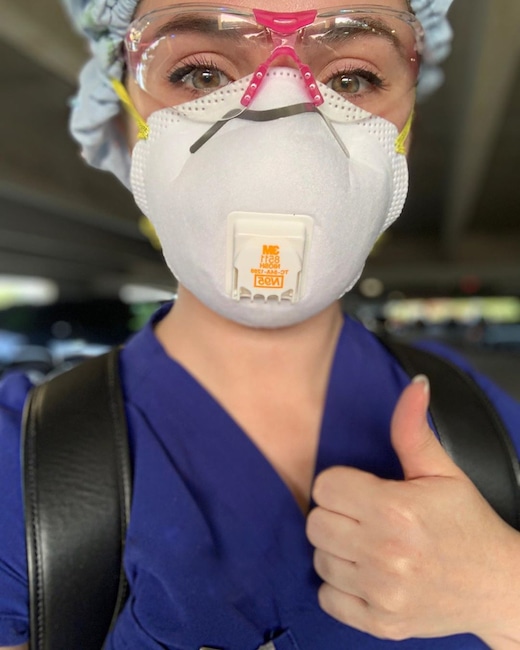 https://www.instagram.com/shesinscrubs/
Family Over Everything
"Holding the phone up for a family to be able to FaceTime with their loved one who can't respond back, who is resting as this virus takes them from the world. It has been difficult, but it feels like some of the most important work that I have ever done as a nurse," COVID nurse Sarah Flanagan wrote on Instagram. "I tell them their family wishes they could be there to hold their hand but that I'm here to do that for them. This is nursing in a pandemic."
Article continues below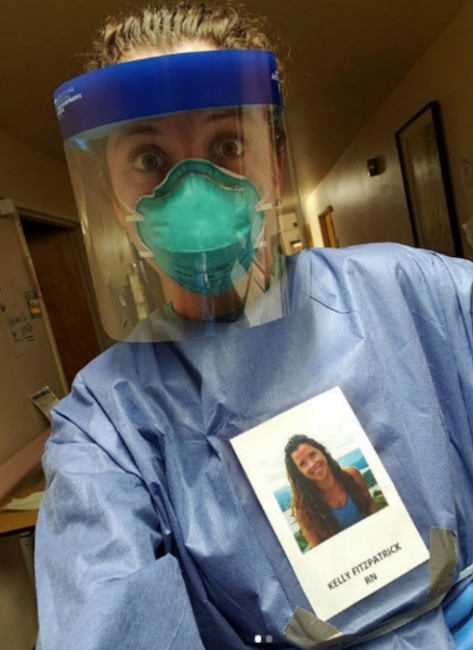 Instagram @thefitzzz
Share Your Smile
"I've been with my patients for 15 nights now, dressed like a space woman and today we finally started making our #shareyoursmile badges. Tonight, as I was changing one of my lovely ladies she suddenly shrieked with joy and started laughing. She has a history of a stroke and has a difficult time speaking but she pointed at my picture and started laughing saying 'Yes! Yes!' She was so excited to finally see what we actually look like under all this protective gear," ER nurse Kelly Fitzpatrick wrote on Instagram. "What a wonderful feeling being able to bring laughter and comfort to these people during this difficult and lonely time. Thank you @captain_wolf82 for the movement!"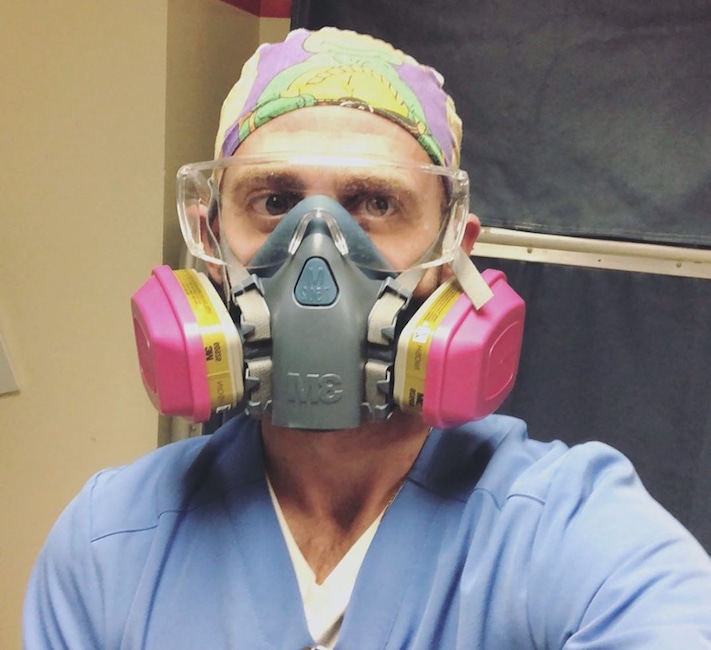 https://www.instagram.com/llamame_kev/
Signs of Hope
"We've experienced so much sadness in the hospital the past two months, but tonight was the first time I've let out tears of joy as one of my patients is finally getting better," Los Angeles critical care travel nurse Kevin Radcliffe shared on Instagram. "After a very long ICU stay, tonight he spoke over his tracheostomy and thanked my team and I from the bottom of his heart for saving his life. Maybe I hadn't realized it, but I definitely needed this little bit of hope to keep me fighting each day!"
For the latest updates on the coronavirus pandemic and for tips on how to prevent the spread of COVID-19, please visit The Center for Disease Control and Prevention at https://www.cdc.gov.
Source: Read Full Article