T.I. and Tiny's relationship has not been without controversy. The rapper has made statements about his marriage that many felt were not in the best interest of his wife and some of his actions throughout the years have put him in comprising situations for the world to judge. But through it all, the two have figure out a way to make it work.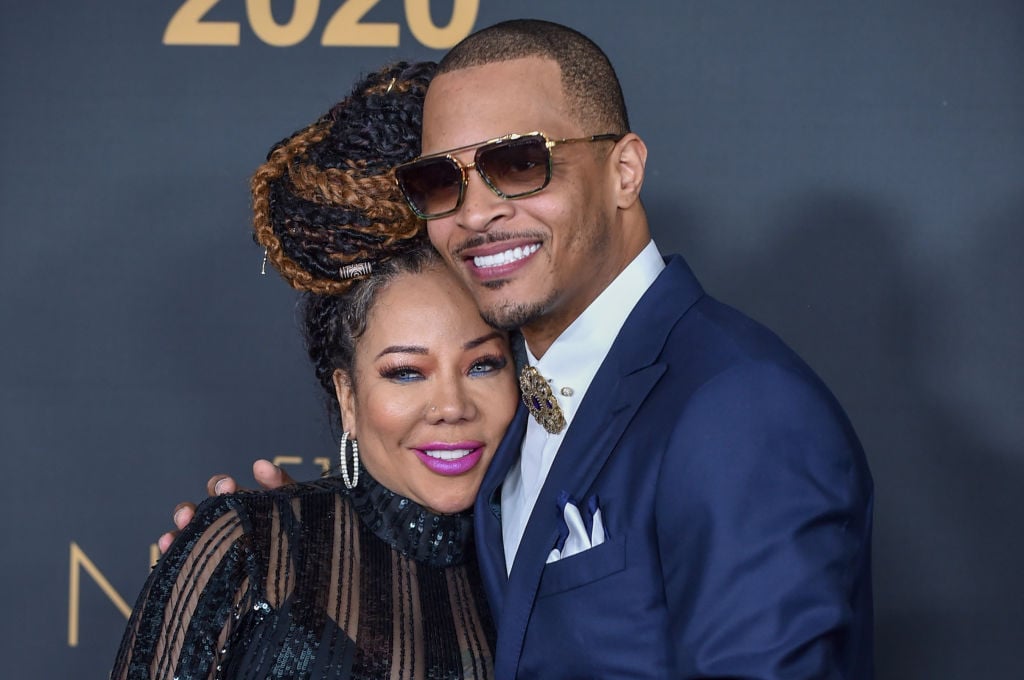 While Tiny's fans have pushed for her to leave T.I. because of his indiscretions over the years, T.I. revealed that his mother was not a fan of her when they first met. He says it's because his mom was overprotective but Tiny's reasoning was not far different. 
T.I. and Tiny's marriage
Tiny and T.I. began dating in 2001. They both had children from previous relationships and had additional children together: two sons and a daughter. Together, they are a blended family of seven. They lost a daughter, Lelah, from medical complications. Tiny opened up about the loss in an interview with Essence Magazine and said the devastation strengthened her relationship with T.I. 
Their marriage has not been without hardship. T.I. has been notorious for infidelity, something that almost tore his marriage apart on several occasions. According to Tiny, he was also very controlling, preferring that she give up her singing career to raise their family and support him and not being supportive when she wanted to return to work full time. 
During one of their longer separations after Tiny filed for divorce for a second time, she not only moved out of their marital home, but she also jumped back into the music industry, which she says helped her establish herself individually. She also admitted that having time away from him while he served an extended prison sentence helped her find her independence. 
"Once I got on my own two feet, I felt like I should have a voice too and that voice was a little different than what he was used to," she said on Red Table Talk. "That to me is what caused the issue. It wasn't because I was being outlandishly disrespectful."
Through counseling, the two were able to reconcile and say they are better than ever. 
T.I. says his mom did not like Tiny because she was overprotective; Tiny says she believes T.I.'s mom did not like her because she did not think she was a Black woman
Despite being together for almost 20 years, Tiny has been open about the fact that she was not initially interested in dating the rapper. The two met at an Atlanta mall when T.I. was just getting his start in the business. Tiny was already a superstar, with three platinum-selling albums with her group Xscape and responsible for penning songs like TLC's "No Scrubs." She was also five years older than him.
"I felt like 'Oh, he's a baby' and I treated it like that and he kinda felt like, 'You trying to play me like I'm a little boy,'" she admitted to VIBE magazine in 2011. She says that after she accepted his invitation to watch him perform, things changed. "It's probably the best thing he could've did…it was jam-packed outside, it was crazy and I'm like, 'All these people here for this guy?' We went in there and he tore the house down. And I was like, 'OK, I think I like him.' [Laughs] He's got something there."
T.I. was excited that she finally gave him a chance but his mother was not as receptive. He explained on his VH1 family reality series that his mother was territorial over him.
"My mama was always the only woman in my life," he said. "And when there was another woman that came in, they began to lock horns, if you will."
But Tiny had a different idea of why his mother didn't like her at first: because it was assumed that she was not a black woman. Though Tiny is of lighter-skinned complexion, she is of mixed race but identifies as a Black woman.
https://www.instagram.com/p/B4ypOaoHIC2/
"I honestly felt like, I think I was too white when I came around," she said. "They were looking like, who is this white girl?! What? Get her out of here. I'm like, I am Black, lady."
Thankfully, the two have an amazing relationship now, with T.I. revealing that his mother adores Tiny.
Source: Read Full Article