Food Network star Molly Yeh's buttermilk fried chicken features chicken pieces soaked in tangy buttermilk, then dipped in seasoned flour and fried until they're golden brown.
Here's how the chef's unique spin on this classic comes together. And the easy tip that takes the recipe from great to epic.
Yeh's buttermilk fried chicken requires a three and a half pound chicken
The Food Network star's fried chicken requires for the brine: buttermilk, kosher salt, "loads of" black pepper, sugar, ground cayenne, smashed garlic, fresh thyme, and a cut-up three-pound chicken.
For the frying of the chicken, you'll need peanut oil, all-purpose flour, cornstarch, and sweet paprika. You'll also need baking powder, garlic powder, kosher salt, dry mustard, ground cayenne, buttermilk, and za'atar seasoning.
"To start, I've got my chicken broken down into 10 pieces in my casserole dish where I'm going to brine it and I'm going to cover it with buttermilk, which is the best brining liquid because it makes the meat so moist and then it also adds that tang," Yeh says in the Food Network video, below, for this recipe.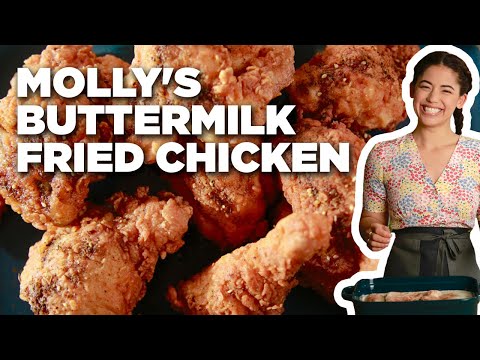 Molly Yeh's chicken elevates the classic dish
Yeh mixes the brining ingredients in a large casserole dish or bowl and the chicken pieces are submerged in the liquid.
"What the brine is doing is, it's basically pulling out the moisture from the chicken," Yeh continues. "And then when the moisture goes back into the chicken, it's flavored with all that salt and this other goodness in the brine. Then, it's just going to get so juicy."
The Girl Meets Farm host adds that this "straighforward" brine is perfect as well for "pork chops or turkey, other lean meats." It's covered with plastic wrap and then placed in the fridge.
Once the chicken has been in the brine for at least a couple of hours, it's time to fry it up.
Each chicken piece is dredged in Yeh's coating of the flour, cornstarch ("Which is going to make it extra crunchy"), baking powder, kosher salt, the paprika, garlic powder, the dried mustard powder ("Chicken and mustard, a match made in poultry heaven"), and more cayenne.
Get the complete recipe, video, and reviews on Food Network's site.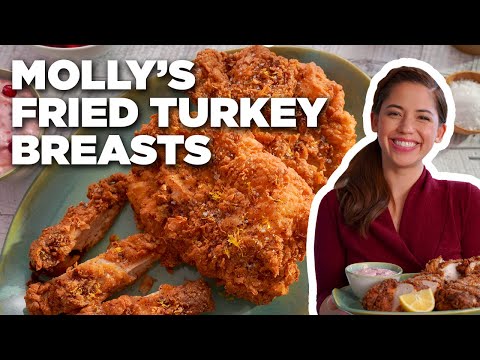 Yeh's secret to chicken that she says 'revolutionized my life as a fried chicken lover'
The culinary personality's most important tip here: "Add some of the brine into the coating and that allows the coating to clump up so you can get more of it in each bite. And, it adds some of this delicious flavor from the brine."
Yeh doesn't just pour the small amount of brine in; she drizzles it onto the surface of the coating ingredients in the bowl and then gets "in here with my hands to get it clumpy and good."
She coats each chicken piece with the mix and then fries them in batches, resting each batch on a wire rack to drip off excess oil. Sprinkle each piece of chicken as it comes out of the oil with the za'atar seasoning, which is "a spice blend with dried thyme, sumac which is vinegary, and some toasted sesame seeds."
As one reviewer on Food Network's site wrote, "This was the best fried chicken I have ever made. Family loved it. So long KFC!"
Source: Read Full Article