Curses and sports will always go hand in hand. From the legendary Curse of the Great Bambino in Boston, the Billy Goat Curse in Chicago, or the Madden curse in the NFL, fans love a good curse. Although it is impossible to measure the authenticity of any perceived curses, fans go crazy every time a negative trend is noticed alongside random outliers. One of the most infamous curses in sports, however, has to do with NBA Superstar Kevin Durant and rapper Lil B.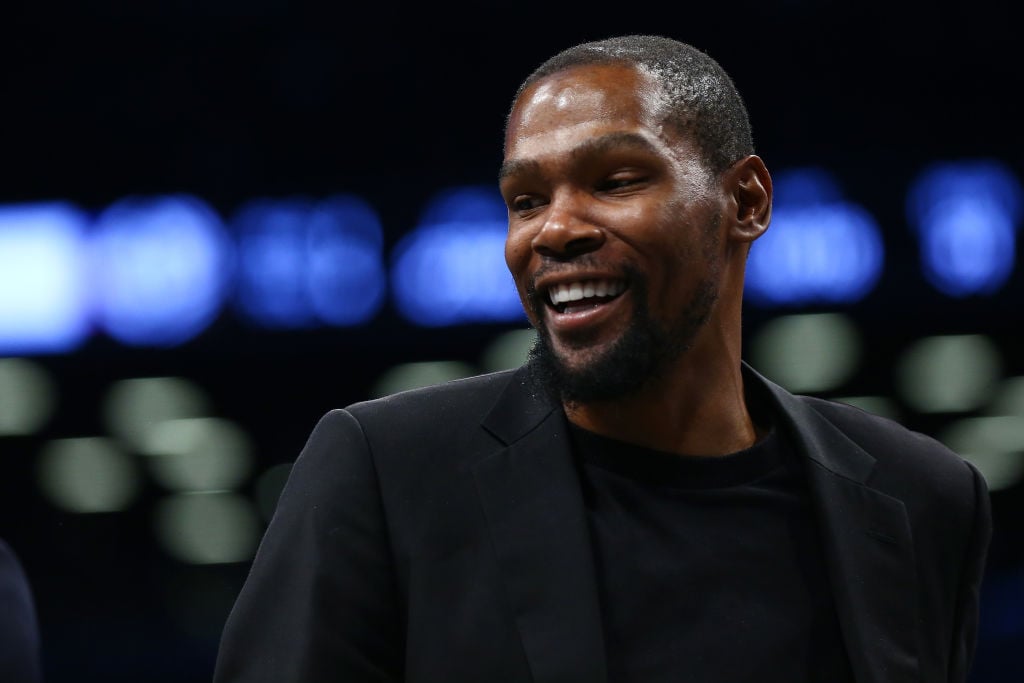 The Based God curse
Lil B is a popular Bay Area rapper who is arguably more well-known for his loyal fan base and presence online than he is his music. His strange persona toes the line between rap superstar and viral sensation, and as such he has a reputation as something bigger than human. His persona, Based God, plays into this and helps feed this idea that Lil B is not a mere mortal. 
One prevalent way that Lil B feeds this is through his curses. Any time somebody is perceived to have disrespected Lil B, he has placed a curse on them unless they take it back. On the other end of every curse is a blessing, however. For every NBA player who has been cursed by Lil B, there are teams across the world who have received his blessings. The Based God blessing has reached at least half the NBA at some point to varying degrees of success, most notably his hometown Warriors.
One of the more memorable curses that Lil B has placed on an NBA player is James Harden. After positing that Harden's signature celebration in which he faked eating out of a bowl was stolen from the rapper, Lil B placed a curse on him that might still be going on. Harden has a reputation as someone who stumbles in big moments, and while Lil B has since lifted the curse, many blamed on that curse. 
Lil B's most famous victim, however, is Harden's former teammate, Kevin Durant.
Kevin Durant falls victim
In 2011, Kevin Durant took to Twitter to express his distaste in Lil B's music. Anyone who has followed Lil B throughout his career knows what kind of mistake this is, and the rapper responded as one would expect him to — with a curse.
"KEVIN DURANT WILL NEVER WIN THE TITLE AFTER HE SAID "LIL B" IS A WACK RAPPER," Lil B tweeted [sic]. "THE BASEDGODS CURSE"#THEBASEDGODSCURSE ON DURANT."
Durant, who was once considered a favorite to compete with LeBron James for multiple titles shrugged off the curse, but the damage was allegedly done. The Thunder had Durant, Harden, and Westbrook as one of the best young cores in the NBA and were sure to make multiple NBA Finals. In 2012, however, the team lost in the NBA Finals and never made it back again with the Thunder.
In 2016, the team held a 3-1 lead in the Western Conference Finals against Lil B's favorite team, the Warriors, and quickly blew it up. Durant then did the unthinkable and joined the Warriors. While the curse was still active, this might have been what Durant needed to do to escape it, and it worked.
Lifting the curse
Following Durant's move to Golden State, Lil B took to Twitter to welcome him and officially lift the curse. Durant went on to beat the Cleveland Cavaliers twice and win the first two rings of his career, beating fellow curse recipient James Harden en-route to one of them. Nobody will ever be able to prove if Lil B had a factor in any of this, but it makes for an interesting discussion, nonetheless. 
Sports fans love a good curse, and Lil B provides an entertaining way to feed this. It's likely nothing, but these are the types of stories that make sports intriguing to many. Hopefully, the league has learned its lesson and the rapper will not need to lay down any more curses. For now, he appears to be setting his sites on something nobler by mulling over a potential curse on the coronavirus epidemic. 
Source: Read Full Article