Chrissy Teigen is a model and television personality who has become even more popular in recent years due to her bestselling cookbooks and outgoing social media presence. The wife of singer John Legend is also the mother of two young children, and frequently shares snapshots of her life with all of her followers on Twitter and Instagram. Teigen loves sharing her favorite products with her fans, from cookware to beauty items — and in early 2017, she dished on her favorite facial mask. The mask Teigen prefers is pricey, but there are more affordable options for fans who want to copy Teigen's glowing skin.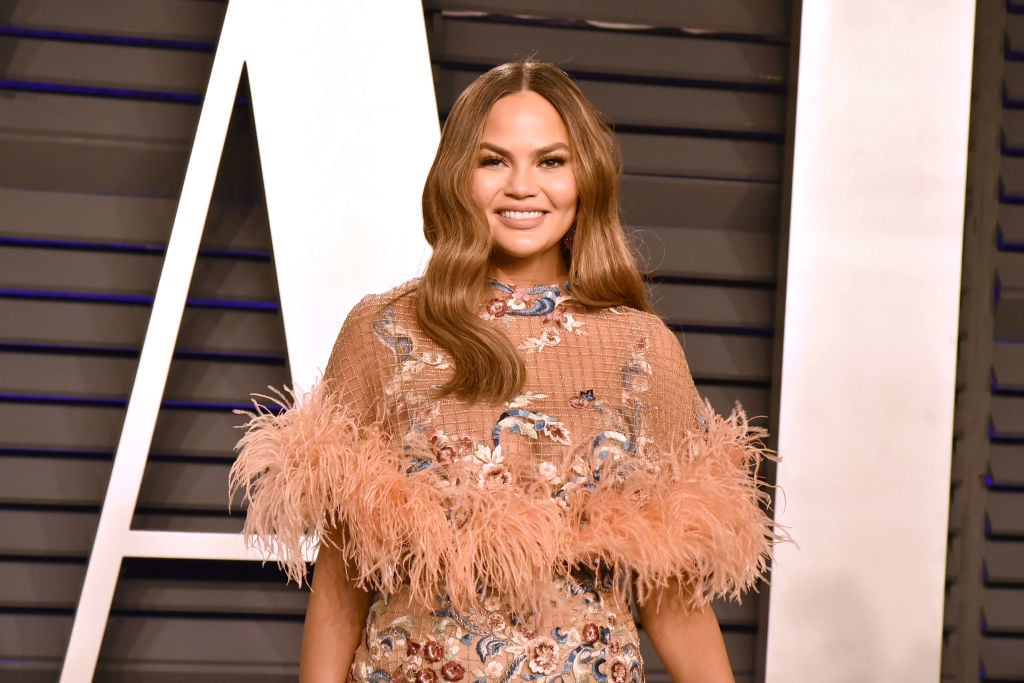 Chrissy Teigen is a top model and social media personality
Chrissy Teigen was born in Utah in 1985. Teigen's family moved around a lot when she was young, eventually settling in California. Teigen was recruited into modeling when she was working at a surf shop when a photographer spotted the leggy beauty. By 2004, Teigen's modeling career had started. A few of her early gigs include a stint as a briefcase girl on Deal Or No Deal and a job as a cover girl for the Maxim calendar. 
Teigen's biggest modeling gig was for the Sports Illustrated Swimsuit Issue in 2010, which led to subsequent appearances in the special edition issue for several years after that. Eventually, Teigen began slowly transitioning away from modeling into the lifestyle space, with the launch of her super-popular cooking blog. She also became a huge celebrity on Twitter, with her sarcastic and hilarious observations becoming a highlight for many fans. Teigen has released two bestselling cookbooks, a cookware line for Target, and, most recently, a food-based website that allows her to answer questions from fans and post unique recipes. 
What is Chrissy Teigen's favorite skincare product?
Chrissy Teigen isn't afraid to share her love for the luxurious things in life — and that includes her taste in skincare products. In February 2017, Teigen revealed that she is a huge fan of the SK-II Facial Treatment Masks. The masks, which are priced at a little over $135 for 10 of them, include a proprietary ingredient called pitera, which is packed full of peptides to support cellular turnover. The masks also include yeast for increased hydration and amino acids to help brighten the skin and protect against environmental damage. 
The masks have developed a bit of a cult following, and even at the steep price tag, it could be well worth the splurge. Still, for people who want the same glowing skin that Teigen rocks, there are more affordable options.
There are several affordable dupes for Chrissy Teigen's treatment mask
There's no better time than quarantine to develop brighter, healthier skin — without having to spend over one hundred dollars. Drunk Elephant, the popular skincare brand, makes the Protini™ Polypeptide Moisturizer, which contains the same peptides as Teigen's favorite SK-II mask. Priced at sixty-eight dollars and available at Sephora, the moisturizer is a lower-cost alternative to the more expensive treatment favored by Teigen.
Another product that mimics the effects of the SK-II treatment is the Missha Time Revolution Treatment Essence, which contains moisturizing antioxidants and is priced at only twenty-nine dollars. Plus, it contains a similar yeast to the one utilized in SK-II's products, for a good boost of concentrated hydration. Finally, coming in at under seven dollars is the Amino Acids + B5 serum by The Ordinary. This light treatment product also helps to moisturize and contains brightening amino acids. These products offer a more affordable option to achieve Chrissy Teigen's glowy skin.
Source: Read Full Article