WWE superstar Sheamus, a.k.a. the Celtic Warrior, has kept up his workout YouTube channel while in quarantine and has shared past workouts to keep his fans and followers fit while at home. From a yoga session with Mickie James to a no-equipment bodyweight workout featuring Alexis Bliss, and ab smashers with Jordan Devlin, he's shown impressive range for such a big guy.
But there's nothing wrong with a little clanking and banging with weights. The wrestler recently hit the iron for a leg day workout at current WWE champion (and Sheamus' best friend) Drew McIntyre's home gym in St. Petersburg, Florida.
"The current WWE Champion Drew McIntyre is on lock-down but that won't stop him from training legs, even if it's in his very new & basic garage gym," Sheamus wrote alongside his video. "We're talking DDPY warm-up followed by Squats, Step-Ups, and Hamstring Curls."
The guys kick off the session by discussing how they built up their home gyms at the start of quarantine.
"Right away my wife and I went to the new and used gym equipment store," says McIntyre. "The thing is, just find what you can get for what your needs are and what you can afford."
And they discuss how they're thankful to still be wrestling right now (even if their matches take place in front of empty stadiums).
"The fact we're still going and providing entertainment is amazing, I'm having a lot of fun doing it," says Sheamus.
"We always adapt," McIntyre adds. "During these times we're finding the positives in the negatives, and I'm learning a lot about myself."
After chatting, they get to their intense leg workout.
"Just trying to maintain size, strength, and explosive power," McIntrye says of his fitness goals.
The warmup includes some DDP Yoga (DDPY) moves, geared to help with back pain and injuries, that McIntyre says he's used for rehab from the bumps and bruises built up over 20 years of wrestling.
Next, the guys move on to start their loaded back squat workout at the rack, moving all the way up to four plates on each side of the barbell.
"Before I got signed, I workout out in a garage with equipment like Rocky…" says McIntyre. "And now I'm back to that. Everything comes full circle."
Then they move to weighted single leg step-ups.
"You have to control your movement," says McIntyre.
After that, they move to a seated leg curl machine to pump out reps.
"The pandemic hit, everyone is out of the gym, and the first thing you do is take a garage and make it into an awesome gym, showing people you don't need the most technological workout machines," says Sheamus to McIntyre after completing the workout. "You can do it all with a lot of compound movements and stay in the best shape of your life."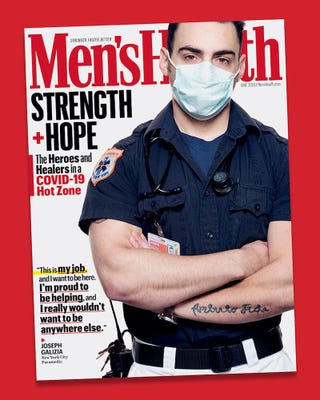 Source: Read Full Article