Sole Mates is a new HYPEBEAST series that asks, simply, "why do you love shoes?" Searching for a deeper meaning beyond hype, Sole Mates uncovers each subject's sneaker origin story, letting them wax poetic on why a particular shoe means so much to them.
---
Liz Beecroft sees sneakers differently than most. Although she's got a personal collection that can go toe-to-toe with almost anyone — and even her own Nike collaboration, 2019's Air Max 270 React "In My Feels" — she uses her shoes and the stories behind them to heal, not to flex or compete. Apart from her day job as a psychotherapist and social worker, Liz also runs MENTL Sesh, a platform that encourages self-care, kindness and respect — all while intertwining sneakers into her practice to ensure it stays relatable.
But before Liz was a purveyor of good vibes in a culture that can occasionally be overly materialistic, she was a basketball-obsessed kid growing up in small-town Pennsylvania. And like many other basketball-obsessed kids on the East Coast and around the rest of the country, her hero was Allen Iverson of the Philadelphia 76ers. Exuding effortless cool and displaying the heart of a lion while battling men half a foot taller than him on the NBA court, Iverson's game spoke to a young Liz. But that wasn't all: his style did too.
Liz grew up wearing and coveting the kicks from Iverson's Reebok line — especially the Question, his first signature shoe. Although her perspective on and understanding of Iverson and what he meant to basketball and culture has changed since then, her love for the shoe has not.
HYPEBEAST spoke to Liz why she gravitated towards Iverson, her favorite Question colorways, her childhood dislike of red sneakers, buying shoes four sizes too big as a kid and just why a shoe's story is so important. 1 of 2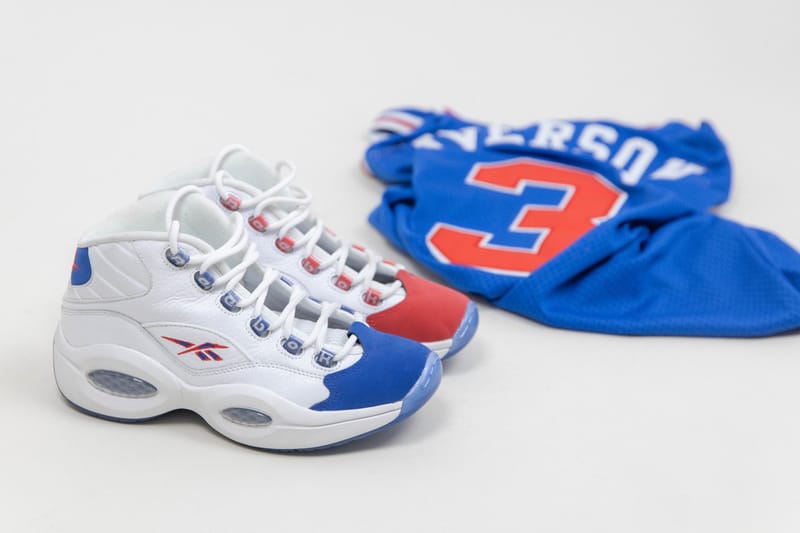 Colin Ridgway2 of 2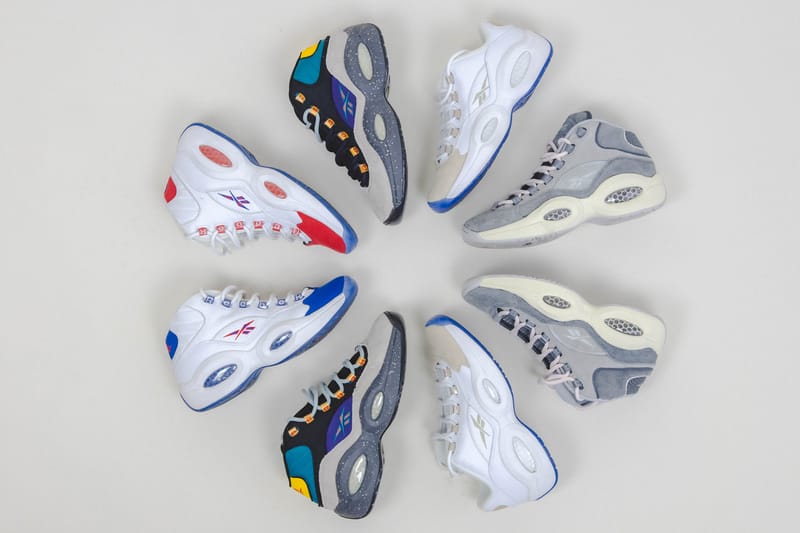 Colin Ridgway
HYPEBEAST: Who or what got you into sneakers?
Liz Beecroft: Allen Iverson. I grew up playing basketball in a really small town in Pennsylvania, where sports are religion. If you weren't into sports, there wasn't much else to do. We were about an hour and a half north of Philadelphia, and always cheered for the 76ers. AI was the guy, and as he progressed through his career I really got into basketball. He was my role model — it wasn't be like Mike for me, it was be like AI.
Do you remember the first time you saw the Question?
I do. We didn't really have any malls or shopping centers in my hometown — it was the coal region of Pennsylvania, very industrial. Schuylkill Valley Sports was the only sporting goods store in town, and that's where we'd go to get all our shoes. The Reebok Question was pretty much the only basketball shoe they carried. They didn't really stock Jordan Brand or Nike, they were an independently owned company with only three or four stores.
All my friends had a pair of Questions, and I had to have a pair too. It honestly may be the first basketball sneaker I ever bought. The feeling was cool: it was like, "Wow, my idol wears this and now I can too." It wasn't even the design of the shoe itself, it was whose shoe it was that did it for me.
Was the Question the first sneaker you recall being obsessed with?
Yes, absolutely. When I was younger I used to go to basketball camps at our high school run by the varsity team, and some of those women I looked up to as a kid were wearing them too, which made them even cooler. The Question's also a shoe that's not too flashy. They just got the job done, and that combined with the people wearing them made me need a pair.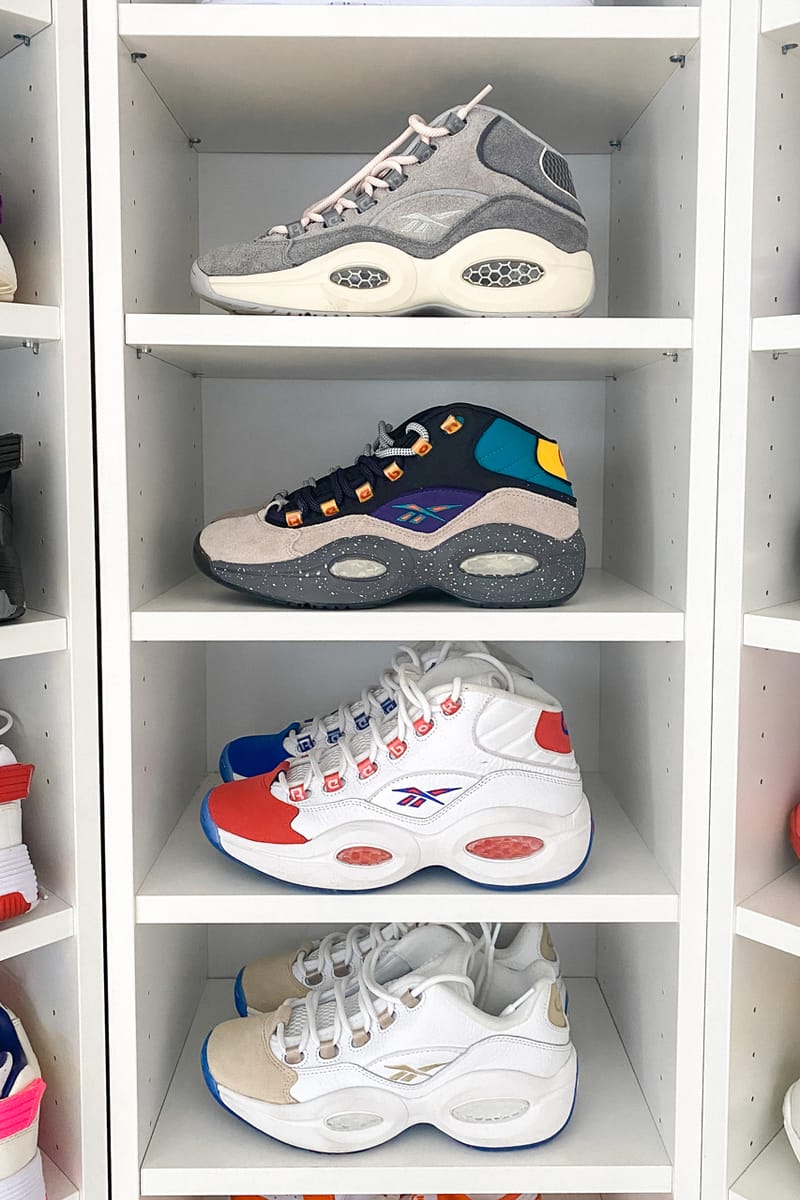 Colin Ridgway
Did you have the OG "Red Toe" colorway?
My first pairs were the navy and royal blue colorways. I was a weird kid [laughs]. I liked certain colors and wasn't really into red. I remember when the adidas T-Mac 3 "All Star" dropped, I had a fit because I didn't want even one red shoe! I just always preferred blue.
How do you feel the Question has aged over the past 25 years? Has your perspective on it shifted?
I think I'm simultaneously a little more and a little less starry-eyed about the Question. Now that I'm a little older, I can understand different contexts more, so the cultural impact that Iverson had resonates in a different way. When I was younger, I wasn't really aware of that because I grew up in a town where those conversations weren't really being had. Now it's significant to me that Iverson was more than a scrappy player — he really didn't give a sh*t about what other people thought, and set a precedent in the NBA for other people to express their personal style, which in and of itself is a game changer.
As far as the shoe itself goes, I love that they're now really focusing on telling stories about AI through the Question. I love the Nice Kicks "Bubba Chuck" and the "Chinese New Year,"— those are beautiful. On the other hand, it's really nice to see some OGs come back — the "Oatmeal" Low, the "Vivid Orange" and "Fluid Blue." It's been a great mix of original colorways and new makeups.
How do you feel about the later models in Iverson's signature line? It's a widely held belief that the Question is the best, but do you have any favorites apart from it?
Yes, the Answer 4 and Answer 5 were my two other favorites. I had the white/red Answer 4 because I didn't like the black colorway at the time. I actually bought them in a men's size nine, though I was like 10, 11 years old at the time. Obviously, I wasn't wearing a men's nine, but that was the only size the store had and I wanted 'em so bad [laughs]. My parents were like, "Fine Liz, you can look like an idiot wearing shoes that are five sizes too big." As far as the Answer 5, I had the original black/silver and white/red, and have the reissues now. It's cool because it brings so many memories back, from growing up going to basketball camps and being in school with my teammates. These shoes are really nostalgic for me in that sense.1 of 3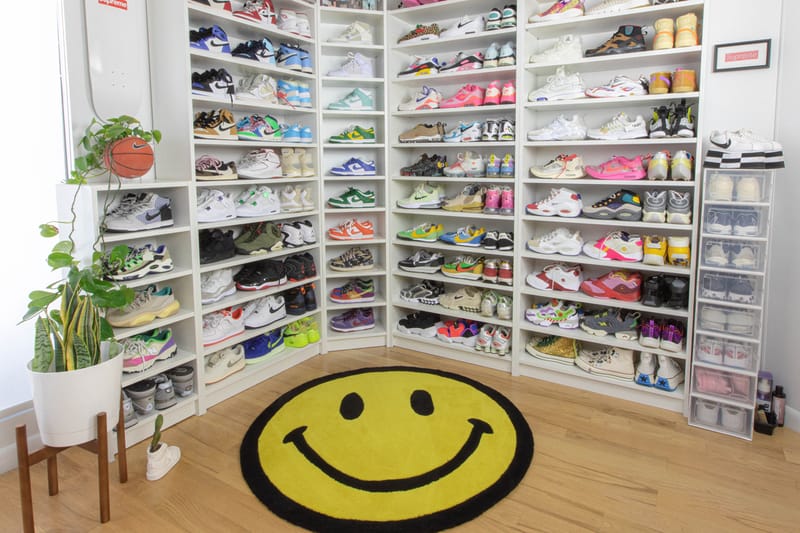 Colin Ridgway2 of 3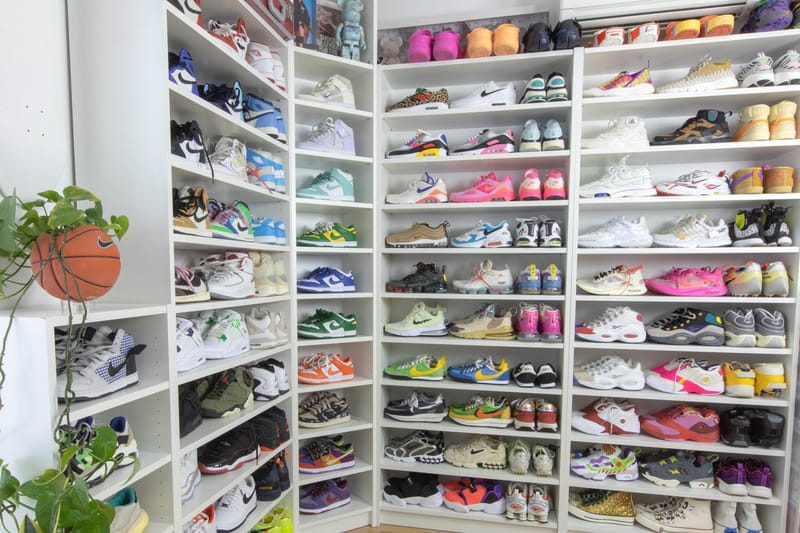 Colin Ridgway3 of 3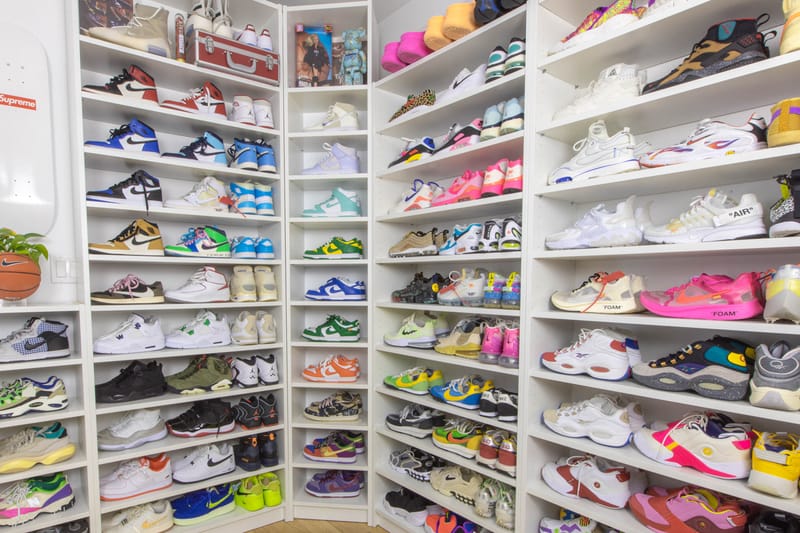 Colin Ridgway
How are sneakers and the stories they carry significant to you personally, and how do you think they're significant to culture as a whole?
For me personally, it ties a whole lot of memories together. To get into the therapy world, it's what we call a "relational object." For example, I'll put on a certain pair of shoes and recall a road trip I took with a friend, or put on another and remember waiting in line for it. It's experiences like that that lock things in for me.
Storytelling on sneakers is important because it's a way to keep pushing forward. The sneaker industry kind of approaches a glass ceiling at times, and you need these stories to continue capturing consumers' interest, to groom the next generation of sneakerheads — help them fall in love with sneakers for the same reasons we did! These stories help people relate to shoes on a deeper level than just purchasing a material object. I probably grew up a lot differently than a lot of my friends, but at the end of the day we have something in common — a love for sneakers — and that's what brought us together.
Source: Read Full Article