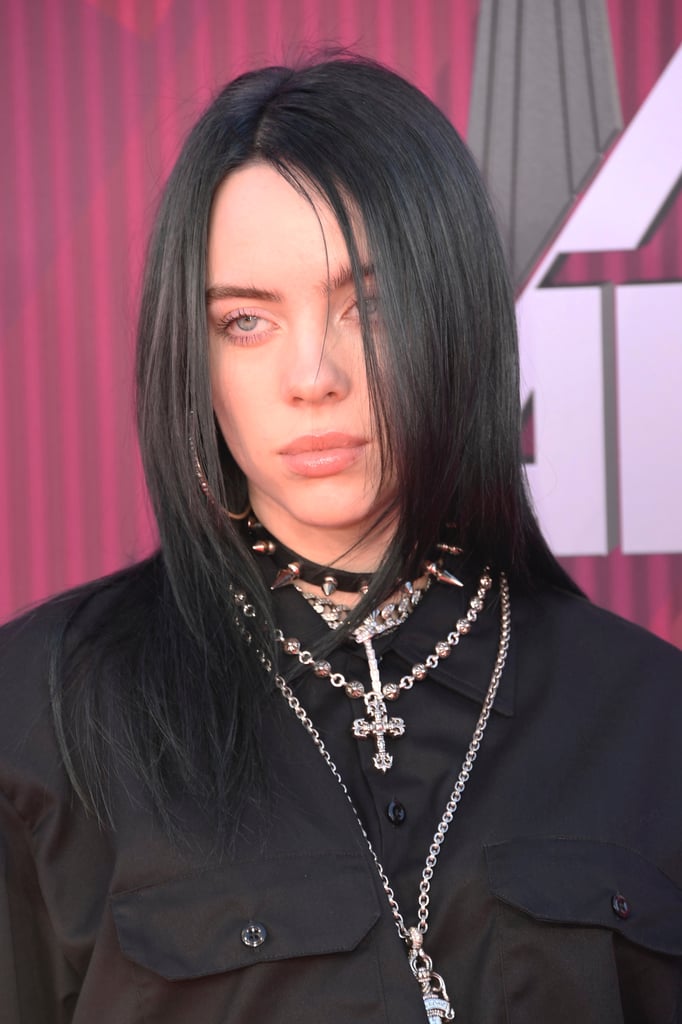 Billie Eilish Is the Hair Color Icon We Didn't Know We Needed

It feels like the most un-Billie Eilish thing to do to talk about Billie Eilish's hair. We could talk about so many other things — like her unique sense of style and how terrifying her "Bury a Friend" music video is — but the fact is, she's a damn good source of hair-color inspiration.
The singer and songwriter, whose career skyrocketed after the release of her song "Ocean Eyes," kicked it off with silver hair that was as ethereal as her look in the music video for the single. She has since worn a spectrum of hues, including electric blue, seafoam green, and smoky gray.
If you're wondering how you can get Eilish's hair looks, first things first: hairstylist Stephanie Diaz doesn't recommend trying to do so at home because, depending on your hair's starting point, it could take many steps (it could require a double process) and a ton of wait time. "If you look at [Eilish's Instagram] pictures where she has some roots and some regrowth, you can see her natural color. It's not super dark, but way darker [than the colors she dyes it to]," she said. She explained that if you're going from a natural dark brown shade like Eilish's, it could take as long as six to eight hours.
Now, assuming your hair is already lifted to the ideal color that could transform into Eilish's — and that would be a "platinum," or natural "toe-head" light blond, according to Diaz — you have options. She recommends using a direct dye, because "there's no chemical action happening. It's only putting on top of what you have, and then it'll fade out."
She took us through some of Eilish's iconic hues:
For Eilish's smoky gray hair you can use the Sterling ($12) hair dye from Arctic Fox.
https://www.instagram.com/p/BZuyqOqAUoJ/
For Eilish's bright silver you can use the Sterling ($12) hair dye mixed with Arctic Mist Diluter ($12) by Arctic Fox.
https://www.instagram.com/p/Bii3Lp2A-m4/
For Eilish's seafoam hair, you can use a mix of the Aquamarine ($14) and Neverland ($12) Arctic Fox dyes with the Arctic Mist Diluter ($12).
https://www.instagram.com/p/Bq_kLPMFQSb/
see more of Eilish's best hair colors over the year, ahead.
Source: Read Full Article